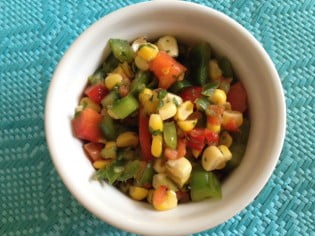 Grilled Corn Summer Salad
Ingredients
2 bell peppers (I use organic because peppers are a highly sprayed conventional crop), chopped – I used my beloved Bosch food processor for this so it's a fast job.
1/2 a bunch cilantro – ditto on the food processor.
2 ears sweet corn (rub with olive oil, grill on medium heat, keep turning 'til sides are all browned), then cut it off the cob
Queso Fresco cheese, crumbled (found by the deli cheese at the store — I think that name just means "fresh cheese"), or you could use FETA cheese — yum!
Here are more ideas to add in, especially if they are in season where you are:  tomatoes, avocados, cucumbers, celery, chop them up small.
Instructions
Mix the dressing ingredients then toss in the vegetables and cheese.
I doubled this and it was still not enough, FYI.
You could eat it with chips or crackers but we liked it just by itself. Did I mention that all four of the kids EACH had three helpings? No wonder we ran out
Recipe by Kelly the Kitchen Kop at https://kellythekitchenkop.com/grilled-corn-fresh-summer-salad/