If you're a Real Foodie, and especially if you've been one for a while, you've probably scoped out some restaurants near you that serve healthy, REAL foods for those times when you want a night out, or you're away from home and need to eat out. If so, PLEASE TELL US ABOUT IT – I need your help because establishments like these deserve to be well-known! I'll update this list as I get more information from all of you, even if you come upon this post long after it was put up, please keep commenting so more info can be added all the time…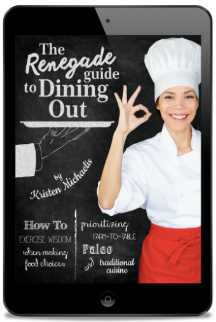 First, have you seen this restaurant guide for help when eating out, or choosing WHERE you'll eat out?
No matter where you are, please tell us what you know:
The name of your city.
The name of the establishment serving Real Food (or drink).  Note:  this doesn't mean everything they serve is all sparkly (kind of like at home!), but just that they are making a pretty good effort.
What do you know about them that made you want to let others know?
Their website if possible.
(By the way, do you need help eating healthy in a restaurant?  This resource will help!)
BY CITY OR STATE (alphabetized):
FLORIDA

Food & Thought – Naples, FL (From Lauren:  This is a market/restaurant and I personally have never eaten at the restaurant (I LOVE the market!), but the restaurant is constantly getting rave reviews PLUS they serve real food!!!)

GEORGIA

Atlanta, GA (& surrounding areas)

5 Seasons Brewing – (From Debbie:  We've eaten there a couple of times and it was great – I had fried duck livers for my appetizer the last time.  From their website:  "5 Seasons celebrates the connection between each other, our food, and the Earth. We're passionate about serving local produce, all -natural meats, and artisanal cheeses. We bake each of our breads and make everything else — all of our demi-glace, salad dressings, pommes frites, ice creams and sorbets. As part of a sustainable, natural cycle, we add our brewer's spent grain to our home-baked bread and share the rest with a local organic farm, where it is composted to grow our vegetables.")
Cakes and Ale – Decatur, GA (From Stacey:  serve local, seasonal, sustainably-raised REAL FOOD. I've only eaten there once, but it was awesome. At their website you can drool over the menu yourself.)
Farmhouse at Serenbe – Palmetto, GA (Also from Stacey:  A farm-to-table southwest of Atlanta rumored to be very good.)
61 Main – Jasper, GA (From Bill & Judy Harvey:  61 Main is across from the Pickens County courthouse, and Jasper is located about an hour's drive north of Atlanta in the foothills of the Appalachian mountains.  You can read their story on the homepage of their web site.  My wife and I along with friends eat there regularly…usually on Thursdays when all of their bottles of wine are half price!)

Grand Rapids, MI (& surrounding areas)
INDIANA

Third Coast Spice – Chesterton, IN (From Lola:  The owner is a trained chef and has a spice company as well that caters to restaurants.  This is a segment that was written about the restaurant online:  The objective is to offer as many trans-fat-free, all-natural, no MSG (monosodium glutamate), locally produced, organic, minimally processed, fair trade products as possible, while appealing to the average consumer," Woodrich said.  The cafe also is family friendly, with step stools in the bathrooms for kids, coloring books and kid sized portions and healthy choices. The owners also hope to keep their restaurant's carbon footprint to a minimum with a giant recycling trash bin, automatic light switches in the restrooms, hands-free faucets, low energy lightbulbs and environmentally friendly carry-out packages. I really want to check this out for myself.)

KANSAS

Blue Bird Bistro – Kansas City, KS (From Kara:  serve a lot of organics and as much local food as possible.)
Local Burger – Lawrence, KS (Also from Kara:  All real food – lots of different burgers from elk to bison to beef. And mostly local food, too. I'm told they're going to open a location in Kansas City soon, too.)
Freestate Brewery – Lawrence, KS (From Natalie:  They use local produce in their food whenever possible. The last time I was there, I had butternut ravioli – to die for and made with local butternut squash. Their dessert was also made with local sweet potato (sweet potato pie). They also brew their own beer.)

MICHIGAN (see above for just the Grand Rapids area)

Corner Brewery – Ypsilanti, MI  (From Freeman:  "They've expanded their menu, including burgers made from '100% free-range, grass-fed beef raised in Michigan without the use of antibiotics or hormones.' Much of their veggies are also sourced locally, through the local food co-op and Growing Hope, a non-profit dedicated to promoting gardening and healthy food access.  Oh, and they brew some mighty fine beer.")
Home Grown Organic Eatery – Traverse City, MI
Trattoria Stella – Traverse City, MI (From Jen: "I've only been once, but the next time I'm in Traverse City, I will definitely be going back. It's definitely a good pick for a special night out–great location in the basement of the old state assylum/sanitorium (who'd have thought it could look so stylish?!), great service, and even better: locally sourced real food that tastes amazing.")
Harborview Grill – Whitehall, MI (From Laura:  They serve real food and much of it is local and organic. It's served nicely and there's a great view. They're not open Jan & Feb.)
Mia and Grace – Muskegon, MI (Also from Laura:  Another treasure. They are a beautiful Bistro with real, organic and local fare. They are also a bakery with fresh offerings daily – their carrot cake is to-die-for.)
Zingermans – Ann Arbor, MI  (Info from Holly at Healthy Eats Here)

Minneapolis, MN
New Orleans, LA

Bayona (Cheeseslave:  Chef Susan Spicer)

New York City, NY
OKLAHOMA

The Earth Deli – Norman, OK in the Campus Corner area (From Jessie:  They are mostly vegetarian, but they serve local organic produce, antibiotic-free turkey, and sprouted bread on request. Also fair-trade organic coffee, and a great selection of bottled kombucha. Mmmm… Now I want to go there for lunch!)

Seattle, WA (& surrounding areas)

Lunchbox Laboratory (Cheeseslave:  grass-fed burgers — delicious!)
Tilth Restaurant – Wallingord, WA (From Annette: The food is amazing, certified organic and made from regional artisan suppliers. They even have a blogroll featuring their local producers. I highly recommend!)
Green Go Food – Ballard, WA (From Gena at Girl Gone Domestic:  Just found a great little healthy fast food place – they are a family owned restaurant/catering business, that supports local and sustainable agriculture. The meat they use is organic grass finished from a local ranch. The veggies they use are in season and local, so their menu is ever changing and they are eco-friendly as well. They also serve their food at a few of the Farmer's Markets in the area too. I actually just blogged about my visit. The most delicious bacon cheeseburger…and no guilt!)

Springfield, MO

Farmer's Gastropub – (From Holly:  There is a new restaurant called the Farmer's Gastropub I think. It's at 431 S. Jefferson, uses fresh local food and is so good!)

TEXAS

(From Jen Z.: There are several TX restaurants listed at https://burgundypasturebeef.com/public_wheretobuy.php that use grass-fed beef from one of our area producers (one in the Dallas area and the rest in/near Ft. Worth).

UTAH

Real Foods Market – Orem, UT (From Sheree:  They sell organic stuff and they also own a farm in I think Midway or Heber City, so they sell raw milk, grass fed beef, pastured eggs at the market.  There's also a deli in there that has soup, sandwiches, etc.  They also have chicken stock you can buy in quart containers.  I was able to oder 1/4 beef.  I'm so lucky that its close to home.)
Washington, D.C.

Restaurant Nora (From Carissa:  America's first certified organic restaurant!)
Winooski, VT

Sneakers Bistro (From Natalie:  They serve creative, healthy dishes. Especially their breakfast – always with REAL Vermont Maple Syrup. You will not be disappointed by this place. They even make their own english muffins.)
BY CHAIN:
Chipotle / Nationwide (Fresh ingredients, they serve meat from good sources, etc.)  Read my post about Chipotle from last year.  ***Also, read more info about them in the comments below regarding the meat they serve.
Let's Be Frank Hot Dogs (Cheeseslave:  both San Francisco & LA — grass fed hot dog stands — one of the owners used to work at Chez Panisse)
ONaturals / ME, AZ, KS, MA (Find locations and read more about them at the link – thanks to Vicky for the tip!)
Three Tomatoes Trattoria / Vermont (From Natalie:  One of my favorites.  They serve Italian food with local cheese, meats, and more.  They serve locally brewed beer also.)