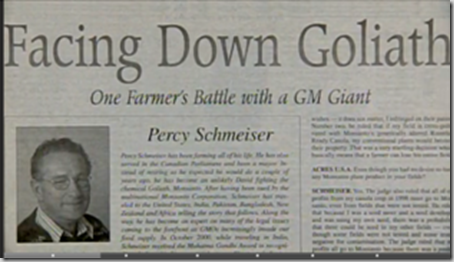 Have you seen "The Future of Food"?  You can watch it at that link!
"The Future Of Food offers an in-depth investigation into the disturbing truth behind genetically engineered foods that have quietly filled U.S. grocery store shelves for the past decade."
If you don't know who Monsanto is, or you're not convinced of how slimy they are, and you don't understand what all the fuss is about related to genetically engineered foods, you'll have to watch this movie, at least part of it.  (You can always keep track of where you stopped and start back up later.)  Be prepared to become very angry, though…
An excerpt:
Labeling is the key way we can trace the health effects of genetically modified foods, and the key way we can get these corporations liable for these health effects.
(Of course, they are fighting labeling with everything they've got, even though in many other countries GMO foods are required to be labeled!)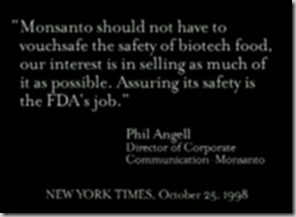 Another excerpt:
"After two and a half weeks of trial, the judge said it didn't matter how Monsanto's genetically altered canola got into my field, whether it cross-pollinated or if it blew in by the wind, by birds, bees, animals or falling off a farmers truck or combine, it didn't matter.  Because there were some plants there, I still violated Monsanto's patent, whether I wanted it in my field or not.
Number two, which is the most important one I think, he ruled any farmer that has a regular conventional plant, it doesn't matter what kind of plant, if it's a tree, if it's a seed, and it gets cross-pollinated with Monsanto's gene against your wishes and destroys your property, my plant is Monsanto's property.  Now stop and think what that means to farmers all over the world.  Farmers, Gardeners, anything to do with a life-giving form.
The third issue he ruled:  the fact that I never used Monsanto's patent, which means I never used Monsanto's round-up ready herbicide or glycopep on my crop, he ruled 'that's immaterial'.  He said 'the fact was, that there were some plants there'.  So that shows you the power of patent law over farmer's rights." Percy Schmeiser (A farmer sued by Monsanto)
Go check out this movie and become more informed!