Instructions
Preheat oven to 375*.
Prep two cookie sheets.  Either butter them well, or line with unbleached parchment paper and then spray with this spray that I'm loving -- I'd forgotten how easy baking spray is.
I used my Bosch mixer for this recipe because it's so fast, but you can follow the instructions at the recipe this is adapted from if you want to do it by hand, just don't use her ingredient suggestions -- she uses non-fat yogurt!!!  And note that I quadrupled her recipe, knowing how much my family would devour these.
(If you don't have a Bosch yet, you should, I love this workhorse.  Someday I may splurge and get a pretty KitchenAid though, now that they have the huge 7 quart bowl that I need!)
Mix flour, baking powder, salt, and cheese together.  Add yogurt and mix/knead until combined.  The dough will be unlike other bread dough you've worked with, it's sort of sticky and clumpy.
Get more flour on your hands or some soft butter so the dough doesn't stick (it still will a little, but it's okay) then pull out a handful of dough between a golf ball and a baseball size and roll into a ball.  Flatten just a bit and poke a hole in the middle before setting onto the cookie sheet.  Feel free to make yours a little fatter (a little bigger than baseball size?), but you'll obviously get less bagels out of each batch than I did.  If it starts sticking to your hands, just get more butter or flour on them.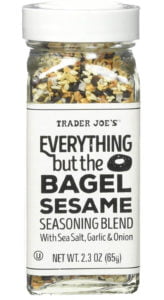 Brush each bagel with the beaten egg mixture then sprinkle on your toppings of choice.  I did one cookie sheet with a light sprinkling of sea salt only and the other cookie sheet with a little garlic powder, a little sea salt, then a few sesame seeds.  If desired, flip the bagels and do the other side too.
Bake 25-27 minutes on the top oven rack or until lightly golden.  Let cool before slicing or you'll just smoosh them.
Serve with lots of real butter, of course, and some organic cream cheese, preferably made from pastured dairy.
Store in the fridge so they'll keep longer, since there are no preservatives in them, obviously.  If you have extra (doubtful), slice in half and put them in a freezer baggie, but don't put the two halves together like a sandwich.  Instead stagger the tops and bottoms so they're easier to pull apart and pop into the toaster for a fast morning breakfast.
If you make them, please comment below and let me know what you think!
Variations/extra notes:
One time I wasn't paying attention and threw the 2 eggs INTO the dough (instead of using them for an egg wash, so I used more eggs for that) and it turned out stickier, obviously.  So I added another 1/2 cup of flour and then still used extra flour in my hands for shaping the dough.  I think I liked this dough better!  I also made them fatter that time, so I got 16 bagels out of it.
Also, if you want a more golden brown look to the bagels, be sure to brush them with just egg yolks instead of the whole beaten eggs.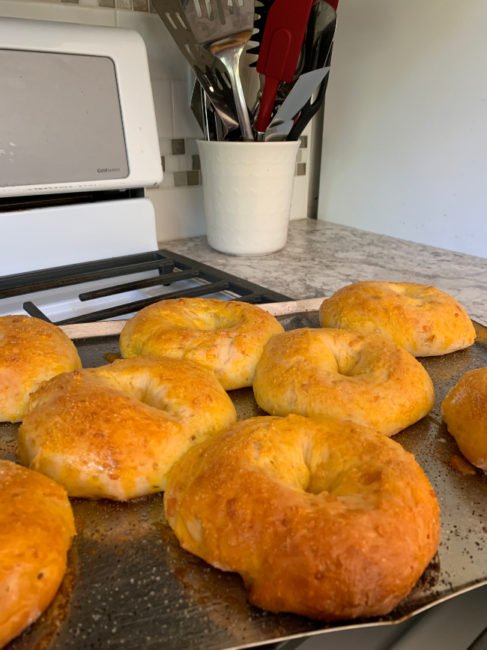 Recipe by Kelly the Kitchen Kop at https://kellythekitchenkop.com/easy-homemade-parmesan-bagels/