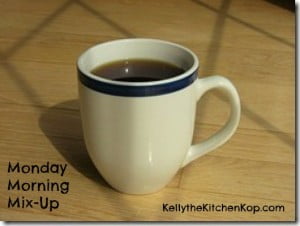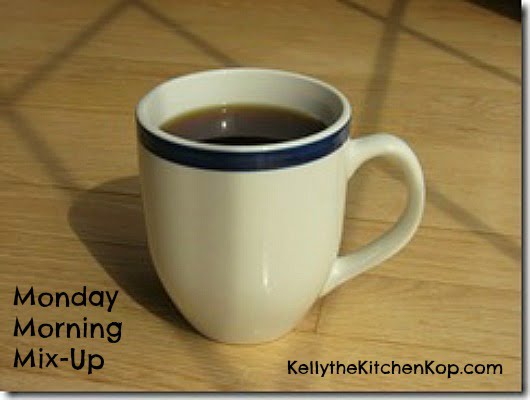 Good morning everyone.  Today's Monday Morning Mix-up is going to be fairly short and sweet because we've got a busy weekend in progress, and I reeeeally want to take the day off for Mother's Day!  🙂
…Okay I'm hopping back on here in the middle of my day off because I have to tell you something fun.  Kent started asking this morning before Mass what I wanted for dinner today, and he happily would've made whatever I requested, but we ended up cooking together to make one of my favorites:  Mojito Lime Chicken and Rice.  LOVE that stuff.  We both enjoy watching the cooking channel while we work in the kitchen, and by the way, we watched Diners Drive-ins and Dives and decided that someday we'll travel around trying some of that amazing home-cooked food that they feature, but we'll make a point to NOT go anywhere that uses margarine or vegetable oil — can you believe places still DO that?!  So anyway, while it baked we were cleaning up, and I know I've told you this before, but as I was washing my favorite pan I said to Kent again, "This is the BEST pan…"  He said, "I know.  That pan cleans up how everything should."  A little hot, soapy water and anything stuck on just slips right off, it's almost fun, so if you didn't get one for Mother's Day, go get yourself one now!  (I have the 16″ and it's perfect for our family.)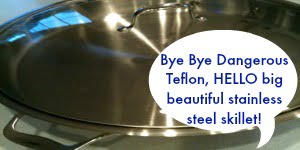 Here's what I've found for you this week…

Now Panera is jumping on the healthier restaurant train (similar to Chipotle last week, getting rid of all GMOs!) and I'M SO EXCITED ABOUT THIS:  Panera Ditches Artificial Ingredients!  "Customer trends show we are more and more concerned about what's in our food."  YES! DUH!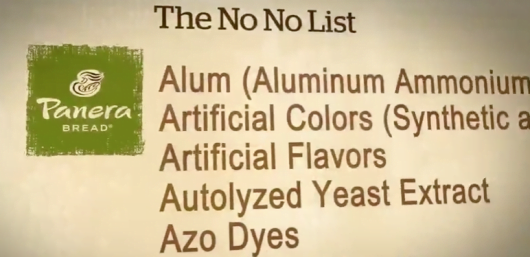 This was popular on Facebook last week:

A shocker:  How do researchers create food allergies (IgE) with 100% success in rats? They vaccinate them with pertussis antigen, aluminum adjuvant, and egg protein. Works. Every. Time.  If you didn't do a double-take, read it again.  Click here to see the post and comments…
Behavioral Problems? Skin Conditions? Low Immune System? It's What We're Feeding Them!  "This isn't a coincidence. We may have been able to sustain one generation on hotdogs, Snickers bars, Kraft Mac n Cheese, and neon-colored sugar-filled yogurt, but we can't keep going on like this.  We need to slow down, spend some more time in the kitchen, and maybe stop being afraid to be 'that mom'. We need to talk to our kids about health and nutrition, and model healthy choices for them. Peer pressure is real, and it affects us just as much as our kids.  They're worth it, though, so let's keep pushing back and changing the status quo."
10 foods that are no longer unhealthy to eat — you probably know this stuff, but pass it on to someone you love.
Tell food companies you say NO to the GMO apple and potato! Click here to download the petition to take part and start making your community store safer to shop at today.  And after you've signed, watch Genetic Roulette, FREE for a limited time.
Ron Paul on why vaccine mandates are so dangerous…   (And then there's this disappointing article where Ben Carson says no one should be able to refuse a vaccine.  AH!  And I thought he was someone to hope for to make it to the Presidency — guess not, BUMMER.)
This is such a powerful 90 second video on organic food! See what happens to levels of agricultural chemicals tested in urine samples after 2 weeks of switching to a 100% organic diet.  Please understand that it is at least as important, if not more, to buy organic/pasture raised meat, eggs, and dairy products than to simply buy organic produce since these chemicals accumulate and concentrate up the food chain, especially in fat and fatty tissues (that means us too).
A reminder:  If you're worried about the dangers of too much screen time, you'll want to check out these options for laptops, tablets, and cell phones: 
Did you catch last week's posts?  Here they are in case you missed them:
Have a good week everyone!
(Note:  Affiliate links are often included in Monday posts. Check out my official disclaimer here.)