The Cowspiracy Farce
By Joanie Blaxter, founder of Follow Your Gut
Don't worry!  Just because your teenager (or friend or family member) has watched the movie Cowspiracy: The Sustainability Secret and announced that s/he is now vegan is no reason to panic.
Why not?
Because despite its sophisticated use of infographics, the movie's statistical assertions are not based on sound environmental science and Cowspiracy will be largely discredited by experts over time.
What is Cowspiracy?
A 2014 environmental film made by the vegan abolitionist organization, Animals United Movement (A.U.M.) which is making the rounds especially with the Millennials and ecologically conscious adults.  The film describes animal agriculture, including fishing, but cows in particular, as singularly responsible for climate change and various kinds of environmental disasters.
What does Cowspiracy do well?
Technically very sophisticated, this movie manipulates a mountain of eye-catching, color-coded graphs, charts and cartoons in such a way that the viewer is left feeling overwhelmed by strobe-like data bits and wondering, 'If there's so much of this information, it must be true, right?'
Wrong.  Just having a lot of data, doesn't make it accurate or correct, especially if it's been carefully cherrypicked.
The reason Cowspiracy is NOT worth watching?
The problem is not cows.  The problem is humans incorrectly managing cows.
Grazing livestock have been critical to the health of range lands since long before the appearance of homo sapiens.  Think of gazelle on the savannah and bison on the prairie.  What we now understand is that without the presence of natural grazers and their predators, the land will rapidly deteriorate and desertify.
Once we domesticate livestock or poultry, but particularly herbivores, humans must learn how to manage them in a manner that imitates this natural cycle in order to protect the health of the soil.  Meat is just a byproduct of this environmental animal-soil cycle.
Animals are not the problem.  ANIMALS are, in fact, THE SOLUTION.  Where people get confused is…  
It's not WHAT you eat.  It's HOW it's grown or raised.
The reality is that the industrial model of food production – of either animals or plants – is damaging to the soil, toxic, unhealthy, inefficient, unprofitable to the farmer, environmentally dirty and basically disastrous at every level.
Holistic Management of livestock, however, is actually REGENERATIVE.  It restores soil fertility, the springs return and communities begin to thrive again.  The presence of properly managed, domestic animals on the land is critical to this equation.
The areas of land managed under (Savory's Holistic Management) methods are turning from arid, degraded land, which can no longer support the communities living from it, back to:

Productive grasslands that have flowing watercourses (drinking water) and
Healthy regenerative grasslands (food and fertility) – all through careful controlled grazing management. 

(Source, emphasis mine: An Ethical Meat Eater's Response to the Film)
The obvious solution?  Never eat feedlot beef, only 100% grassfed and preferably from a Holistic Management rancher.
Hard to believe?  Just watch this 22-min TED Talk with Allan Savory: How to Fight Desertification and Reverse Climate Change.
After all, seeing is believing.
Or for something even shorter, but still demonstrably to the point, look at this YouTube clip (3min 40sec) showing how holistically managed livestock help the soil to retain water: Effective Rainfall Demo.
I really appreciate the passion of the Cowspiracy filmmakers, Kip Andersen and Keegan Kuhn, both of whom were already vegan, by the way, when they came up with the idea for this project (co-producer of the revised version, Leonardo DiCaprio, is also a vegetarian).  After all, as a former 29-year vegetarian myself, it wasn't that long ago I would have enthusiastically applauded this film.  I believe Andersen and Kuhn care deeply about both the planet and quality of life for all of us here on earth.
That said, I do disagree with their conclusion that one cannot be a true environmentalist without being vegan.  
Eating vegan is an overly simplistic response to an incredibly complex situation, and reminds me of a comment made to me at a dinner party back in the late 80's when I was still eating a meatless diet.  In response to my enthusiastic review of a just published, environmentally pro-vegan book, the person I was speaking with looked searchingly at me and said "Sounds like you think everyone should be vegetarian."  Feeling unexpectedly "outed," I responded that, um, well, yes, I suppose I did think that.  Long pause.  Before walking away, he said…
"Try telling that to all the indigenous peoples of the world."  
Wow… hadn't really considered that.  Would we in the industrialized world, who made this mess to begin with, now dictate to tribes everywhere that they could no longer eat their local, traditional foods or produce items if they involved animals?
Similarly, Cowspiracy's single pointed, abolitionist vegan position is the essence of black-or-white thinking and extremism.  This does little to foster dialog, and two aspects of Cowspiracy in particular just plain offended my sensibilities of both fairness and credibility.
1.  The filmmakers' treatment of Allan Savory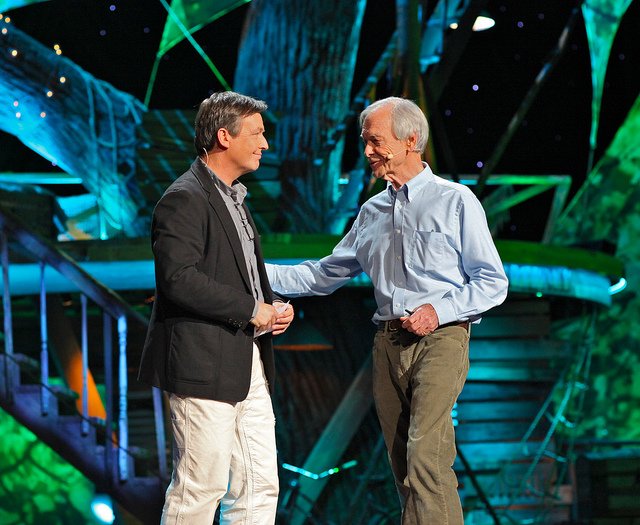 Since Savory's principles of Holistic Management concretely present probably the biggest challenge to Cowspiracy's environmental promotion of veganism, I was looking forward to how the movie would attempt to statistically "disprove" what is already being successfully done using Holistic Management methods on millions of acres in dozens of countries around the world.
In a nutshell, Cowspiracy deals with the reality of grazing cows measurably 

reversing

 climate change by…  NOT addressing this hot button topic at all!
(Huh.  Could this be both the real conspiracy concerning cows as well as more accurate interpretation of the filmmakers' invented word Cowspiracy?)
Instead, the film spends exactly 2 minutes, from 51:00 to 53:00, engaging in shameless, unfounded character assassination.
Allan Savory confesses in his now very famous TED talk… that as part of the 'conventional' thinking about overgrazing, he authorised the shooting of thousands of elephants to try to reverse desertification on National Parks in South Africa.

As an animal lover this was a tragic moment in his life, made worse by the fact that the desertification process actually got worse following the removal of the grazing animals.

Savory admits this was the biggest mistake of his life and has entirely dedicated his life to finding a solution. 
Furthermore, he was not alone in the decision to remove the animals. 
His recommendation, before a single elephant was even shot, was analyzed first by a team of government appointed, environmental wildlife experts who ultimately approved the go-ahead.  Nevertheless, Savory describes this experience as "The saddest and greatest blunder of my life.  And I will carry that to my grave."
In an almost comical moment during the film… Kip fails to realize or mention that over 3/4 of cattle in the US are already on grass, and majority of the world's cattle are also already on grass…

There is obviously no reference to the Union of Concerned Scientists 2011 report that states: "Climate-friendly beef production practices reduce methane and nitrous oxide emissions while increasing carbon sequestration…

(Similarly,) Kip's contrived land requirement number is meaningless as well as grossly inaccurate…

This math comes from Oppenlander's book (which) makes the absurd assertion that there are a billion "cows" in CAFO's and feedlots. One would have to assume that neither (Kip nor Oppenlander) has ever been to a cow-calf operation where 66 mill head of US inventory including bulls, cows, calves and replacement heifers are on GRASS.

Though it's no surprise that Kip is so utterly clueless because his "statistics advisor" … like most of the other abolitionist vegan talking heads in this film is anything but an expert on sustainability, ranching, the environment or pretty much any other issue raised in this film. 

In reality (city dweller) Kip is clueless.

(Source, emphasis mine: LA Chefs movie review – Cowspiracy: truth or propaganda?)