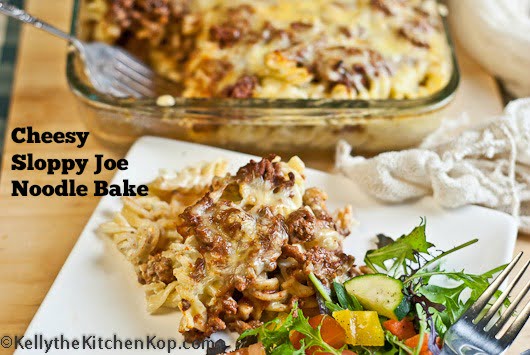 Cheesy Sloppy Joe Noodle Bake
Yield 2 9x13 pans PLUS 1 square pan
Ingredients
32 ounces of whatever noodles you like – my favorites are einkorn pasta or spelt pasta.  Some like this gluten-free pasta, but I can't seem to cook it right.
8 ounces cream cheese, softened
2 cups sour cream (I've seen some recipes call for cottage cheese instead.)
1 Tablespoon chives
Sea salt & pepper to your taste
1 teaspoon garlic powder
1/2 cup milk (maybe a little more)
3 pounds ground beef (we get it from our local farmer with 1/4 ground heart, if you don't have a good local source you trust for grassfed meat, you could get it online here.)
1 onion, chopped, or 3 Tablespoons dried
More sea salt and pepper for this meat mixture, amount to your taste
2 cans tomato paste
1/2 cup ketchup or tomato sauce
3 teaspoons mustard
4 Tablespoons maple syrup
1/2 cup water or so
3-4 cups shredded cheese, whichever kind you prefer — we like cheddar or mozzarella
Instructions
Brown the ground beef with onions.
Stir in the ketchup or tomato sauce, tomato paste, mustard, maple syrup, water, and some salt and pepper.  This should be thick, but not dry.  If it seems dry, add a little more water.  Set aside.
Cook pasta according to directions, drain.
Meanwhile, use your stick blender or food processor to mix together the sour cream, cream cheese, milk, chives, garlic powder, and a few shakes of salt and pepper.
Toss the cream mixture with the pasta, add extra milk so that it's really creamy; not runny, but not dry.  Taste one.  If it tastes blah, add more salt and pepper until it's dreamy — this is very important to make the whole thing taste really good.
Start assembling:

Spoon a layer of the pasta mixture into your buttered or parchment paper-lined pans, dollop half the meat mixture around the top.
Spread the rest of the pasta around the top of the meat
Now the other half of the meat mixture on that.
Sprinkle with cheese.

Now either cover well and label it for the freezer, put it into the fridge to bake later, or bake now.
350* until hot, about 20-30 minutes.
Recipe by Kelly the Kitchen Kop at https://kellythekitchenkop.com/cheesy-sloppy-joe-noodle-bake-a-make-ahead-or-freeze-ahead-meal-everyone-devours/