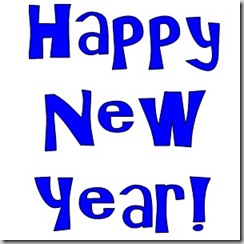 Two New Year's day questions for you today:
What's YOUR New Year's resolution? Mine is that same old boring one of getting back into a consistent exercise routine again.  Sadly, I think I'll need to walk more than run now because the last few times I went out for a run, I came back with my left knee and my right foot hurting…but they only hurt when I run and only after the first mile.  So at least I can still run a mile and then walk after that.  (Walking just seems so pokey after running, though.)  I really want to get back into the habit of using the Bowflex.  I think if I get some strength back in my legs (and more support for my joints) I can easily run further again, too.  I love having a home gym right downstairs so I can hop on whenever I want.  The problem is that last word.  But the other thing I LOVE about having exercise equipment right in our own home is that I'm not paying through the nose for health club fees during those streaks we all go through when we've fallen off the wagon in our exercise routines.
What is the best improvement to your health that you made last year? Be sure to include what finally motivated you to do it.  Mine is just that the more I eat Real Food, the less I even want the crap.  I didn't believe people when they told me that would happen, and I definitely have a long way to go, but I see a change for sure.
One of my favorite loyal readers, Jeannine, prompted that second question with this request:
Anecdotes detailing personal successes always serve as wonderful positive reinforcement, and are perfect for an end-of-the-year period of reflection.  They are inspiring as we go forward into a new year – plus they provide an endless source of new ideas and insights.  For instance I never even heard of a dry skin brush until I read about it a few weeks ago on your site (now I like them a lot and do at least a modified version (hips and thighs) every other day or so).  And of course, we're all a little bit nosy and wonder what other people are doing and why and what the results were…
I'd probably have to go with the switch to whole, raw milk (and kefir) for us, because our success with that has been so clearly documented.  Then again, drinking kombucha seems to have stopped my hair from turning grey, and that's nothing to turn up my nose at.  Yippee!!!
Still love your blog.  I read it when I deserve a treat or when I want to unwind — which I need to do much too often these days.
Thanks Jeannine.  🙂  Here's some stuff you may have missed:
photo credit