Hey everyone, guess what I did today?  I worked on the computer (getting this post around), and someone else cleaned our house — this time it wasn't our kids!  🙂  Every year or two, we'll splurge and get someone in here to do a deep clean, then we just keep up on it in between, so for the past few days we've spent hours getting ready for them.  I've been a bit of a drill sergeant, "Sort that pile!  Clean off that dresser!"  We're having two of our kids' birthday parties here Saturday and they requested this ice cream cake again, it's not exactly the most beautiful cake ever, especially in that cheesy aluminum pan, but it's really good!  I'm also making bruschetta for an appetizer, homemade sub sandwiches, a new salad (I'll post the recipe if it turns out good), the BEST deviled eggs, Mom's mac and cheese, and my sisters are bringing grape salad, baked beans, and taco salad.  I love having people over, especially when I don't have to do the cleaning and can focus on the cooking!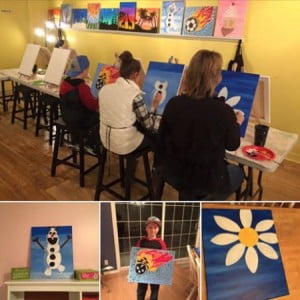 Look what the kids and I did the other day:  We went to Art Engage and had a blast, I had no idea I could paint!! Plus while we waited for our paint to dry at different steps, they have coolest stuff for kids to play with & build.  Our son is also doing a Lego class there next month, check it out if you want something neat to do with your kids.  🙂
Here's what I've got for you in this mix-up post…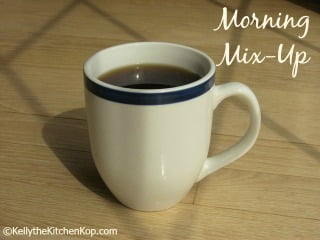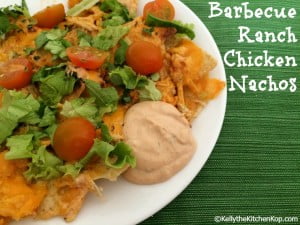 I'm announcing the latest $50 Amazon gift card winner today…  The winner is…  MJ!  Please email me within 48 hours so I can make sure you're the right "MJ", and also so you can tell me the correct email address to send your gift card to, congratulations and thanks for being a longtime reader friend!  🙂
Slimy WebMD has ties to Monsanto/Big Pharma…  How many times have you or a family member been diagnosed with something you want to better understand only to have your web search end up on WebMD?  I don't use the site often, but if I want a deeper understanding of a certain medical issue, their information can be simple to grasp.  With what I learn there, I am then able to do a new search on how to heal or control the situation naturally.  So it is kind of disappointing, although not surprising, to learn in this article that WebMD has huge ties with Monsanto and Big Pharma, to the disgusting point that the site has dirty tricks to get you to visit your doctor believing you need medication.  Just a few years ago the site had a online depression quiz sponsored by Eli Lilly, and even if you answered no to all their questions, you were still told you may have major depression and to see your doctor.  With monthly page views in the billions, it means that WebMD's profits are in the millions each month.  I don't care how easy their info is read, I won't click on their site again.  For more information check out this recent article from Dr. Mercola.
I'm sure by now most of you have heard about the COOL (Country of Origin Labeling) laws on meat being repealed by Congress right before Christmas.  If you don't know your farmer and still are buying your meat at the grocery store, then you could be buying meat from who-knows-where.  But now they've added fuel to the fire when the USDA (or as Joel Salatin calls them, the USDuh, lol) decided it was going to drop grass-fed labels because the label "does not facilitate the marketing of agricultural products in a manner that is useful to stakeholders or consumers."  But don't lose hope just yet!  This won't affect private certifiers.  If all this makes you scratch your head wondering how to find the best quality meat for your family during all this uncertainty, be sure and read this article for some great tips. You can go here for safe, pastured meat online if you don't have a good local source.  Or find a local WAPF chapter near you ask for help finding pastured meats — this is also a great way to meet other real foodies and split larger orders to make your meat purchases more affordable.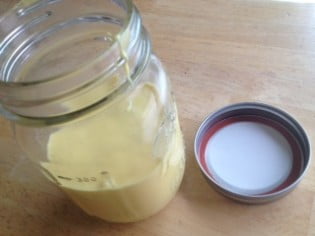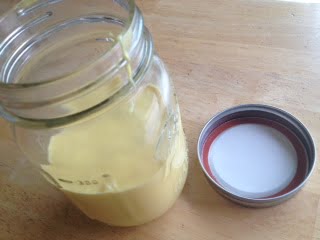 Those of you who don't want to make your own mayo, I've found a new brand that looks awesome!  Click here to check it out. (Because surely you're not buying that junk at the grocery store, right?  The first ingredient is always GMO canola or soybean oil, and the list doesn't get any better from there — scary stuff.)  However, it truly takes only about 3 minutes to make your own, and it's SO tasty, here's how to make simple homemade mayonnaise.
I'm having so much fun looking at Pioneer Woman's new Flea Market line! How stinkin' adorable are these serving bowls? And have you seen the butter dish?  I think that I'll have to decorate my new kitchen around these colors!  (Yeah, that would be the kitchen I probably won't have the money to redo for at least another 5 years, oh well!)
Whom Do You Trust? Mommy Bloggers?  Scientists?  "Unfortunately, the information you get from either group may be paid for by Monsanto.  Last August, Monsanto paid mom bloggers $150 each to attend a three-hour, invitation-only brunch at the company's research and farm facility in Northern California.  Attendees were offered a tour of the facility, along with commentary from two Midwestern moms with family farm backgrounds who rhapsodized about Monsanto's work to feed the planet.  The purpose of these events seems crystal clear to us: wine and dine the bloggers, tell them fairy tales about GMOs, and then watch them parrot biotech's propaganda to their audiences…"  Read the whole article here.
Are you ready for some football?  Superbowl Sunday is almost here…  If you're having a party or have you been asked to bring something to a party and need some ideas, I can help!  I've put together a ton of recipes filled with ideas for snacks, beverages and desserts.  And you can rest easy knowing your friends and family are getting snacks packed full of nutrients.  In a pinch and need to put together a nutritious platter quickly?  Slice up some sausages, some cheese, veggies and serve with these tasty crackers.  These chips are also great  if you don't have time to make your own.
Did you see this new movie?  The preview for "Sally Pacholok" shows a determined nurse taking on the medical establishment.  "They warned me about you my first day on the job," chides a doctor in one scene. Another clip shows a physician reminding Pacholok of an unwritten rule of staff hierarchy.  "The nurse," he stresses, "does not give medical advice to a doctor."  In the film, the one-woman dynamo for awareness of B12 vitamin deficiency doesn't give up. Neither does the real-life Sally Pacholok of Shelby Township, Michigan, whose own story inspired the independent film that will be screened at 7:30 p.m. Tuesday at the AMC 30 Forum in Sterling Heights.  A decade ago, Pacholok wrote a book, "Could It Be B12? An Epidemic of Misdiagnoses," that argues for improving testing and treatment of patients with B12 deficiency. She says it is often misdiagnosed as Alzheimer's, dementia, multiple sclerosis and several other diseases – and can have devastating consequences if left untreated. Watch the trailer here:
Here's a neat video with a younger brother explaining what it's like to have an older brother with Autism…
Did you catch all of these recent posts? Here they are in case you missed them:
Have a good rest of your week everyone!
(Affiliate links are often included in Morning Mix-up posts.  Check out my affiliate disclaimer here.)