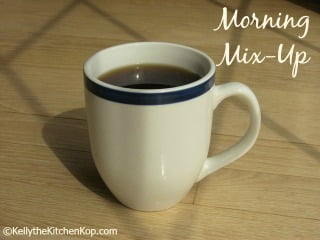 I apologize to all of you who have had loading issues on my site in the last week or two.  Believe me, I know what a pain this is and I'm working on it.  If you have any details about what exactly it's doing and have time to let me know, I'd appreciate it.  (Or maybe by the time you read this it will all be resolved…as of now it looks like my router issues are fixed!  I am now IN my living room ON the internet once again. Oh the things we take for granted…)
Did you see who won the Real Food Health & Nutrition book? Also at that post announcing the winner is a coupon code for those who didn't win.  🙂
I sent my newsletter subscribers some scoop last week about my upcoming Real Food Online Rookie Class – if you're interested, be sure to sign up and I'll get that latest newsletter out so you're in on all the dirt. (By signing up you'll also have a chance to win a Real Food Ingredient Guide.)
I'm curious about something.  Is it just me, or is this guy super interesting to read?  Even if it's one of his longer posts, I don't miss a word – most of the time anyway.  Of course it helps that I almost always agree with his opinions, and I loved reading this one with more about vitamin D and sunshine benefits.  I also learned a new word:  "heliophobes".  That describes a lot of people these days.  The icing on the cake, in this article and in most that he writes, is that he makes me laugh.  See if you can find the two words that made me laugh out loud at that link. 🙂
I'd love to hear your opinion on this article that says children under 9 shouldn't use the computer.  Granted, I do think screen time (no matter what type of screen: TV, computer, video games, etc.) should be limited.  Sometimes I'm better about that than others.  But to say they shouldn't use the computer at all?  I'm not sure about that just because I would think that some familiarity is a good thing for school. One reason they give is because it supposedly hinders their attention span and reading abilities.  Our four year old has limited screen time (still more than I'd like – he might play a computer game one hour a week, if that, but he does normally watch at least some TV each day), and he's already reading a few words and loves it.  Maybe they're talking about kids who are on it for hours and hours each day, though.  On a side note:  some say he's further along at this age than our others were because he's our fourth child, but I think that it could be more from my pre-conception and pregnancy diet (imperfect as it was) and how he has eaten since his birth than anything else.  I can't wait to hear what you think about all this.  (Have you seen these posts on parenting and nutrition?)
Please vote for Chef Shane – a REAL FOOD Chef who is hoping for a new cooking show! I met Chef Shane in Chicago last fall at the Weston A. Price conference and I'd love to see this happen, I hope you'll go take a second to vote.
A reader commented at this post on what to do with an abundance of lettuce, asking the same question about kale.  I said that I would ask all of you on Monday, so I hope you'll go there to help anyone with kale-overload issues!
Too much radiation? This article not only tells you the problem, it also gives a good list of what to do instead of blindly getting all the medical tests your doctor recommends.  "We fret about airport scanners, power lines, cell phones and even microwaves. It's true that we get too much radiation. But it's not from those sources — it's from too many medical tests."  There are obviously times when these are very necessary, but for sure not as often as they're recommended.
Dora photo credit