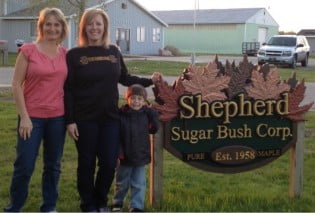 Over the weekend I went back to our hometown with the kids for the always exciting, Shepherd Maple Syrup Festival.  Actually it really is a lot of fun hanging with family, taking the kids around the small town where we grew up and seeing old friends from high school — pictured is my friend Janet with myself and her grandson.  So instead of telling you more about it here, I'm going to write a whole post about it this week and share a bunch of pictures.  Hopefully I won't bore you to death.  🙂
Here's what I found around the internet for you this past week…  (Or should I say what all of you, my super sweet readers, have found – thanks for sending me all the good stuff you come across!)
Warning:  off the food and health topic for a sec…  Have you guys seen these Surviving High School/Be the Change videos?  The kid who said he'd have ended his life if he hadn't gone through the Challenge Day broke my heart, there are so many hurting kids out there!   If only all kids could go through this and feel the connection to others that so many are missing in their lives.
OK, back to food…  Well, actually this one is about farms.   I wanted to make sure you saw the post from last week, "Where oh where has common sense gone?"  It's about the "feral swine" mess here in Michigan.  While that may not sound like a very exciting topic, what's happening is unbelievable (we still live in the USA, right?!) and I hope you'll want to help!
Here's a good article Kent sent me recently, you'll love it:  Damn your low fat diet: How a reformed vegan gorges on all the foods his granny enjoyed… and has never felt better.
Have you tried these dried fruits yet?  I got to sample them at the Wise Traditions conference last fall and oh. my. gosh.  They were so tasty, with ONLY one ingredient:  fruit!!!!
I wanted to get your thoughts on this article:  Pork: Did Leviticus 11:7 Have It Right?  "Levitical guidelines label the pig an "unclean" animal, and prohibit the consumption of pork.  Regardless of your spiritual beliefs, there may be good reason to carefully consider your decision to include pork as part of your diet, as despite advertising campaigns trying to paint pork as a "healthy" alternative to beef, research suggests it may be hazardous to your health on multiple levels."  We eat only pastured pork, nitrate free, and are not in a risky area according to a map at that link, plus all the people I trust say that it's the source that makes all the difference, so we'll probably keep eating it.  But I do wonder if maybe we should eat it less…???
Time is almost out, hurry and enter this Clean Water Fun Garden Hose Water Filter contest!
And a new Kitchen Kop giveaway just went up, too:  Enter to win $40 worth of J.A. Henckels International Knives.
Thank you Julie, who sent me this adorable little movie about a boy named Caine.  This is also unrelated to food or health, but I thought you'd like it, and this is a Monday mix-up after all.  🙂
I'll see you here later this week for Real Food Wednesday! (Did you know that participating is a great way to get more traffic to your blog OR to learn more about Real Food and get some great new recipes, too?!)
Have a great week everyone!