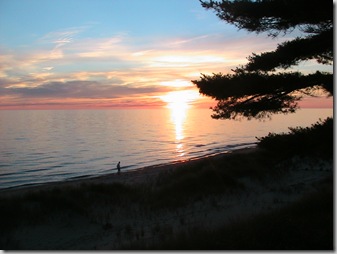 Did anyone do something especially fun over the 4th? (Tell us in the comments!)  We had our annual trip to Lake Michigan with our neighbors, Joe & Meg.  Meg's parents are so neat – every year they skedaddle so Meg & Mary and their families can have friends up to the cottage for a few days:  US!  Woohoo, how blessed are we?!  The picture above is from a few years ago.  Yep, I took it…you don't believe me do you?  It's only because you can't get a bad shot there.  OK, onto some chatting about our favorite topic:  food!
Remember not long ago I was asking if any of you read a couple books about sneaking veggies into our kids' foods?  Well today my latest Wise Traditions journal came in the mail and guess what was in there?   A thumbs down book review of Jessica Seinfeld's book, "Deceptively Delicious:  Simple Secrets to Get Your Kids Eating Good Food": "I was not surprised to find that she uses low fat dairy products, tofu, cold cereal, and lean meats.  I was more alarmed to find that she wants us to bake with canola oil, vegetable oil, nonstick cooking spray and "trans-fat-free" tub margarine spread…and this is a cookbook of recipes for our children!" However, the reviewer did say this, "If you are someone like me, who follows recipes very loosely, this is a serviceable cookbook."
The next book review, another thumbs down, also caught my eye…  Years ago, before I discovered Nourishing Traditions, my fascination with nutrition was just gearing up, and I read, "Fertility, Cycles & Nutrition 4th Edition."  Sally Fallon, the book reviewer, had this to say:  "Cold breakfast cereals, microwaved food, pasta, vegetarian diets, lots of goitrogenic raw vegetables and millet, canola oil and yeasted whole wheat bread with added gluten are all fine with Shannon, while she offers nary a mention of the nutrient-dense foods so vital for good health – raw milk, organ meats, grass-fed animal products, cod liver oil, nourishing broths, lacto-fermented foods and properly prepared whole grains.  Instead she recommends a ton of supplements."  I do want to clarify, however, that while the nutrition info in this book may not be the best, I would still suggest you get a copy if you're curious about your cycle and how different factors can affect it.  I still refer to mine now and then just for that reason.
Thank you, Elaine, who sent this YouTube clip.  (Have you read Fast Food Fear?  There's a recent comment there from someone who is upset at my attitude toward fast food – check it out and see what you think.)  This is funny, yet somehow scary at the same time…
Have a great week!