Last week Kent and I were in a mood at each other and he was irritating me, but when he does stuff like this he makes it all better:  our teen won't drink our raw milk (stubborn little terd), but has started drinking a little coffee with us on the weekends.  So Kent will fill most of his cup with raw milk and the rest with coffee and yell, "Your coffee is ready!"  Score one for the Dad.  Hehehe…
Has anyone else's summer seemed crazy already, or is it just me?  It's not unusual to have 10 kids or more here at any time – our 4 plus neighbor friends.  Thankfully they're all really good kids, and not only that, they love our toddler and always let him join the fun.  This allows me to get some stuff done…so why I am I still so behind?  Especially since I don't have any day care kids (they were all teacher's kids) I should be all on top of things, but nope…  Does anyone have advice for me?! (Just don't say, "Enjoy your kids while they're young."  I know that, but it doesn't help me feel less frazzled!)
Last week I did the fresh milk run for the first time (normally Kent does it), and it was a fun, gorgeous morning at the farm!  (Read about our first visit to Lubbers' Farm or check out their Christmas card – there I tell you about a phrase I never thought would come out of my mouth.)  We're in a milk carpool with 4 other families, so it's no quick job filling 24 jars of milk and loading them up to deliver.  Thankfully I had our teen and some older neighbor kids with us to help.  I took a couple pictures with my camera phone, so they're not great quality.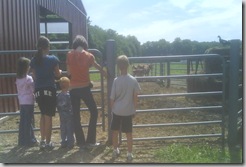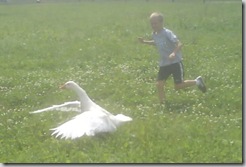 Catherine at Healthy Fit Mom wrote a very thought-provoking post recently about… well… about poop:  microbial musings.  Let me know what you think!
If you read my kitchen mishap post last week, you'll be glad to know I've figured out a new system – see picture to the right.  Why didn't I think of this before?  I have to write myself notes for everything, it's pathetic.
Have you seen my healthy parenting posts?
Mike @ Fitness Spotlight nailed it with this post!  He managed to hit on most of my major pet-peeve phrases with "Urgent Changes to Make in Your Vocabulary."
Have a great week everyone!  🙂