Good morning all, I hope you're having a great summer.  My Mom is hanging in there with minimal pain and nausea these days, just low energy, fatigue, and very little strength, which is driving her batty because she's always been a mover and a shaker.  Not being able to get up and around without help is difficult for her.  (If and when she does chemo in a couple of weeks, I'll be re-reading this post from Katie: Chemo with Hardly Any Side Effects? Mission: Possible.)  My sister and I took her to get a wig last week and it looks really great!  The kindness of strangers has been melting my heart.  As soon as people see you're with someone who has a scarf over an obviously bald head, they immediately soften.  We were holding up a lady getting out of her car in the parking lot so I apologized.  Mom was worn out from wig shopping and when the lady saw her lying in the backseat she said with such compassion in her voice, "Oh that's okay, it looks like you're doing something more important than I am."  I said, "Yeah, say a prayer for us."  She said, "Well honey, you asked the right person, because I do pray and I'll ask the Lord to be with you."  Thanks a ton to all of you who are praying, too.
I'm reading this post later and realized that my Mom passed away exactly a week after this post was published.  🙁
Hey homeschoolers!  (Or any parent wanting to get the truth about food into their kids…)
Are you looking for a nutrition course written at a high school level that doesn't repeat the same tired, unscientific, USDA mantras that are better at selling commodities than cultivating real wellness?  Want "a curriculum inspired by the same love of wholesome, traditional foods that you find in the cookbook Nourishing Traditions, the work of Weston A. Price, the Slow Food movement, and farmer's markets everywhere"?  My friend, Kristen, AKA the Food Renegade, has written not only an amazing elementary level nutrition course, but also a more in-depth course appropriate for ages 12-adult. Using an engaging living book format, it covers the industrial vs. sustainable (pasture-based, organic) food models, an in-depth look at nutrition: both macro and micro nutrients, the differences between processed and real foods, the research of Weston A. Price, sourcing local food, and more.  Find both the e-book and paperback versions here.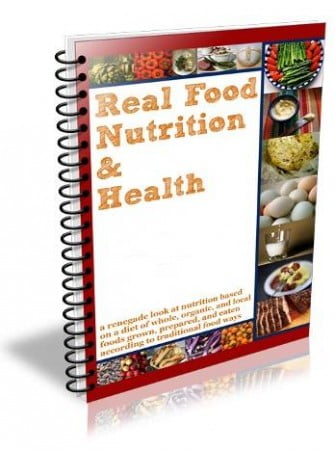 Here's what I've got for you this week…
It happened again!  Last night we were in bed and just about to sleep when we heard a loud noise like something really huge was dropped somewhere in the house.  Kent got up to check on the kids and they were fine.  No one knew what it was, so we went back to sleep.  Pretty soon we heard kids' feet running to our room, "Another kefir soda exploded in the fridge downstairs!"  I asked, "It's all contained in the towel in the crisper drawer though, right?"  They said, "Most of it is."  Kent told them, "OK, we'll deal with it tomorrow."  I don't know WHAT the deal is and why they're exploding lately when they didn't before!  Read about our first explosion here.  So I finally looked today…  How could there have been THAT big a mess when they were wrapped in a towel and in a drawer?!  It still took me well over an hour of picking up teeny tiny pieces of glass AGAIN in every little ridge of the lower half of the fridge.  I'm not feeling real excited about making another batch of kefir soda pop for a while.  (I need to get different bottles like these so I can "burp" them, and I'll probably make it again.)
Need a good all-natural deodorant?  This one is my FAVE.  Lavender for me, lemongrass for Kent.  🙂
Isn't this a cool idea?  Taking your family summer vacation on a farm!  "So why vacation on a farm? "I think if you want to find some connection to your ancestors, to the land, smell green grass, play in a creek, build a hay fort in the hayloft, see a lamb being born, eat farm-fresh eggs, hear the wind in the trees, see the stars like never before, feel a different rhythm for life and work, be someplace picturesque, try something totally different—these would be reasons people should want to vacation on a farm," says Jones."  Read the whole article here.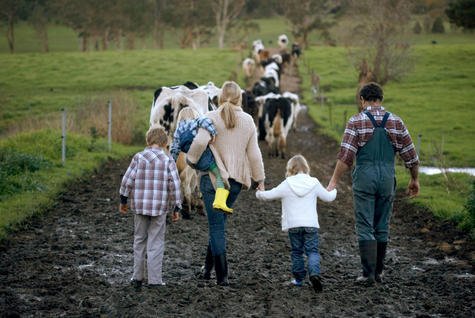 So every Monday I try to find a good video to share with you, and you'll love this one!  It's an adorable clip of a man's reaction when he finds out he's going to be a Grandpa.  🙂
More big-ag shenanigans…  This just TICKS ME OFF when the government sticks their noses into our personal lives, especially when what we're talking about here is REAL FOOD.  On Tuesday, July 15, the Michigan Dept. of Agriculture and Rural Development conducted a seize order on Jenny Samuelson of My Family Co-Op herdshare over on the East side of the state.  A summary of the initial incident is available here.  And here's an update from Sunday, July 20.   WHAT TO DO??  Let them HEAR US:  Express your outrage that the Michigan Dept. of Agriculture is interfering with private distribution of food via herdshare!  To contact Michigan Attorney General Bill Schuette:  phone: 517-373-1110, fax: 517-373-3042 or e-mail:

[email protected]

; Kevin Besey, director of the Food and Dairy Division, Michigan Department of Agriculture and Rural Development:  phone 517-582-1156 or e-mail

[email protected]

;  Tim Slawinski, Compliance Manager, Food and Dairy Division:  phone 517-420-5364 or e-mail

[email protected]

.  THANK YOU.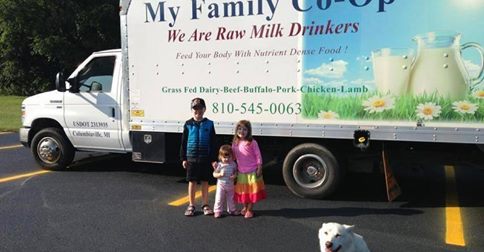 Get this!  "For the first time ever scientists have managed to use the Sun's rays to create the same energy that is currently produced in coal or gas-fired power stations.  The breakthrough in Australia means one day the Sun could compete with fossil fuels to provide our energy needs.  Using solar energy, scientists have reached temperatures and pressures never before achieved to create "supercritical steam".  "It's like breaking the sound barrier," said Dr Alex Wonhas from Australia's Commonwealth Scientific and Industrial Research Organisation (CSIRO)."  Read the whole article here.
The producers of Toxic Hot Seat, a documentary on the dangers of fire retardant chemicals in furniture, is allowing a FREE viewing of the film until July 25th!  (Or read about the corruption, greed, and deceit behind the regulations requiring these poisonous chemicals, what's being done, and how you can keep your family safe by clicking here.)
Have a great week!