Good morning, readers!  We went to our friends' house for dinner over the weekend, and you know what that means…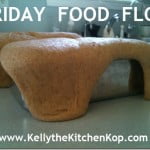 Yep, more delicious recipes are coming your way.  Stay tuned for those!
Also this weekend I was working on a new sourdough recipe, and I've already trashed my first try.  Just what I need, more Kitchen Kop food flops.  Super frustrating.  But it's always fun when I finally nail it.  Anyone else had some flops lately?
The comments at this post have fired up over the weekend:  

What to Eat After Gall Bladder Surgery

.  It's amazing how different our bodies are and how for some, they skate through with no issues afterward, and for others, they're dealing with problems from their surgery 

years 

ago.

Any crazies out there who actually like camping?  Kent and I are happy to report that we decided last year, after another downpour, loads of work packing and unpacking, tired kids, a full-bladder-but-too-cold-to-shlep-across-the-road-to-the-bathroom kind of nights, that we are DONE with that nonsense.  However, I know that some of you weirdos actually like it, so this is for you:  The Family Camping Handbook.  (It was free on Kindle over the weekend so you may still be able to get it free…?)
Here's another good one for any writers, bloggers, etc. out there: 2k to 10k: Writing Faster, Writing Better, and Writing More of What You Love.  It's a quick read and was interesting to get me thinking about how I could work smarter.  (Recommended by Jen from Conversion Diary.)
6,500 genetically-modified, Roundup Ready, Syngenta sugar beet plants were destroyed on two Southern Oregon beet farms in an act that the Oregon Department of Agriculture Director calls cowardly, but that others, judging by the comments below the article, call heroic.  What do you think?  Is it criminal vandalism worthy of punishment, or a heroic act by citizens "showing leadership where those we elected have failed us?"  Read the story here or jump into the passionate Facebook discussion here

.

Anyone been thinking about trying the GAPS Diet?  The GAPS Intro book, What Can I Eat Now?, is on sale right now and includes easy recipes, a handy symptom chart, daily reminders, and general hand-holding to get you through that difficult intro phase!
Check out these handy little doohickeys, don't you want some, too?  (They're in my shopping cart.)  Mason jar pour caps! These would be perfect for smoothies on the go or just to store liquids (like broth or salad dressings) in a way that allows for easy pouring.  (Pin it for later here.)
Here's some good news: The USDA has approved a label for meat from animals raised without GMO feed!  Read about it here.
Reminder for local readers! On July 1st, Rami Nagel is coming to Grand Rapids to talk about how to Heal Tooth Decay! Get tickets and details here.
Have you wondered what the latest is on the Baker family here in Michigan?  An email update went out this weekend from Kathy Pirtle:  "Mark Baker, a traditional pig farmer in Michigan has been bullied by the Department of Agriculture to the point where he cannot sell his meat to any customers. He has a wife and 8 children.  They are waiting for their day in court on July 12. Their legal costs will eventually be supported by the Farm to Consumer Legal Defense Fund, however:  right now, they are not able to pay their bills.Their electricity has been turned off, one of their tractors they need for putting up hay is out of commission, they have high costs for feeding their animals, and they have a large family. Let's put our community together and rally to help them get through these difficult times. We can't let our small farms be destroyed."   Please donate on their website through the donate button.   And please watch their newest video here.