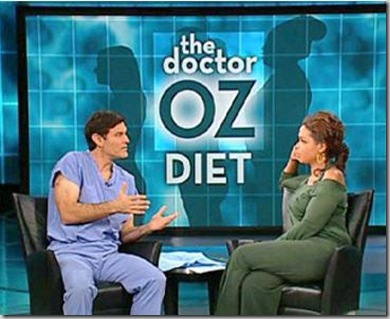 Last week when I was cleaning strawberries all afternoon, I flipped on Oprah & Dr. Oz.  I probably shouldn't have done that, some of what I heard made me nuts.  But I also heard a few things that made me cheer!
There was a LOT of good advice for achieving better health on this Oprah show, and it gives me hope that maybe, just maybe we might be getting there…
Look over Oprah & Dr. Oz's Health Checklist from last week's show and see what jumps out at you.
What made your eyes pop out of your head and brought on the urge to yell at your computer?  What made you cheer and amazed that we're finally hearing some of this stuff in the media?
FINALLY, the words I've longed to hear…
I absolutely LOVE that on their list of foods to avoid are anything with high fructose corn syrup and trans fat, and even more exciting, Dr. Oz suggested that we eat more foods without a label.  To have these suggestions on a show like Oprah is huge!
There were other pieces of good information here, too, but the rest was mostly the politically correct advice that you've heard before.
Here's the advice from Dr. Oz that got me a bit worked up:
Now let us know what made you squirm or made you jump for joy?!