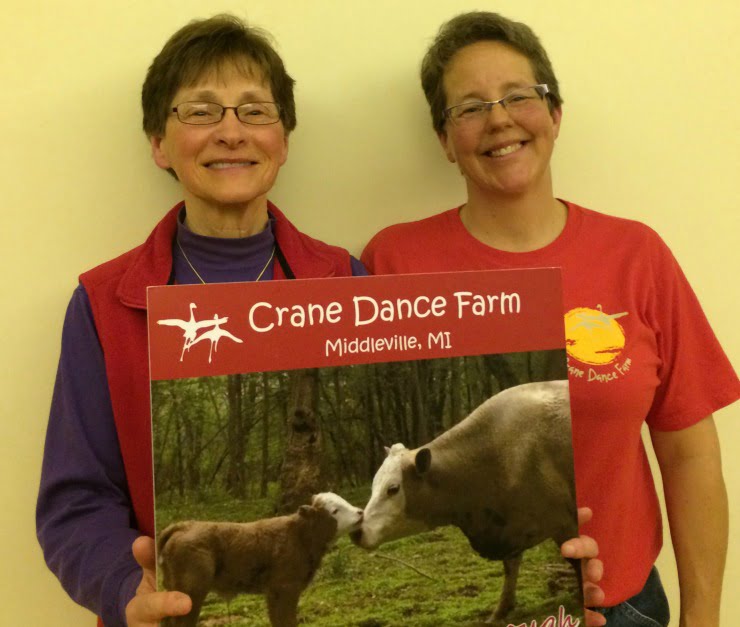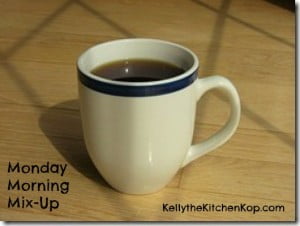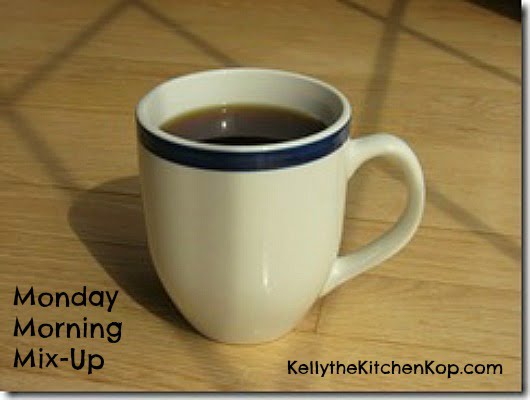 Good morning readers.  Well I almost went insane this week with all the website issues (expensive and frustrating) and computer issues (waiting, WAITING for the wheel of death).  And here I was trying to stop swearing for Lent!  Yep, it's a bad habit.
Please say a little prayer for me to have clarity and wisdom, because sometimes I get really discouraged, wondering if these are God's nudges for me to hang up this whole blogging business thing.
In the meantime, anytime you shop through the links on my resources page, or the Amazon links or other links below and on my Facebook page, it helps me pay for all the glitches around here.  (Thanks guys.)
Here's what I've found for you this week…
Pictured above are Mary and Jill, speakers at our local chapter meeting last week.  I loved listening to these two hard-working women farmers!  They are owners of Crane Dance Farm and they spoke about their humane, sustainable, pasture-based, Joel Salatin-type farm (read their story at that link).  After hearing them, I decided I'm going to start making an effort to buy their meat more, even though it's not as convenient to run into downtown Grand Rapids to the Fulton Street Market on Saturday mornings.  Of course I asked them to consider a Rockford drop, or to start coming to our Rockford summer market, and they said it actually might happen!  Here's how ON IT they are…  Back when I was still a local WAPF co-chapter leader and trying to get a list around of the pasture-based farms in our area, I sent an email out to local farmers asking certain questions.  Jill emailed me back with suggestions on how to ask better questions, and I was super grateful.  🙂
Wow guys, my friend and assistant Jill just texted me, right as I was about to publish this post, and said that the Facebook post on the above birth control link was shared by Facebook (I don't get what that means) to ask people how they felt about it.  Remember I told you a couple weeks ago about Google deciding what is "truth" , as far as what will show in an online search?  Well, maybe Facebook is deciding if they want to ban my posts or not, depending on what "popular opinion" is on the post…  Here's the link so you can watch how the action unfolds.
You all know how much I love the Weston Price Foundation, well one of my favorite sponsors, Radiant Life, is hosting a giveaway: "You may know that Radiant Life has been a proud supporter of The Weston A. Price Foundation since its inception in 1999 by being a perennial sponsor of their annual Wise Traditions Conference.  In continued support of the organization's growth, we are happy to announce a new membership drawing in cooperation with the Weston A. Price Foundation. To help grow their membership in 2015, we will be sponsoring the membership fees of 100 new members this year! Each month, for the next five months, 20 names will be chosen at random. The drawing is open to all who have never been members. Winners will be notified each month via email by Radiant Life."
Speaking of Radiant Life, in my opinion they are the best place to shop for water filtering systems because Norm, one of the owners, has researched the heck out of this issue.  How I wish I'd known them back before we got our reverse osmosis unit.  We would NOT do that again if we had to do it over, because yes, it takes out all the scary stuff like toxins and Fluoride from your water, but it also takes out all the minerals!  (For now we add a drop of these mineral replacement drops to each glass of water if we remember.)  When we're ready for another overhaul on our water, I'm checking into their systems.
Anyone thinking about swimsuit season?  My friend, Jo-Lynne, had a post last week that I've been perusing with 33 stylish swimsuit coverups under $50.  Me and the word "style" are never found in the same sentence, but I do need a coverup…  Which one is your favorite?
Did you know that there was a time when doctors tried to convince people that tobacco was good for their throat?  "Tobacco companies conducted a carefully crafted, decades-long campaign to manipulate throat doctors into helping to calm concerns among an increasingly worried public that smoking might be bad for their health, according to a new study by researchers at the School of Medicine. Beginning in the 1920s, this campaign continued for over half of a century."  Does that remind anyone of anything hot issue going on right now?  (Hint:  Here are all my posts related to vaccines.)  Read the whole article here:  Big Tobacco led throat doctors to blow smoke.
As I write this Kent is grilling burgers and for mine I'm making up a bunless burger bonanza today!  (One of my favorite meals.)  I just added a tip there for putting this onion jam on your bunless burger:  YUM.
We're not grain-free around here, but often EAT grain-free just because it's yummy and because I will avoid grains when I'm watching my weight. Have you heard Chef Danielle Walker's inspiring story of how she healed herself of life threatening ulcerative colitis by changing her diet?  This is her new cookbook, which emphasizes the simple with lots of slow cooker, one-pot, and 30 minute grain-free recipes. Includes 8 weeks of meal plans with tear-out shopping lists!  304 pages, over 450 glowing reviews, this is a great deal (the print version is $35)! Download "Against All Grain" here.
Wonder what's going on with the raw milk issue in YOUR state?  Check out this 2015 update from one of my favorite organizations, The Farm to Consumer Legal Defense Fund.  If your state isn't listed there, then I assume that means all is quiet on the raw milk front in that area.  Click here to skim through all my raw milk posts.  (Thanks for sending me this link, Tina!)

BTW, are you a member of the Farm to Consumer Legal Defense Fund?  Just as all homeschoolers should be members of the Homeschool Legal Defense Fund, all real foodies should be members of the FTCLDF.  Why?  Because both organizations are fighting to retain the rights of others like us, and that is no small thing!  Click here to join the FTCLDF.  Click here to join the HLDFA.
Read an update here about Cassandra, the Connecticut teen who, as of the time of this article, had been held against her will for 92 days for refusing chemotherapy.  By the sounds of her case I have to say that I'd have probably NOT refused the chemo, but that's between her and her parents!!!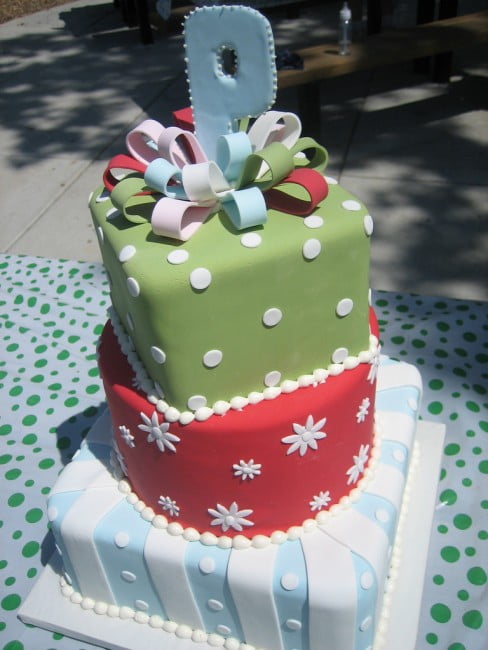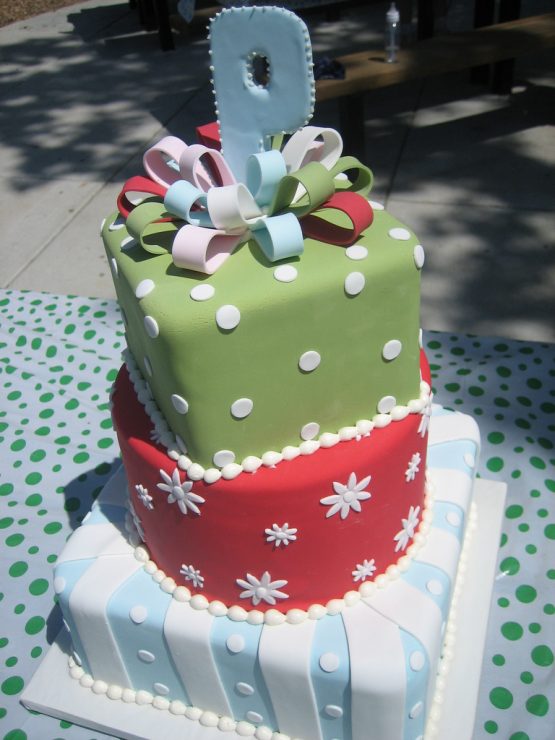 Did you see this article: "What would nutritionists order if they HAD to eat at McDonalds?"  I'm curious how YOU would answer that question?  My answer is NOTHING.  I'd just be hungry until there was a better option.  Not because I believe that eating there one time in 10 years would kill me, I still eat things now and then that aren't all sparkly, but because just the thought of it makes me lose my appetite.  First of all, I haven't been there in so long (except to grab a coffee when I'm desperate to stay awake on the road), that I don't even know what's on their menu.  The stuff I DO know about are the "healthy" choices that have been in the news because, for example, even the sliced apples have nasty preservatives in that little packet.  (Why not just sell an organic APPLE instead of apple slices?)  So tell me, what would you order?
Is your shower curtain toxic?  You know that fumey smell from new plastic shower curtains and liners?  That's PVC (polyvinyl chloride). It's toxic to inhale and screws with your hormones and increases the risk of cancer, among other things. If you use plastic shower curtains, try to find less toxic options like this one.
Does anyone else love cheesy movies?  No really, I'm curious!  I looooooved When the Game Stands Tall (although that one wasn't too cheesy was it?) and my niece told me yesterday that it was just "eh" for her.  I was SHOCKED!  Here's the latest cheesy movie I want to see:
Have a good week everyone!
(Affiliate links are often included in Monday posts.  Check out my affiliate disclaimer here.)