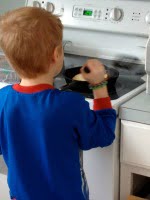 Good morning readers!  Do you want to see what our cutie patootie little 8-year-old did for us the other day?  I've told you before that he loves to cook and he's always got an opinion on what I need to add to this or that recipe to make it better.  Sometimes he comes up with some good ideas, too!  Other times not so much.  🙂  (Here he is on the right when I was teaching him to make his own grilled cheese recently.)  So I was helping a friend at the hospital all afternoon one day last week and was a little curious how it would go because I knew it would just be him and our 14 year old here, and they fight sometimes — shocking, right?  Well it turned out that are older son shoveled all afternoon (he didn't even complain!) and Kasey was being an angel in here by himself…  (?!)  He got his schoolwork done and then pulled out some lemons and limes and organic sugar and made us all these special citrus drinks!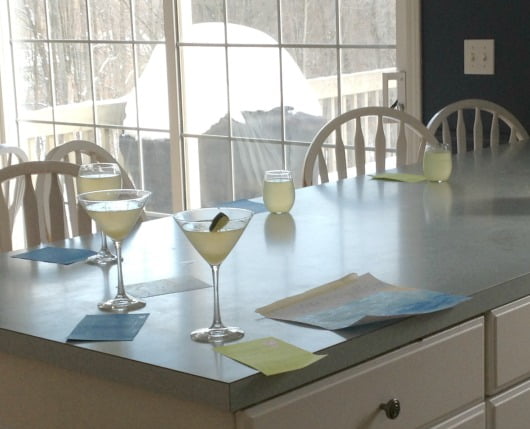 He had them all ready when we got home and we all had our own little notes with them, too:
Isn't that so stinkin' cute?  His face when I walked in was priceless.  🙂
OK, here's what I've got for you today…
These e-books from Julie at Cultures for Health (who I love!) are still only 99 cents:  How To Make Yogurt and also one with Kefir Recipes.  (These are affiliate links – thanks for your support.)
Did you see this post from Sarah?  Is Tuna Safe to Eat Post-Fukushima?  "Some reports say yes, the Pacific based radiation plume from Fukushima is a serious problem and growing worse as 300 tons of radioactive water pour into the Pacific every single day with no end in sight for years. Unbelievably, Japan's government only acknowledged the urgency of the situation in September 2013."   Can you believe this?!  Here's the only tuna Sarah will feed her family these days.
Attention local readers, and really everyone else who has been following Mark Baker's heritage breed pig case!  Proceeds from these t-shirt purchases will help them keep their farm and help with court costs. Baker's Green Acres Vs. the State of Michigan goes to trial March 11th.  Email me if you're planning to go, too!  See my most recent update on the Baker's case here.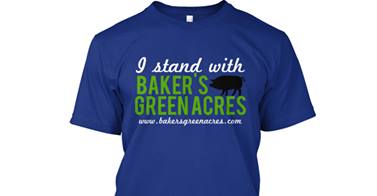 An Australian university has started quite the controversy for supporting one of their PhD candidate's choice to research and write their thesis on why young people shouldn't get the HPV vaccine. But the Australian Medical Association's president, Dr. Steve Hambleton, is having a FIT over it.  Try not to scream when you read the article and his comments.  My rant goes on for a while here.