Good morning readers.  As I write this I'm in my ugly, uncomfortable chair in my office (no funds for new office furniture yet), but there's a beautiful, cool, before-it-rains breeze coming in my window, the birds are singing, and the kids are still sleeping, so all is well.  These days I'm learning what a weird beast grief is.  (Read here about my Mom's passing if you missed it.)  I've always read about the stages of grief, but I didn't realize until now that you can go back and forth between denial and acceptance several times, sometimes even in a ten minute period.  Anyone have suggestions for interesting/helpful reading on the topic of grief?  Scripture has been my close, comforting companion.  Along with Kent, my siblings, my sweet step-Dad, Carl, and all those who miss Mom, too.
I also didn't realize how much I would not be ready to get back into regular routines yet.  I'm just giving myself time, as so many of you suggested.  Who knows when I'll get back to a regular blog posting routine, maybe never.  Between Google and Facebook shenanigans, and maybe a bad case of the summer slump, my traffic is crap these days anyway, so whatever.
We've been sorting out my Mom's house, what a roller coaster THAT is.  One minute you're laughing your butt off, the next minute sobbing your eyes out.  Carl is moving back to his hometown, which also makes me bawl because I love him and hate that he won't be there at the house anymore either, but I'm happy for him.  And then yesterday it hit me that I HAD to get the kids' homeschooling books ordered for fall, some of them already won't get here in time!  So that took a few hours, and I still have to find the time to do all the lesson planning, ugh.  I actually love doing that stuff, though, it's like 'playing teacher' with my friends when I was a kid.  Normally this stuff takes me all summer, but I've been busy taking care of Mom.  Obviously, I thank God for that time with her and wouldn't change a thing.  I'm learning more everyday about trusting God that whatever has to get done will, and in the meantime to chill out and keep my priorities straight.  There's a beautiful peace in that.  (If I could just remember this all of the time!)
Here's what I've got for you this week…
Check out this beautiful art by my reader friend, Leana (who is also my dear friend's sister-in-law), she is battling (and beating!) cancer.  Please pray for her.  Her description: "Again, Philippians 4:8……..reminding myself that cancer did not make the list of things to dwell on…"  And if you'd like to share it from Facebook, click here.  (Also, please pray for another close friend, Mary, who has had a ROTTEN spring and summer after complications from chemo.  She is another friend, Megan's, sister, who I've talked about a lot here on the blog.)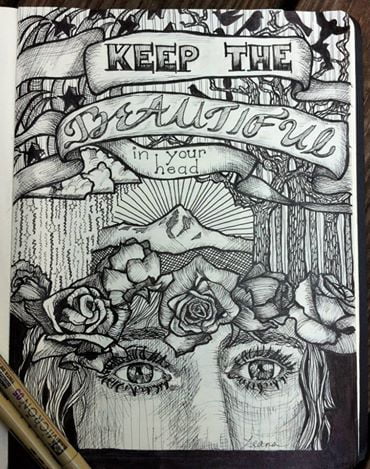 You'll be so proud of something I did on Saturday!  My longtime readers know that around when I turned 40 I started running, and lately, I mostly either walk with friends or do the run-walk-run thing (here's more about how I exercise these days:  Is Endurance Cardio Good for You?), but my favorite way to get a really good workout is to rollerblade on the trail that we have right downtown.  A couple of years ago or so, however, I saw a flippin' snake coiled up right in front of me on the trail, and I quit going.  Saturday I decided enough was enough, I can't let my fear of seeing a stupid snake keep me from doing what I love anymore, so I went eight miles and had so much fun!  Especially on the first four miles, but on the way back from Belmont to Rockford the ever-so-slight incline kicked my butt!What's YOUR favorite way to exercise?  Don't you agree that we need to find what's FUN in order to stick with it?
Thank you, Alex, for bringing this new book to my attention:  Big Fat Surprise: Why Butter, Meat and Cheese Belong in a Healthy Diet.  Alex has links to hear a radio segment about the book here:  One More Nail in the Coffin of a Lowfat Diet.  "This is interesting to me for various reasons.  First, I want to know what to eat to keep myself healthy.  I've been eating a diet high in saturated fats for a while now, and it's nice to have further confirmation that this makes sense.  Second, Sally Fallon Morell and the Weston A. Price Foundation have been on the record in favor of the high-saturated-fat diet for at least fifteen years, and for most of that time, they were disparaged and/or dismissed by the mainstream."  I also eat a diet high in healthy saturated fats and feel so good, I'll never go back to fake foods!  Read more about healthy fats here.
Thank you, Diane, for sharing this video showing the difference between organic and conventional produce!
A reader friend, Ken, sent me a link and his thoughts on the real food that was seized and destroyed right here in my home state of Michigan:  "Quite sad that we have to deal with our nanny-state bureaucracy which seems very lacking in common sense.  It abuses farmers and citizens by trying to enforce regulations that seem to have been initiated by big business entities unwilling to give up control of our right to consume foods like raw dairy."  I couldn't agree more.  See the story here.

OK, that's it for today, it's time to start running kids here and there!
Have a great week!