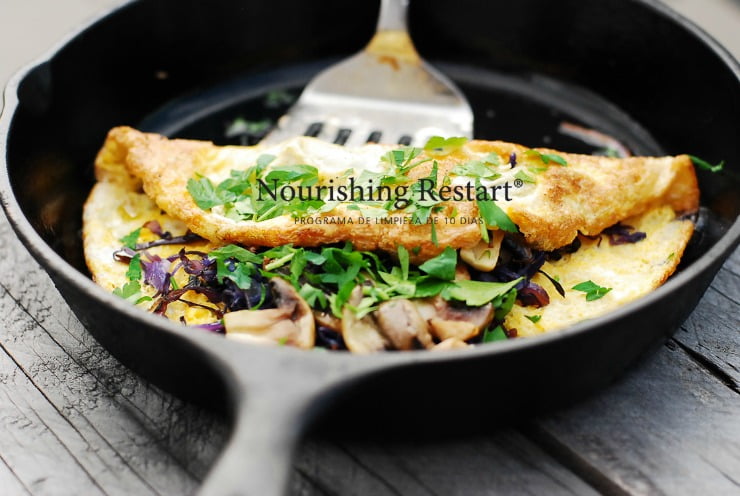 Did you start trying to eat better in the new year but either slipped already OR you didn't have a solid plan in the first place?
I'm so excited to share with you NOURISHING RESTART.
This 10-day journey to eating better and feeling GREAT was created by Mexico City Weston Price chapter leader, Galia, as a way to encourage her local chapter to become more involved and motivate them to make positive changes in their lives.
Galia has agreed to open this up to my readers!
It gets frustrating hearing about all the unhealthy cleanses or detox diets out there, so this one, based on traditional, nutrient-dense foods, was like a breath of fresh air.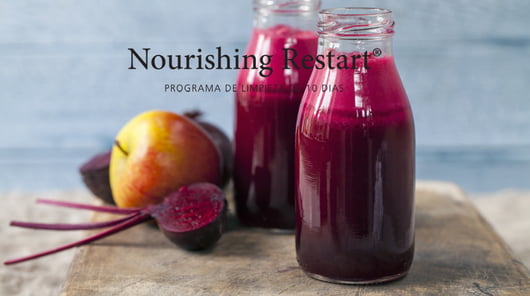 Here's how Galia explains it:
Its that time of the year when we all make resolutions and want to be healthy and look great. A detox or elimination diet can be the first step you take into a healthier new way of eating. It's recommended to do fasts and detoxes a couple of times during the year, and this is the perfect time for one.

Nourishing Restart is a simple, gentle, 10-day program you can follow on your own. Using the guidelines of the Weston A. Price Foundation, it emphasizes healing foods that naturally detoxify and rejuvenate the body, mind & spirit.

Inspired by the teachings of Ayurveda, 10 days of the right food and habits can reset the clock on chronic inflammation and give your body a chance to rest and restore. Your body knows what to do; this cleanse gives it the resources to get to work.

Cleanses have become extreme endeavors. "Eat only raw fruit! Drink only juice! Spend a month chugging water with cayenne pepper!" These approaches are expensive, often built on faulty nutrition principles, and sometimes even dangerous because the liver is not supported by the nutrients it needs. Instead you can detox easily and effectively while you continue to eat, as long as you are cutting out the foods and other substances that interfere with the detoxification process.

THE PROGRAM

I will provide you with a detailed menu of breakfast, lunch, dinner and snacks for the whole 10 days. Recipes for hearty, filling meals that won't leave you hungry during these colder months. I include a detailed shopping list so you can buy everything you'll need.

I will be doing this together with you and a group of a few hundred people who have already signed up, so you will get all the support you need, plus inspiration and motivation through the whole program via Whatsapp or on our Facebook group Nourishing Restart 2016.

The rules are simple (but tough):

Just say NO to:  Alcohol, caffeine, added sugar, gluten, dairy, soy and corn. For 10 days you will avoid any foods that come in a box, package, or can, or that have a label.  Stick to real, whole, fresh food.  (Note: Butter, ghee, and milk kefir are OK during the cleanse because they are not a high inflammatory food, they have very little lactose, provide nourishment, and have other beneficial properties. If people are avoiding dairy they can substitute with coconut oil and coconut yogurt.)

WHAT YOU CAN EXPECT

Drastically increase energy levels, vitality and health.

Rid your body of years (or decades) worth of old toxins.

Create better digestion, clearer thinking, and emotional well-being.

Reduce inflammation, allergies, aches and pains.

End up feeling cleansed and renewed!
SEE HOW TO SIGN UP BELOW!
ABOUT GALIA:

I am an enthusiast for real nourishing food, and run the local chapter in Mexico City for the Weston A. Price Foundation.  A mother of 3 kids ages 12, 9 and 2, I advise other moms about healthy food for their children and family.  I teach cooking lessons and workshops and write at my blog, Baby Loves Food.  I recently started the first delivery service in Mexico of bone broth made from organic free range chicken, organic local turkey, or pasture raised beef.  I'm a certified Health Coach from the Institute of Integrative Nutrition in New York, and learned traditional home cooking in Bangalore India, and Thai cooking in Chiang Mai.
Doesn't she sound awesome?
There's one unique part of this detox that I asked Galia to explain more…
Me:
What's up with sweet potato every night in Nourishing Restart program?
Galia:
Every night during the 10 days of the program we are going to eat a baked sweet potato (or a baked potato) exactly three hours after dinner. I suggest you have dinner with the kids at 7:30 or so and have the potato around 10:30, right before you go to bed, but the times can be adapted. This is a strategy I borrowed from Katheen DesMaisons, Ph.D In her book 'Potatoes not Prozac'.  She explains how the potato, exactly 3 hours after dinner, has a huge impact on our serotonin levels. She recommends a baked potato, but I chose a sweet potato for the program because it has more nutrients, its bright color indicates beta-carotene (the vitamin A precursor) and also because regular potatoes belong to the family of the nightshades (sweet potatoes don't), which can cause inflammation and are problematic to many people, even if they are not aware of it. "The potato creates an insulin response which has an effect on the movement of the amino acid tryptophan (that you got from the protein in your dinner) from your blood into your brain. It will calm you and enhance your dreaming.

It will also turn on your "just say no" switch, making it easier to control cravings during the day.

The butter (or coconut oil) is good; it helps slow the effect to just the right level for your brain". Our body uses tryptophan to make serotonin. Serotonin is the brain chemical that makes us feel good and happy. It also helps us stay on track with the cleanse during the day by putting the brakes on our impulsivity. Serotonin levels are directly related to REM sleep and dreaming, so we might experience more dreams (weird ones even). This means the strategy is working. Tryptophan is a kind of amino acid, which comes from protein. When we eat protein foods (meats, cheese, eggs, birds, etc.), it is broken down into amino acids. They go into your blood stream and try to get into the brain as "brain food". Tryptophan is a little slow, though. The other amino acids compete with it and won't let it get across into the brain. But when we eat a food that causes an insulin reaction, the insulin goes and gets the 'big' aminos and takes them to the muscles to be used as muscle food. Tryptophan stays behind, he then hops into the brain and sacrifices itself to the serotonin factory. And our serotonin levels rise. It takes us three hours to digest the protein from dinner and process it into Tryptophan, so that's the reasoning for the timing.

The menu in Nourishing Restart calls for half a sweet potato; if you're hungry, eat one whole. Pay attention to the effect and adjust the size. It is probably a good idea to prepare a few potatoes at once, this way they are ready and it will make it easier to have one at night every night. Make three, eat them for three nights, then make other three, an so on.

Ingredients: Sweet potatoes (organic is best)

Instructions: Preheat oven to 375* with rack in center position. Scrub and pat potatoes dry, do not peel. Pierce potatoes all over with the tines of a fork or a small knife and bake in directly on oven rack, until soft and caramelizing, about one hour. Take out of the oven, cut through skin and open it (no need to peel, just don't eat the skin), add butter or coconut oil, salt or cinnamon, and serve. Leave the sweet potatoes that you will use for the next days to cool, then store them in an airtight container inside the fridge.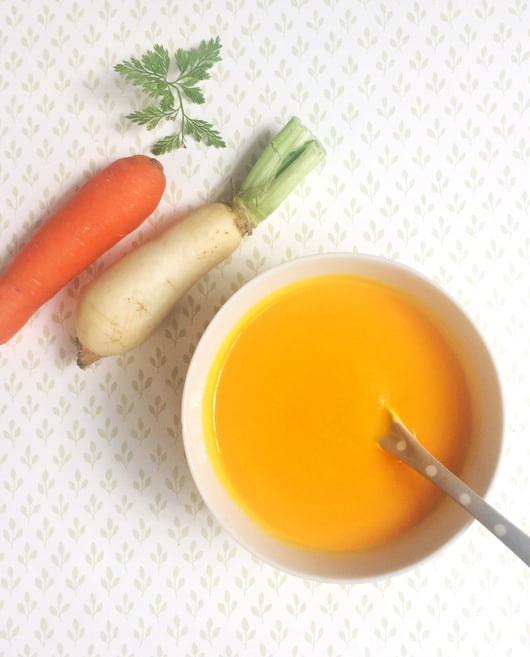 ARE YOU READY TO JOIN US?
We can do anything for 10 days, right?  I'm posting this today so you have time to sign up (see below) and get your groceries ready to start this Friday, on January 15th!
HOW TO GET STARTED!
Click here to sign up to get a FREE Real Food Ingredient Guide — this will help you know which foods to choose moving forward, and you'll get helpful emails to keep you on track.  🙂
Click here to sign up with Galia so you can receive the shopping list, menu plan, and recipes.
Optional: Click here to get into the private FB group for support from others who are doing the Nourishing Restart, too, and it's where you can ask any questions!  Note that you'll find both Spanish and English there, but Galia plans to make sure all the important information is in both languages, AND she'll reply to you in whichever language you asked the question in.
Many of these principles I already follow, but no caffeine, alcohol, or sweets at ALL for 10 days…?  WE CAN DO THIS!  🙂