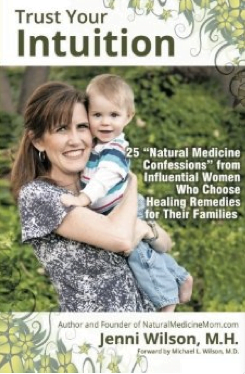 Good morning readers, today I've got some recent blog highlights to share with you, so check those out below in case you've missed anything. 
First, did you hear that I contributed to a new book that made it to the bestseller list on Amazon last week?  It's about moms who have broken their dependence on the conventional health care system and have learned to take care of most of their family's ailments themselves.   Find the book here:  "Trust Your Intuition".  
By the way, the book has brought a renewed interest in the post that my chapter was based on:  How to survive Lice.  (Sorry about the disgusting video at that post, but it might help you know what to look for!)
Here are the top posts in July:
Learn to Make Sourdough Like a Pro – the Healthiest Bread on Earth
Ready for the BEST sourdough bread recipe EVER?  Hopefully you'll have loads of success with this tried-and-true recipe.
Jenny McCarthy, New Co-Host of 'The View', Has "Dangerous" Beliefs About Vaccines
What's more risky? To question everything and do the research, or to blindly follow?
Are the Pink Ribbons a Big Scam?
By questioning the pink ribbon campaign, I mean no disrespect to those who have fought the breast cancer battle or those with loved ones who have done so. As a matter of fact, my mom and more than one good friend are breast cancer survivors. But as with anything else, we need to question what we're giving and raising money for…
A Judge With Common Sense? Baker Update on the "Hogwash Hearing"
See these dangerous looking 'feral' pigs, in their PENS?  A bunch of us, more than I ever dreamed, went up to the Missaukee County Courthouse in Lake City, Michigan for the Baker Farm hearing, and this is my recap post.
Do Diabetics Deserve Our Judgement?
It's been a while since I've learned that there was a lot more to the obesity and diabetes epidemic than meets the eye, literally, and much more than what doctors have been telling us…
Converting a Walnut Hater – Rosemary Walnuts
As long as I can remember I've hated walnuts. Since they're considered a healthy nut and loaded with antioxidants, I've always wanted to like them, but I could detect their unique icky taste and texture the minute they were in my mouth, even if they were well-hidden…