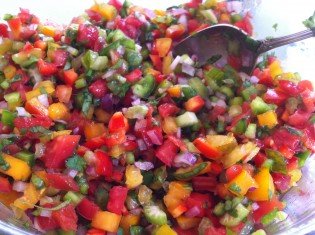 Fresh Homemade Salsa
This homemade salsa with fresh veggies from your garden or the farmer's market is always a hit. Get creative and add veggies that you love for a flavor explosion!
Ingredients
Juice from 1 lime
1/3 bunch cilantro, chopped
1 med onion, chopped small (more to your taste)
2 stalks celery, chopped into small pieces
2-4 jalapeños, chopped
3-4 bell peppers, chopped – all different colors look prettiest
12 assorted tomatoes, chopped small – or however many you have
2-3 cloves fresh garlic, chopped small
About 1/2 teaspoon sea salt, add more to your taste
Optional: 1 teaspoon Palm sugar
More ingredients to try (I love them all):  fresh chopped parsley, grilled corn on the cob, black beans
Avocado would be yummy, but I'm not sure if the lime in the recipe would be enough to keep it from turning brown.  Does anyone know?
Instructions
Combine all ingredients in a medium sized bowl and toss together.  Enjoy.
For a faster version, just clean all of the ingredients and toss them into a food processor until it's as chunky as you like it.  :)
Recipe by Kelly the Kitchen Kop at https://kellythekitchenkop.com/the-best-fresh-homemade-salsa-recipe/