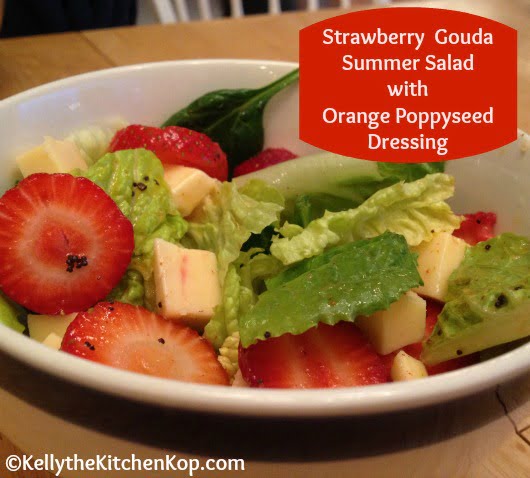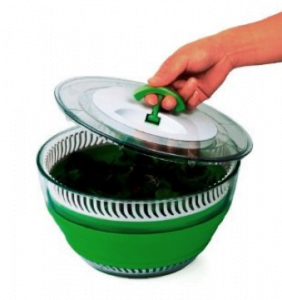 Do you love strawberry salad?
It's almost strawberry time and you'll love using your fresh strawberries in this light flavorful summer salad!  The recipe came from our friend, Nancy, which is where we get quite a few of our favorites.  🙂  First, here's my salad spinner, which I loooooove…  The kids fight over spinning it, of course, but the bowl is cute and a perfect size for a summer picnic.  It's also collapsible to save space!  The best part is that it actually works, my last one was a piece of junk — it's funny how you appreciate the little things sometimes, huh?   🙂
Summer Strawberry Salad with Gouda with Orange Poppyseed Dressing



Ingredients for strawberry salad:
Your favorite crunchy lettuce, rinsed, drained and torn.  I like organic romaine with a nice mix of other greens, too.  Nancy's recipe also calls for spinach, and a little raw spinach now and then is no big deal, unless you have health issues, but here's why you don't want to make eating raw spinach a daily habit, such as in a morning smoothie…  It contains something called oxalic acid, which blocks mineral absorption.  Read about other veggies that should be lightly cooked before eating from Sarah.  Also, here's more info from Dr. Kaayla Daniel: Plants Bite Back.
1 pint organic strawberries, cleaned and sliced – strawberries are always high on the dirty dozen, right now it's number two
6 ounces gouda cheese, cubed
1/2 to 1 cup crispy pecans or almonds
Ingredients for dressing:

1/2 cup freshly squeezed organic orange juice (about 2 oranges)
1 Tablespoon grated orange zest (from the 2 oranges you got the juice from)
3 Tablespoons olive oil
1 Tablespoon local raw honey or maple syrup (click the links if you don't have a local source for those)
1/2 teaspoon poppyseeds
1/4 teaspoon garlic powder
1/4 teaspoon sea salt
1/8 teaspoon paprika (not the smoked kind)
Dash of pepper to taste
Instructions:
Whisk dressing ingredients well and pour over salad ingredients.  Let me know if you love it, too!