If you like shopping in your PJ's like I do, check out these great deals!
Here's what I've found!
The GAPS Diet book for healing any health issues related to your gut (which is everything, basically) is now $26.51 and WAS $35!
My favorite pan is IN STOCK – this is rare, so if you want to get yourself one for Christmas or give it as a gift, you'd better snag one now!  In case you haven't heard me rave about it before:  it cleans up so well, is big enough to only have to dirty one pan, and best of all it's stainless steel, so no nasty Teflon is by your food!
Now that it's all cold here, I should remind you of my favorite products to help make a better cup of coffee – read more here about Redeeming My Morning Coffee.
Here's another favorite:  Electric Deep Fryer – I decided to get two of these, and now I can fry in my delicious and healthy beef tallow without worrying about free radicals/cancer from the oil getting too hot and screaming up over the smoke point. (By the way, this doesn't have a temperature control knob, but all the reviews on it were great and they said that it gets to 350* quickly and maintains that temp well, which is the temp I fry at. (I called the company to be sure, and they said that it varies between 375*-400*, but tallow has a smoke point of 420* so I'm still good.) Models with a temp control were MUCH more expensive, and since I was buying two, I had to give up that feature. I'd have been even happier if I could find these without a non-stick surface, but I had no luck with that.) Update:  AFTER I bought TWO of those, I read about this fryer with a glass bowl: 1500-Watt 2-Quart Glass-Bowl Deep Fryer.
You'll make someone REALLY happy if you get this for them for Christmas!!!  Read more about the Bosch here. Or here's where to buy a Bosch and accessories. 

Read about the amazing things I can do with

my beloved Bosch.
Grain mill

– I use mine often

and love knowing how much more nutritious our recipes and meals are when I'm using fresh flour I've ground myself. (Flour loses a lot of its nutritional value the longer it sets.) I chose this one because it got the best reviews, it can grind more grain at once than others; they say it's quieter than others, too, and it also has more options for course or fine flour, for different types of grain, etc. Click here for NutriMill Grain Mill.
Hand blender / Stick blender –

I

use this a lot. It's much easier pulling this out than my regular mixer (for certain recipes), and it reaches right inside soup pots or other places that you couldn't use a regular mixer for. It grinds up veggies small so the kids don't notice them in soups or sauces. This would also be good for making your own healthy baby food. It washes up easily in the dishwasher, too. My favorite use is for mashing potatoes – you can do it right in the pan you boiled them in – just drain, then mash with butter, cream cheese, garlic, sea salt & pepper – yum! (Click here to get it.)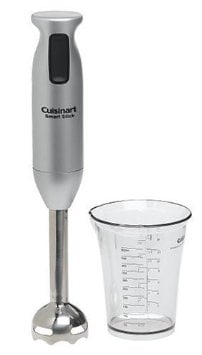 Lastly, I know we're not all paleo around here, but there are a ton of bestselling Paleo books that have sales on and off on Kindle (and even though I'm not paleo, I still cook that way sometimes because it's yummy!):
The Primal Blueprint
Paleo Girl
The Paleo Solution
The Paleo Manifesto
Gather: The Art of Paleo Entertaining
The Paleo Sweet Tooth
Decadent Paleo Desserts
Easy Paleo Gelatin Treats
Cracking the Paleo Code
The Modern No-Nonsense Guide to Paleo<
Sexy by Nature