I hope you had a great weekend and have gotten lots of turkey broth in the freezer by now.
I struggled a bit since it's our first holiday without Mom, but on a happy note, Thanksgiving day was one year exactly since the accident.  While it has been a looooong, difficult year of surgeries, and that part isn't over yet, we are so unbelievably thankful that we still have Shane and Hailee with us and they are doing great.
Here's the post telling a little about the accident.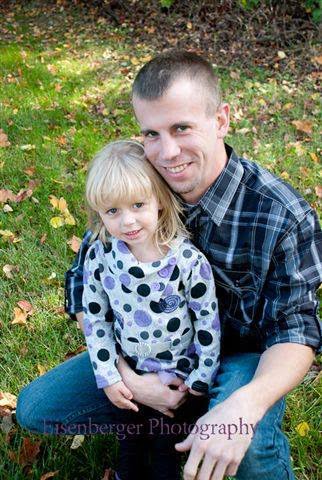 And here's a little blurb in a post about the accident before I could say much (because I didn't have their okay yet).  There I talk about when the medical world is awesome.  This last year was full of hospitals, that's for sure.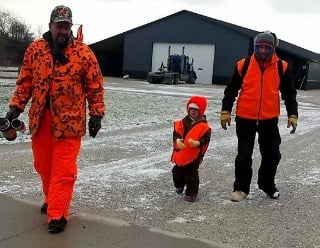 Here's a picture from this week:  Kent's brother, Kurt, with Shane and Hailee, three generations all hunting.  Thank you, Lord.  🙂
Before I get to all the links, I just have to ask, is anyone else really getting into online shopping nowadays? 
Yes, I know it's nothing new, but this year I decided to totally avoid stores and got ALL my shopping done online Saturday.  There's just something awesome about shopping in PJ's and drinking coffee.  I mostly got free shipping and screaming deals everywhere, too.  Over in the sidebar is an Amazon box (or click here to go to Amazon.com
), if you'd click through there to do your Amazon shopping I'd love you all even more because that little bit of affiliate income really helps me with the blog and Amazon has great cyber Monday deals today, too!  I have to spend another chunk on site updating/maintenance soon (like a few thousand $$$), so I'd really appreciate your help in that way because it costs the same on your end.  Really any time you shop online if you could use the links on my resources page, I'd be forever grateful.  A lot of bloggers are raking in the buckaroos with their business, but I'm not one of them!  I just don't have the time to devote to it.  (I know homeschooling is best for our family, and that my priorities are right, but it takes a TON of time.)
Here's what I've found for you this week…
Gads can you believe it's December 1st?!  Are you putting your tree up soon?  Our kids always want to sip on this yummy homemade hot cocoa while we decorate, and for a treat, we sometimes drop in a candy cane — it's not easy finding all natural ones without the junk ingredients, though.  Instead I found these organic peppermint drops — I love mint and chocolate together, especially in cocoa!
Here's a link you'll love if you feel like cracking up this Monday morning:  25 Thanksgiving Pinterest fails.  I can SO relate.  Have you seen my Friday Food Flops?  Scroll down through those if you ever feel frustrated in the kitchen — and those are just the ones I show you!  🙂
Remember last week I mentioned the barbaric birth control method, Essure? 

A reader was wondering if anyone out there has had the coils surgically removed from their ovaries, she was concerned after reading about the damage they are doing to so many women's health and now wants them out.  Has anyone here had them successfully removed?

In case you missed it on Facebook, here's a link to an Essure Problems group on Facebook where you can get help and support if you've used this birth control or know someone who has.
Here's something scary, Coke is coming out with their own MILK?  Read about Milka-Cola here and let me know what you think?  (Like they need to invent some new milk?!!!!!  Ahhhhhhhh!!!!)
As many of you enjoy your homemade turkey broth this week, ponder this…  I learned in Nourishing Broth that from 1870 to the 1950's Campbell's carefully sourced their ingredients (insisting on "table quality" with only the freshest vegetables and meats, and attentive preparation), but after the company went public, the higher profits demanded by stockholders began the downward spiral to the state their product is in now: loaded with artificial flavors, additives, and MSG, and overall quality that is a far cry from real, homemade soups.  It's sad how many homes still have this stuff in their pantry.  Learn more in the book here:  Nourishing Broth.  (It's the definitive "Broth Bible", loaded with science, history, and recipes using broth.)

Did you catch all of last week's posts? Here they are in case you missed them:
Have a great week!
Affiliate links and sponsored blurbs are included today, click here to read more of my small print stuff – privacy policies, disclosures, etc.