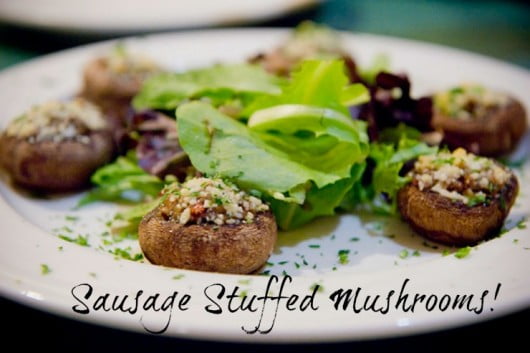 Liz's Sausage Stuffed Mushrooms
These yummy mushrooms are always a hit!  Thanks, Liz, for sharing your recipe with us!
Ingredients
1 pound Italian sausage (My local farmer makes great sausage!  Or Liz said she found some "all natural", but that term isn't always reliable, so just be sure to check the ingredients.  Find more sources for healthy meat on my resources page.
3-12 ounce containers of mushrooms
1 small onion, minced
1/2 cup bread crumbs (soaked or sourdough bread is best)
1 sweet red pepper
2 cloves garlic, finely minced
Fresh grated parmesan cheese (not the kind in the green can --ick!)
Instructions
Rinse mushrooms and pat dry gently.  Remove stems and finely chop them.  Brown sausage, mushroom stems, onion, and garlic and stir to crumble, add finely chopped red pepper.  Drain.  Add bread crumbs, stir to combine.
Stuff mushrooms with sausage mixture.  Sprinkle on parmesan cheese.  Bake at 375* for 15 minutes.  Serve warm.
Recipe by Kelly the Kitchen Kop at https://kellythekitchenkop.com/sausage-stuffed-mushrooms-recipe-from-liz-more-appetizer-ideas/