The Kitchen Kop Real Food Health & Nutrition Interviews are BACK!  🙂  (Read past interviews here.)  Today you'll meet Jill, the Weston Price Foundation's web mistress, and learn about her new blog, too!
I first met Jill last fall at the Wise Traditions Conference in Philadelphia where we both spoke with a few others on a social media panel.  More recently I've worked with her and another WAPF web developer to get our local chapter website set up under the WAPF domain.  (We're the first chapter to do so, and it's almost ready to unveil!)  It's exciting to introduce you to her and I know you'll love Jill's new blog!  
1.       What is your #1 motivation for eating healthier meals?
What I like about eating nutrient-dense local food is that it's not only better for my health, it's better for the health and well-being of the animals (both those on my plate and those in the environment of the farm, from the birds and rodents to the microorganisms in the soil). It's better for the health and mental/emotional well-being of the farmers and other farm workers and processors. It's better for the environment. It's better for local and rural economies.
So I find all of that very motivating! To the extent that I can afford it, I get all my food directly from my farm food buying club, CSA, farmers market, and local organic grocery. I also order some specialty things online, and grow various vegetables and herbs in my small garden.
2.       What started you on the path toward better nutrition?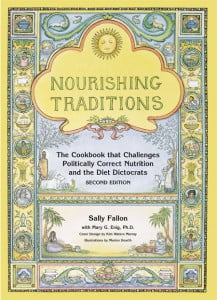 I got into farm food in about 2000 when my housemate and I were on the Atkins diet, again, and I remarked, "Wouldn't it be great if eating the food the earth provided would keep us healthy and fit?" She told me "Oh, you should read Nourishing Traditions by Sally Fallon." I had not heard of that book, but looked it up on Amazon and put it on my Christmas list. My sister gave it to me and for the whole of my week back home with the family over the holidays, I had my nose in that book. I just devoured it. If you don't have it, order it now. You need it.
3.       What is your biggest struggle in eating healthier meals?
I live alone and while I generally enjoy cooking, I have always loved to eat in restaurants, even just by myself. I love getting out, seeing other people, trying out new places, selecting just what I want from the menu, and have someone else prepare, serve, and clean it up. But, even if I could afford to eat at only the best restaurants, not many of them are really committed to nutrient-dense local food. So a meal out is almost never as healthy as one I would have made at home. And I often find the decidedly NOT healthy options very appealing.
I love the food I make, and yet, I also still have a taste for all those things I don't usually eat any more that I know are not good for me. Some of them I realize are just emotional attachments. Have you ever wanted something you remembered loving from childhood, and gone out to get it, and found it wasn't nearly as good as you remembered, and made you feel pretty bad after? LOL, I do that occasionally and almost always regret it! So my palate has changed at least partially.
4.       What is your favorite healthy recipe?
This is a tough call. I will say that I've discovered that a meal that makes me feel REALLY GOOD is steak, a baked potato, and a nonstarchy vegetable (peppers, broccoli, zucchini…whatever I have)–with plenty of real fats added like butter, sour cream, etc. After such a meal I feel full but not uncomfortable, and SATISFIED. I'm not feeling incomplete, longing for sweets, or uncomfortable or ill in any way, which I might feel after other less balanced meals. Maybe that's because it fits the balanced meal ideal of Diana Schwarzbein in The Schwarzbein Principle…she says every meal should have a protein, a real carbohydrate, a nonstarchy vegetable, and real fats.
My favorite cut of steak is ribeye—I think it's a perfect balance of the flavor of the sirloin and the tenderness of the filet, and then of course it's marvelous marbled with delicious juicy fat. My favorite way to prepare ribeye is to grill it or sauté it in a cast iron pan, and then make a quick sauce in the hot pan by stirring together Asian fish sauce and crème fraiche (or sour cream, or heavy cream). This is Sally Fallon's "Quick Steak" on 332 of Nourishing Traditions.  Sometimes I'll serve the steak with bone marrow smeared all over it instead if I've picked up some marrow bones at the farmers market.
5.       How difficult has it been for you to get over the modern-day "fat phobia" and go back to drinking whole milk or eating butter, coconut oil, etc. with confidence that it's better for you and without feeling guilty?
I am happy to say that even when I did low fat dieting back in the early 90s, I never felt guilt or fear about eating fat. I just figured I had to reduce the amount to get back to my ideal weight (it didn't work). Once I found out the facts about fat, how healthy real fats are, I never looked back. I eat them with relish: butter, coconut oil, bacon drippings, tallow, schmaltz, cream, whole milk, egg yolks. Yum!
6.       What is your best kitchen/nutrition tip?
I am so thrilled to be able to get ground organ meats from my buying club. When I read Nourishing Traditions and all the wonderful nutrition in organ meats, I thought it was unlikely that I'd be eating many of them. We ate beef liver and braunschweiger (liverwurst) with some regularity at home growing up, but that was it for organs. I have since tried a few others and like a few (sweetbreads, heart) okay, but others are yucky! (kidneys, brains).
The ground organ meats are great though! I mix a pound of them with a pound of ground beef and use it to make tacos, chili, lasagna, casseroles, etc. I cannot taste the difference at all! Meanwhile, I'm getting liver, kidney, spleen, heart, tongue, and even udder sometimes (great source of iodine).
If you can't get something like this through a buying club, but have access to organ meats at a market or by buying a side of beef, you could have a butcher grind them up for you, or do it yourself with a meat grinder, and freeze it.
7.       What did you have for dinner last night?
Last night I cleaned out the fridge to make room for my weekly CSA delivery and biweekly animal foods delivery that I'd just picked up that afternoon.
My cobbled together meal consisted of:
quarter of a raw red bell pepper to scoop up a few last spoonfuls of guacamole
leftover mashed cauliflower with butter and sour cream (Mashed cauliflower is a new discovery for me. It is awesome!)
leftover roast sweet potato, mashed with a fork and topped with Green Pasture's Butter Pecan flavored High Vitamin Butter Oil (this is a delicious way to get HVBO!)
beets and chard stems and young garlic sautéed in bacon drippings and butter and then stir fried with the chard and beet leaves
a glass of raw milk
It was unusual not to have some kind of meat or eggs in my meal.
8. Do you have a tip for how to fit exercise into your life? How do you do it?
I go through phases where I get back to exercising regularly and then if my life gets chaotic or I injure myself (I've been having trouble with my knees and ankles), I may stop for a while.
One thing I do know that for me, if I don't exercise first thing in the morning, it will never happen. I'll get busy starting dinner, or someone will want me to go out and do something, or I'll feel too tired. And if I get sweaty I don't want to take another shower. I'm a morning person, so for me it works best to get up at dawn and go biking along the river. The trails are quieter, it's cool and fresh even at the height of summer. It energizes me for my day. Now, if you're not a morning person, that may not work at all. But a regular time that suits you might help.
9. Just for fun, tell us how you began reading the Kelly the Kitchen Kop blog?
I first heard about Kelly the Kitchen Kop last fall when I was invited to speak on a panel about using social media to promote nutrient-dense food and sustainable agriculture at the Weston A. Price Foundation conference. Kelly was one of the bloggers, so I signed up to get her emails and find out more about her. Wow!
10. How did you first start working for the WAPF?
After reading Nourishing Traditions, I noticed in the back there was information about the Weston A. Price Foundation. I went to the website and found a treasure trove of additional reading, and information about the upcoming 2001 conference in Washington DC. I went to the conference, joined the foundation, bought all the back issues of the journal, found a source of raw milk, and signed up for a CSA.
Because I had some experience with HTML programming, I offered to help with the website, which at that time had no search engine and was missing a lot of basic behind the scenes coding that was important for search engine optimization. Sally's college-aged son had built it for her and was maintaining it in his limited spare time, and was glad to hand it off to someone who was eager to work on it and had plenty of time to do so.
11. What led to starting your own blog?
I've been reading about nutrient-dense foods, sustainable agriculture, civil rights issues related to food and farming freedom, and environmental issues, for ten years or so. When I would talk about these things with friends, often they would suggest I write a blog. For a long time I dismissed that idea. My thought was that I was maintaining westonaprice.org and realmilk.com—sites on which EXPERTS offer their knowledge about these issues. But as people continued to suggest it, I began to think maybe a blog wasn't a bad idea. Many people prefer reading shorter posts by someone they know, or who they feel they can relate to, that summarize the info in those experts' articles and put them in laymen's terms.
In addition, I thought it would be fun to visit farms, interview farmers, take photos, and share those personal experiences with the world in ways that will perhaps inspire others to get to know their own farmers and their own food.
Thanks Jill, I loved reading that and know my readers will, too!  Go take a look around Jill's new blog and get to know her more.  You'll quickly see what a techy she is, her blog shows that she has talent in that area, for sure.  Must be nice!  🙂