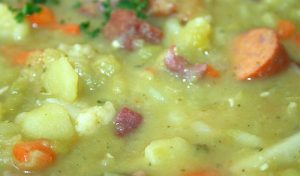 Snert/Erwtensoep (Pea Soup with Bacon and Smoked Sausage)
This soup warms you up on cold days. And is traditionally served in winter, the Dutch love to eat this when ice-skating season is on.
Ingredients
500 gr split peas (little over 1 pound)
2 Tablespoons lard/ghee
1/2 celeriac root chopped in cubes
2 carrots chopped in cubes
2 patatoes also in cubes
2 onions chopped
Couple of garlic cloves chopped
500-700 ml (2 1/4-3 cups) broth (pork or beef) -- or water and pork bones (a foot preferably)
1 teaspoon ground nutmeg
1 teaspoon ground cumin seed
1 teaspoon cilantro seed
300 gr bacon in small pieces (about 2/3 of a pound)
1 (or 2) smoked sausage
pepper and sea salt to taste
Instructions
Soak the peas for 24 hours and drain.
Put the fat in a large cast iron pot and fry the onions until they get a bit of color and add the garlic and spices, stir and fry for another minute or two. Then add the rest of the vegetables, patatoes and the broth. If you don't have broth ready you can just use water and bones/rind/feet from pork and let them simmer in the soup.
Let it simmer for 3-5 hours on low heat until the peas fall apart, use more broth if needed.
Take out the bones if you didn't use broth. Fry the bacon until it's golden brown and add to the soup, with the fat. Cut the sausage in thin slices and add.
Use plenty fresh black pepper and some salt to taste.
It will taste better the day after you make it.
Recipe by Kelly the Kitchen Kop at https://kellythekitchenkop.com/real-food-in-the-netherlands/