My reader friend, Karen, sent me this picture (which was printed in the Weston A. Price Foundation's Wise Traditions journal a few months back), and said I could post it along with her comments: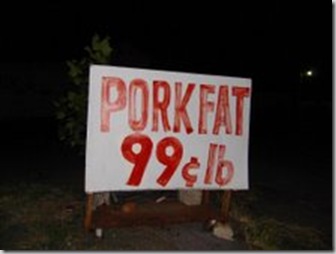 "I took this picture while in the South attending a blues festival, my favorite kind of music.  I thought to myself, 'You'd NEVER see this in the parking lot of the grocery stores in the Bay Area [San Francisco to San Jose, CA] .  It's so politically incorrect!'  I'm in the land of Ornish and McDougall: they permeate the "high cholesterol" drama, which made me realize that all those working on my behalf in getting the word out need to be applauded even more.   You're one of them, Kelly, swimming upstream daily, along with Sally Fallon and the Weston Price Foundation."
But is pork fat actually good for us?
"Lard is a traditional fat, the mention of which causes us moderns to cringe. Yet lard is a healthy, natural fat. Lard is rendered fat from pork and is mostly monounsaturated. Lard can be a wonderful source of vitamin D. Traditionally, lard has been used and enjoyed for pastries and frying potatoes—until the vegetable oil industry took over. Don't be afraid to experiment with lard in your kitchen, it will add lots of flavor to your food.
On a side note, I worked with a client from Mexico who was here visiting her daughter over the summer. The mother was 85 years old, very strong and healthy, and had not one wrinkle on her beautiful face. Her skin was incredible! It was so soft and silky, not at all dry, scaly or wrinkly like the skin I'm so used to seeing with most of my clients. I just had to ask her what kind of fats she eats. Her daughter translated my question to her mother and then replied, "She said she eats mostly lard. I can't believe it! I keep telling her that's not good for her, but she just won't listen!"  Us silly Americans!"
HOWEVER, KEEP THIS IN MIND:
The source matters!  Pastured pork (and pork fat/lard) contains more nutrients!  Visit here to find healthy sources for pastured pork and lard.
Thanks so much, Karen!