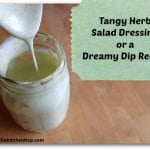 Hello readers, for those of you who don't catch my weekend posts, don't miss this super yummy salad dressing/dip recipe I put up yesterday from my friend, Mary Jo.
So I've told you before how much I love Riesling wine.  Well when I was up in Traverse a couple weeks ago for a girl weekend, we were at a place called Phils, and I had THE BEST glass of wine EVER.  It's a local wine (to Michigan) so I've been on a mission to track it down here in Grand Rapids – it's from Brys Estates.  I emailed the vineyard for help and found it the other day – I was so happy!  Until I saw the price tag:  $21.  Granted, that's not terrible, but I'm more a $7-$12 bottle of wine kind of gal.  SO I only got one and I plan to share it with my friend, Theresa, who loves and appreciate Riesling like I do.  Any other Riesling lovers out there?  Yes, I know it's very sweet, but hey, I used to like those disgusting wine coolers (that now taste like chemicals to me), so I've come a long way!  I'm sure my palate will continue to mature.  By the way,  I also love these type of wine bottle stopper tops.
Speaking of wine, did you see this post?  Is Organic Wine Better?  I shared in a comment there something I learned over the weekend that is SUPER frustrating, and another reason showing how screwed up the U.S. is.
Did you know that most peanut butter is TOXIC?  Also in that post I give you the alternatives that we use.
If you or someone you love deals with digestive issues, learning problems, or any other health concern, they have probably heard how powerfully the GAPS Diet (or similar diets) can help, but likely are overwhelmed at the thought!  Jill from Real Food Forager is selling her grain-free class (over 80 cooking videos!) and her grain-free and broth e-books in one bundle for 40% off – only $135.  Get it here with the code NOGRAINS.
Are any of you going to the Weston A. Price conference in Atlanta next month?  I'm soooo sad that I can't make it this year, it's just too difficult to get away now that we're homeschooling.  (I can hardly keep up when I'm here so I don't dare try to leave for almost a week.)  It's always such a great time, though.  You get to hang out with hundreds of peeps who GET IT.  Seeing piles of butter on plates is not only completely normal, it's expected.  You get the idea, so go if you can!  Learn more here.
The day before the conference there will also be a debate between Joe Mercola and Joel Salatin about GMOs – fun, huh?  I'm sad to be missing that, too!  It's a fundraiser to help one of my favorite organizations:  the Farm to Consumer Legal Defense Fund.  Learn more here.
Doesn't this new book by Jimmy Moore (one of the sweetest guys in the world) look awesome?!  Cholesterol Clarity:  What the HDL is Wrong with My Numbers?  Don't you wish someone could just spell it out in simple, easy-to-understand language and tell you what, if anything, you need to do about your cholesterol? Good news! That's precisely what Cholesterol Clarity is designed to do. Jimmy Moore, a prominent and highly respected health blogger and podcaster, has teamed up with Dr. Eric Westman, a practicing internist and nutrition researcher, to bring you one of the most unique books you'll ever read on this subject, featuring exclusive interviews with twenty-nine of the world's top experts from various fields to give you the complete lowdown on cholesterol.
Today is Columbus day here in the U.S., and for the past couple of weeks the kids and I have been reading all about him as part of our curriculum.  Then I read this article on what a jerk he was.  Sadness!  I hate it when you find out someone you thought was honorable really wasn't.  Not that I believe everything in one article, but as I've read more and asked people I trust, apparently it's true, or at least a lot of it.  🙁  Unless one of you can tell me something different?
Have you subscribed to my YouTube channel yet and seen my "Giant Bowl" video?  The stupid stuff I do SO often shouldn't still amaze me, but it does.
Local readers, come to our Grand Rapids chapter meeting Tuesday for movie night where we'll be watching and then discussing, "Seeds of Death, Unveiling the Lies of GMOs" – find the details here!
You'll want to watch this short video on the 'Three Things Ric Elias Learned While His Plane Crashed' – Ric Elias had a front-row seat on the plane that crash-landed in the Hudson River in New York in January 2009. Here's what was going through his mind as the plane went down:
Anyone else sick of all the PINK stuff everywhere?  Here's Sarah's latest post:  Komen (NOT) for the Cure.  Here are my own rants on that issue.
Readers from Washington State be aware of this!  Between October 18 and November 5 the next big GMO-labeling vote will take place in the United States; this time in Washington State, where citizens will cast their votes for the people's initiative 522, "The People's Right to Know Genetically Engineered Food Act."   Read more from Mercola.com.  Also watch the video below from Ronnie Cummins, the national director of the Organic Consumers Association (OCA) and the Organic Consumers Fund.  Here's an excerpt:  "There's now no longer any doubt in the minds of independent scientists and analysts that genetically engineered crops are unpredictable and hazardous both to animals and to humans.  And of course their impact on the environment is also becoming clearer and clearer.  Store owners and restaurant owners know quite well that if you label genetically engineered foods, consumers aren't going to buy them.  Just because we've got the biotech industry and Monsanto on the defensive, they're not going to go quietly into the night, they're going to keep fighting, they understand that once consumers have truthful labeling on food products, you're not going to see genetically engineered foods on the market any longer.
Have a great week!