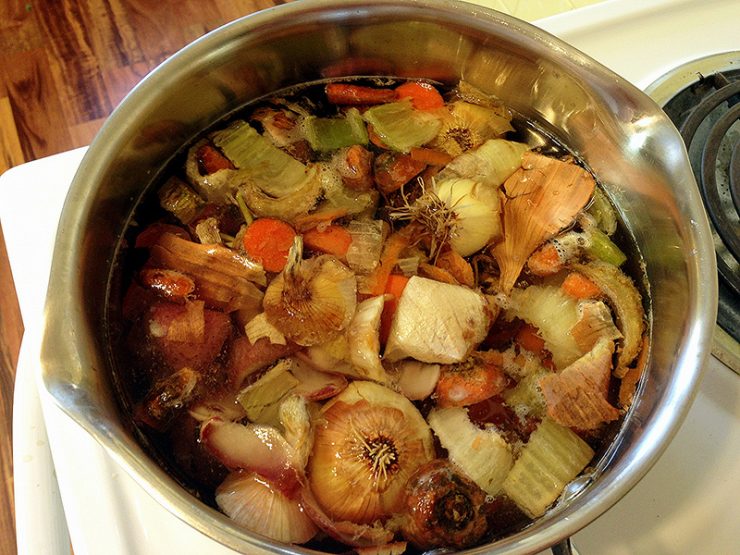 Today in part 1, I want to tell you WHY you would want to go to the trouble of making beef or chicken stock (or turkey, veal, etc.), and I'll also tell you about all the health benefits.
In part 2, look for HOW to make it, how to freeze it, etc.  ***Or check out this newer post:  Nourishing Bone Broth for Rookies.
(If you just don't think you'll make it yourself, you can order it online:  Organic free-range & grass-fed bone broth.)
Also, if you just want to add more beneficial gelatin to your stock (or if you want to use it to make homemade jello!), you can also get this gelatin from pastured animals.  I also use it when my 2nd or 3rd run or so of stock isn't as gelatinous as the first.  Or to add extra nutrients to any soup, sauce or stew.
What's the big deal with homemade stock?
Once you learn all the health benefits, not to mention how great it tastes, you'll want to add it to everything you make.  I put it in all my soups or stews (the aroma will just beg you to dip your homemade bread into it!), in my rice, with noodles, or in anything with a white sauce, and of course I use it to make gravy, but this is after letting it boil down. (Add your favorite ways to use it below!)   I now know how quick and simple pressure cooker broth is so I can make some mineral-rich broth more quickly in a pinch.  If you just don't think you will make it or want some on hand for when you're really crunched for time, try this bone broth — it's 100% grass-fed with a bunch of gelatin, organic ingredients, and it's shelf stable!  I love keeping their beef and chicken broth on-hand for quick recipes because they make it just like I do here, and without the nasty msg-like ingredients, additives, or preservatives that store-bought has.
"Science validates what our grandmothers knew…  Stock contains minerals in a form the body can absorb easily—not just calcium but also magnesium, phosphorus, silicon, sulphur and trace minerals. It contains the broken down material from cartilage and tendons–stuff like chondroitin sulphates and glucosamine, now sold as expensive supplements for arthritis and joint pain."             From "Broth is Beautiful" by Sally Fallon Morell
"The French were the leaders in gelatin research, which continued up to the 1950s. Gelatin was found to be useful in the treatment of a long list of diseases including peptic ulcers, tuberculosis, diabetes, muscle diseases, infectious diseases, jaundice and cancer. Babies had fewer digestive problems when gelatin was added to their milk. The American researcher Francis Pottenger pointed out that as gelatin is a hydrophilic colloid, which means that it attracts and holds liquids, it facilitates digestion by attracting digestive juices to food in the gut. Even the epicures recognized that broth-based soup did more than please the taste buds. "Soup is a healthy, light, nourishing food" said Brillant-Savarin, "good for all of humanity; it pleases the stomach, stimulates the appetite and prepares the digestion." Also from "Broth is Beautiful" by Sally Fallon Morell
From Cheeseslave at the post on the Health Benefits of Bone Broth:  "The gelatin in homemade bone broth helps the lining of the intestine. Many of us today have leaky gut, diverticulitis, Crohn's and other intestinal problems. By helping to strengthen the gut walls, this also supports immunity. It also strengthens digestion which helps you absorb more nutrients.Gelatin also helps people digest milk and dairy products."
Bone broth supplies amino acids that help the body detoxify.
It supplies nutrients to help those with joint discomfort.
Note:  If you have any bone or joint issues, you may want to avoid nuts and grains for a while (since they're high in mineral-blocking phytic acid), and drink lots of bone broth!
Please comment below:  What other recipes do you use your stock in?  Have you experienced any health benefits?
I use this grassfed gelatin when my 3rd run or so of stock isn't as gelatinous as the first.  Or to add extra nutrients to any soup, sauce or stew.