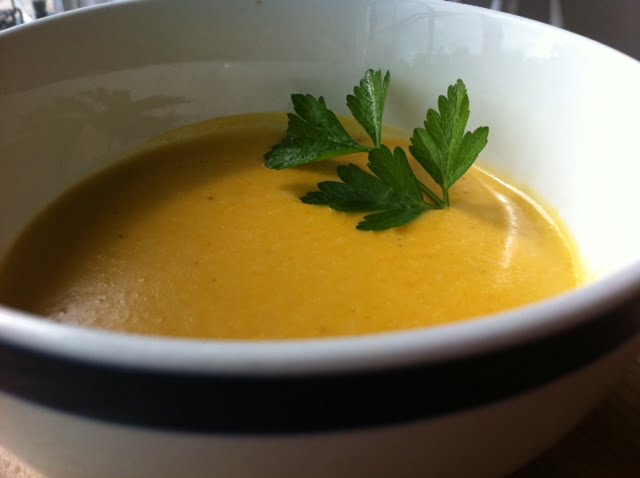 Organic Squash Bisque
Make sure to read below how to prepare squash for recipes.
Ingredients
8 Tablespoons butter, pastured better is best
 3/4 cup flour, I love Einkorn flour lately, here's why
2 cups milk (Anna suggested in the comments that we use cream instead, I love that idea!)
1 cup chicken broth (I now know how quick and simple pressure cooker broth is so I can make some mineral-rich broth more quickly in a pinch.  If you just don't think you will make it or want some on hand for when you're really crunched for time, try this bone broth — it's 100% grass-fed with a bunch of gelatin, organic ingredients, and it's shelf stable!  I love keeping their beef and chicken broth on-hand for quick recipes because they make it just like I do here, and without the nasty msg-like ingredients, additives, or preservatives that store-bought has.)
About 2 1/2 cups squash (I love Butternut squash the best) – it doesn't have to be an exact amount – see below for more info
Approximately 1/4 c. real maple syrup, or more to your taste
Add sea salt & pepper to your taste
Instructions
Melt butter in medium soup pot.  Add flour and whisk until smooth (let it bubble for a minute or two, but don't let it burn).  Add milk or cream, chicken broth, and squash and keep stirring to be sure it doesn't stick or burn. (If you have any squash chunks in there that you don't think will fly with the kids, you can use a Hand Blender 
to make it a more smooth consistency).  Mix in maple syrup, salt and pepper.  When ready to serve, sprinkle some crispy pecans on top – this makes it!  Fast, easy and yummy!
Recipe by Kelly the Kitchen Kop at https://kellythekitchenkop.com/organic-squash-bisque/