You can make this cake with any type of fruit filling you'd like, originally it calls for cherry pie filling, but the kind at the store has high fructose corn syrup and other nasties, so try making your own homemade pie filling instead!
Lemon Berry Coffee Cake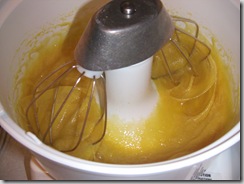 Ingredients: 
1 cup soft pastured butter
1 cup natural sugar (original recipe called for 1 1/2 c.)
4 eggs beaten
2 cups flour (I use part unbleached white or Einkorn flour, and part whole wheat pastry flour ground from organic soft wheat – adjust the ratios to your taste)
1 teaspoon organic vanilla
2 teaspoons baking powder (the kind without aluminum)
1/2 teaspoon sea salt
1 teaspoon lemon extract (another recipe called for almond extract)
About 2 cups fruit pie filling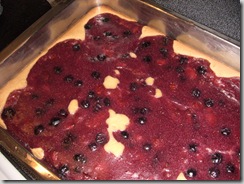 Instructions:
Mix all but the pie filling well, and spread into a buttered 9×13 pan. Dollop the pie filling around the batter.
Bake 350* for 35-45 minutes or until golden. The original recipe said to sprinkle powdered sugar on top, but I made real whipped cream for the top instead.  🙂
^