ORGANIC BAJA CHICKEN ENCHILADA SOUP
Kent and I had our date night Friday and went out for dinner. We had the best Baja Chicken Enchilada soup! I knew I could re-create it here at home, only with better ingredients, and tonight I nailed it!  I didn't even ask them for the recipe, I just gave it a shot.  🙂
And by the way, yes, this recipe uses a lot of butter. Good thing it's good for us, huh?! Not to mention what I learned from Chef Glenn: butter carries flavors across your tongue. Don't fall for the saturated fat rhetoric, and stop feeling guilty about it. Food that our ancestors ate is our way back to optimum health!
Chicken Enchilada Soup
Ingredients and Instructions:
The night before, or earlier in the day, place chicken in a baggie with the juice from a couple limes and half a packet of taco seasoning. Let marinate for a few hours.  (If you don't have time to marinate, just squirt some lime juice on top just before serving.)
When it's about 45 minutes from dinnertime, start this:
Chop an onion and sauté in 4 Tablespoons butter (I use my cast iron pan)
Meanwhile, melt 1/2 cup butter (1 stick) in a soup pot, stir in 1/2 cup flour (our favorite these days is einkorn flour), keep stirring while you let that cook a minute or so — you're basically just making a white sauce.
Slowly add in 2 cups whole milk and 4 cups chicken broth (I now know how quick and simple pressure cooker broth is so I can make some mineral-rich broth more quickly in a pinch.  If you just don't think you will make it or want some on hand for when you're really crunched for time, try this bone broth — it's 100% grass-fed with a bunch of gelatin, organic ingredients, and it's shelf stable!  I love keeping their beef and chicken broth on-hand for quick recipes because they make it just like I do here, and without the nasty msg-like ingredients, additives, or preservatives that store-bought has.)
Add 1/2 packet of organic taco seasoning (or make your own taco seasoning)
Add sea salt, fresh garlic, more taco seasoning, etc. all to your taste – we had to be careful not to make it as spicy as we'd like, or the kids wouldn't eat it.
Add 12-16 ounce jar of salsa (I used my homemade organic salsa)
Add onions to the pot after they start to get a little golden brown
Use the pan the onions were in and add chicken (cut into strips, however much you want to use, I used 4 pastured chicken breasts) and more butter or olive oil, then sauté 'til done; add to pot
Add 15 ounce can of black beans, drained (organic if you can find them)
Add about 1 or 2 cups of corn when it's almost time to eat – make sure it's non-GMO
You could get some sprouted tortillas, brush them with butter, bake 'til crispy, then cut into strips and serve the soup with those on top. Or you could crush some tortilla chips then sprinkle cheddar cheese over it. A dollop of sour cream might be good, too, wish I had thought of that earlier when we were eating it.
Try it and let me know what you think!
Meal Planning Help!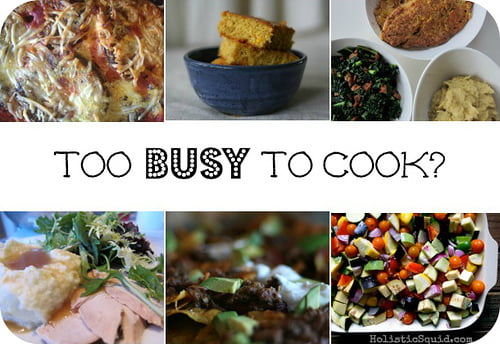 Sick of planning meals and answering the question, "What am I going to feed these people?" No matter what kind of eater you are (traditional, GF, paleo, vegetarian)… Check out these affordable interactive easy-to-use meal plans where the work is done for you.  NOW recipes also available from Nom Nom Paleo, The Paleo Mom, and Wellness Mama all in one spot!  You can read over my review here.
photo by juggler pm