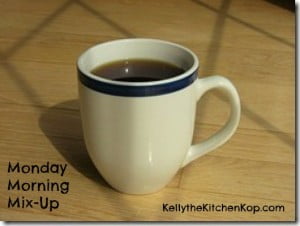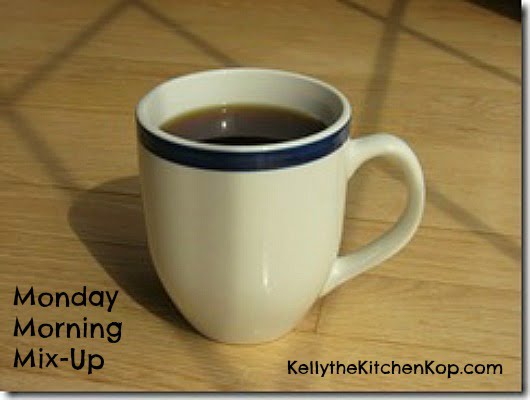 Good morning everyone.  🙂
Well friends, I do believe I've taken 'fuddy duddy' to a new level.  We had a gorgeous weekend here so I was out running/walking.  When I run I want my music, but when I walk I want to fiddle around with my phone, find good podcasts, plan my schedule, etc., SO I might need to make the switch to bifocal contacts because… I've started having to take my reading glasses with me when I exercise so I can SEE my phone.  Pretty pathetic, eh?  It paid off though because I heard a really interesting podcast by Father Michael Schmitz about picking one thing to change today that will help you be the person you want to end up being at the end of your life.  He was saying that it's too bad we're all on electronics more we ever have been (and he asked, "Anyone ever panic when you're in the bathroom and realize you forgot your phone?  Yeah, me either." Haaa!), because doing so impedes the part of our brain, in our frontal lobe, that help us to prioritize our time and our lives!  Interesting, huh?  Maybe that's my problem…!
Don't forget:
As you may have guessed from the featured photo above, the Ultimate Homemaking Bundle will be LIVE soon!  Today, to be exact, at 8:00 am Eastern.  You'll get 100 books on ALL of the following topics for 97% off, only $29.97, for REALS:
Working from Home (One example:  "How to Be a Work at Home Mom" – personally I'm hoping to learn how to be a BETTER work at home Mom.)
Marriage & Sex (One example:  "Worth the Fight")
E-courses (One example:  "From Boring to Blazing in the Bedroom")
Cookbooks, Meal Plans & Real Food (One example:  "Costco Slow-Cooker Freezer Meals")
Homeschooling (One example:  "Year-Round Homeschooling Teacher Planner")
Motherhood, including books on Pregnancy & Baby (One example:  "From Grouchy to Great")
Organizing & Home Planners (One example:  "Paperless Home Organization")
DIY & Cleaning (One example:  "DIY Natural Homemade Household Cleaning Recipes")
Faith (One example:  "Trust Without Borders")
Finances (One example:  "How to Build a Budget that Works")
Holidays (One example:  "Gluten-Free Gifts in Jars")
p.s.  The ones in bold are the books I'm reading first!
Here's else what I've found for you this week…
PLEASE help me to spread the word, share this on FB, and local readers, please tell all your friends!  Nourishing Ways of West Michigan, our local WAPF chapter, is sponsoring a screening for the film: Trace Amounts: Autism, Mercury, and the Hidden Truth.  We have 23 days to get enough ticket reservations or we will lose our opportunity to show the movie at the theater. It's scheduled for Thursday, May 21 at 7:30 at Celebration Cinema North (where you can pay extra for REAL butter by the way!).  We need 50 more ticket reservations to make it happen. CLICK HERE to reserve your spot!  Credit cards will only be charged if and when enough reservations are placed.  Here's the trailer:
I'm trying this recipe from Katie!  Parsnip Fries with Harissa Mayo.  She talks about tallow and where she gets it, but I still like my source for beef tallow better (less expensive).  I am excited about a new brand of mayo she mentioned there, though!  Until now I've only been able to recommend either homemade mayo, which is so simple you may as well do that to save the money, or this WFN brand, those were the only options.  But now you could try this mayo, too, with all good ingredients!  (Don't ask me why they don't sell it on its own, and it's only packaged with another item.  They're all good products, though, so it would be worth it to pick one of those that you use.)
Did you catch last week's posts?  Here are acouplein case you missed them:
This is so sweet, it will make you cry!!!  Can a blindfolded child pick their mama out of a lineup?
Have a good week everyone!
(Note:  Affiliate links are often included in Monday posts. Check out my official disclaimer here.)