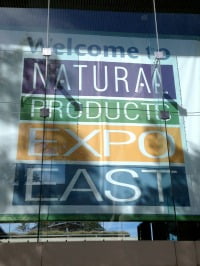 Today I'll share some random thoughts about my trip to Baltimore for Expo East, a natural products show.  Seth, Ann Marie, and I met here, to say hi to current clients and hopefully make some good connections for new advertisers.
I opted out of the airport cancer machines as I left Grand Rapids and it was no big deal again.  Surprisingly, the Baltimore airport only puts people through there randomly, but in GR everyone goes through them.  I just can't believe more people don't opt out.  Everyone else was filing through like cattle, apparently not concerned at all about the massive dose of radiation they were getting.  (Read about my first time:  I'm Not Normal.)
Expo East started off with a mimosa cart sighting – woohoo!
From there on it was a lot of walking and chatting and meeting great new people, like this guy, Max, who is moving and shaking the non-GMO world trying to get Prop 37 passed in California.  Here's info on his latest fundraiser!
It was good to see Alice Waters in the flesh and hear her talk about the local food movement.  She spoke about how important it is to pay farmers a fair wage for their work because if not, there will be consequences to the "get it as cheap as you can" mentality.
You wouldn't believe all the amazing organic chocolate I got to taste at this show!  And really good coffee and tea, thankfully, because there are NO decent coffee shops in Baltimore I'm here to tell you.  I ordered a case of some amazing barbecue sauce that I'll tell you about soon, too.  It was very refreshing at this show to see SO many ingredient labels that have NO crap in them!  I tried to tell each one I could, "You should be very proud of what you're doing."
Here's one of our fav sponsors, To Your Health Sprouted Flour, but somehow I didn't get Jeff's picture!  Here's me and his fun brother, Jim.  We had dinner with them, they're a blast to hang around!
Today is my birthday, so last night Ann Marie & Seth were sweet enough to take us all out to a great Italian restaurant.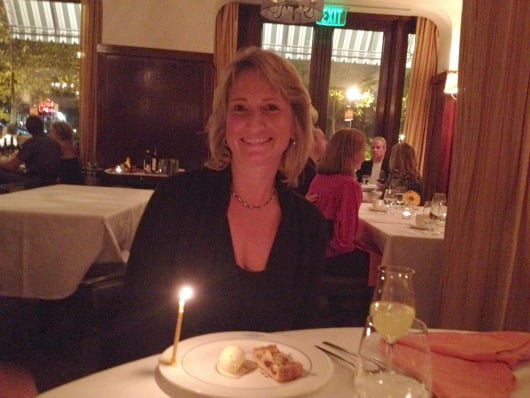 This weekend I finally got to meet the famous "Bubbe and Papa"!  Seth's parents, Ed & Nancy are seriously the sweetest most delightful couple who enjoy every moment of their retired lifestyle.  I feel like I've known them forever.  They're such fun grandparents to Kate and even though they live across the country on Long Island, they're still an active part of her life.  Nancy got me some chocolate caramels from one of her favorite candy stores that are… well, there are no words for what these are!  Hopefully there will be some left to share with my kids when I get back tonight, but it's not looking good.