Good morning readers!
I hate to start right off on a downer note, but have you seen this shocking list of companies who are putting dollars behind keeping GMOs from being labeled?!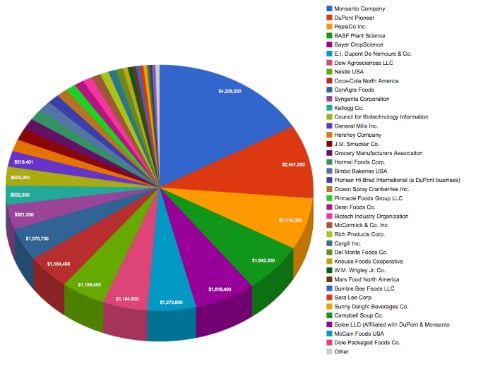 If you go to that link above you'll also see a "good guys" list of those who are trying get Proposition 37 passed in California to make it mandatory for companies to disclose GMOs on the label.  They know that once CA has to do it, the rest of the states will follow suit and THEN we are really gettin' somewhere.  Please spread the word and help make that happen!
I have no idea how I came across this article about using cod liver oil to clear up acne, but I think it makes perfect sense!  "Why cod liver oil works for acne: The difference between the vitamin A in Accutane and the vitamin A in cod liver oil is that the latter is a natural, not synthetic source—and therefore carries less risk of toxicity in the body because it works synergistically with its other nutrients."  Read more of the article here.  And click here for where to buy the fermented cod liver oil.
Reminder!  Time is running out to enter the giveaway to win a collection of Einkorn goodies like cookies and pasta and other yummy stuff – Go here to enter!
I hope you'll all go read Jenny's post on a topic very near and dear to me:  The Farm to Consumer Legal Defense Fund – Why I support the FTCLDF even though I'm not a farmer.  As Jenny says, "Small Farms Need Advocates! (Here's How You Can Be One)".
If you're a parent or work with kids, you'll want to catch all the interesting comments at my post last week on Unschooling and whether or not we should give our kids free reign with screen time.  There's a lot of great conversation still going on over there!
Raine wrote a post last week covering a hot topic:  Why does factory farmed food make us sick?  "As a culture, we've grown so accustomed to food recalls, food poisoning, and chronic health issues we don't really give a second thought to the idea that maybe the food we're eating is causing more problems than we realize. Consuming industrial foods are now being linked to many different health issues such as antibiotic resistance and the development of superbug viruses such as Salmonella, E. coli, MRSA, Enterococcus, and Campylobacter, yeast overgrowth, heart disease, obesity, cancer, and many other degenerative diseases."
Does Fluoride in drinking water hurt your brain?  This Fox News article is SCARY stuff.  Especially since I've already told you about what I did to our son's teeth.  "Back in 2011, the EPA reversed course and lowered the recommended maximum amount of fluoride in drinking water due to data that the levels then being allowed put kids at risk of dental fluorosis–streaking and pitting of teeth due to excessive fluoride, which also puts tooth enamel at risk.  This conclusion was a discordant note amidst all the accolades fluoride had won, starting with the discovery during the 1940s that people who lived near water supplies containing naturally occurring fluoride had fewer cavities in their teeth.   A massive push ensued, with government and industry encouraging cities and towns to add fluoride to water supplies.  Now, questions about the impact of fluoride on mental health are growing and can no longer be ignored."
Anyone going to be near Buffalo, NY around mid-September?  If so, you could catch the regional Weston Price Foundation conference there on September 15/16 – learn more here!
Have a great week!