Good morning!
Take a look at the gift I was able to capture a picture of last night: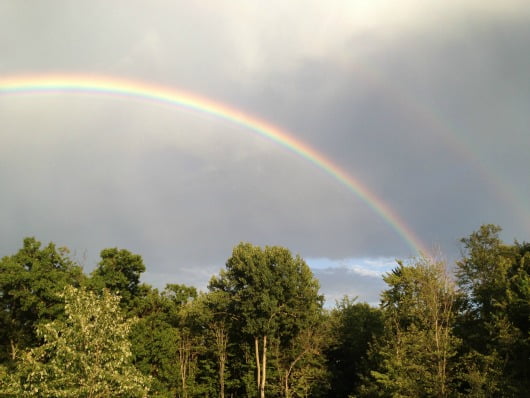 Isn't that a sight???
Are there any roller coaster freaks out there?  Wait 'til I tell you where I got to go last week…  To Cedar Point (theme park in Ohio) WITH a fast pass!  We'll never go without a fast pass again.  It was expensive, but not as expensive as spending TWO days and still not riding as many as we rode in ONE day!  We never had more than a half hour wait and rode 16 coasters, baby!  Go here and click on 'video' to see a simulation of my fav coaster.  You'll be jealous.  🙂
Saturday I went in to downtown Grand Rapids to see my friend and blogging pal, Donielle, for her book signing!  If you know someone who wants to have a baby, be sure to check out her new book, Naturally Knocked Up!  Here's Donielle and I at Elder & Sage, the cute little shop where the book signing took place.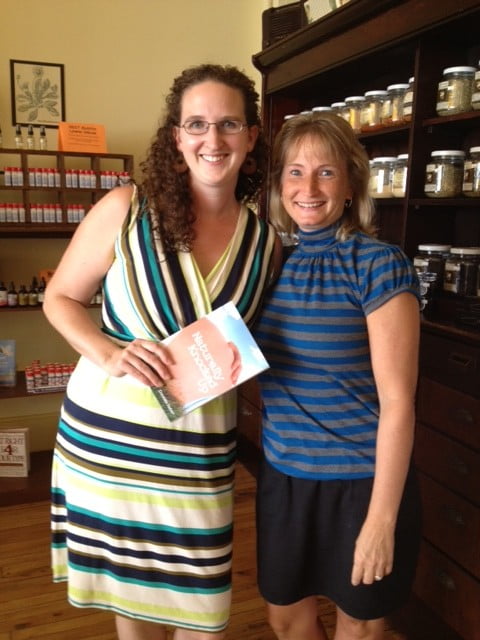 Did anyone else see this article about how egg yolks and smoking are similarly bad for the arteries?  What a crock of bull.  I can't believe how FAR off some still are on which foods are good for us and which foods aren't.  I love my egg yolks and will never stop eating them, because they're loaded with nutrition!  Although the other day I did make the ONE recipe I have that uses egg whites, because I had so many to use up:  No-Coconut Macaroons.
I'm sure many of you out there suffer with eczema or know someone who does.  It is estimated that 15 million people in the U.S. alone deal with eczema (source).  Emily from Holistic Kid has just launched her new e-book on how to heal eczema naturally: CLICK HERE to read more about 'The Eczema Cure' – wait 'til you see the before and after pictures!  (I've also heard the book, The Eczema Diet, is super helpful).
Don't forget to take advantage of this coconut oil sale!
Check out the trailer for the new film by Jeffrey Smith called, Genetic Roulette!  
Also, Did you know there's a no-GMO iPhone app?
As if we needed more reasons to be afraid of the effects of chemotherapy…  Thank you Jo-Lynne, who sent along this article, Chemotherapy can backfire and boost cancer growth.  Scary!  My heart goes out to all those who have to make these kinds of decisions for themselves or their loved ones.
Just as scary, only in a different way, is this story (thank you Susan for sending):  Court Forces Chemo on Eight-Year-Old Minnesota Girl Despite Family's Desire to Use Alternative Medicine.  As you know, this type of situation is near and dear to me after following the Stieler's case so closely.  (They're still waiting to hear the final decision on that one, by the way.)
Don't forget to sign up to win the $50 worth of Einkorn goodies!  Using more alternative grains is always a great idea – read more at that post.
Has anyone read the book Divergent?  A friend tells me it's an even better series than The Hunger Games, but the third book in the trilogy won't be out for a while, so I'm not sure if I want to read the first two until then.  If you've read it, let me know what you think.  Thanks!
Have a great week!