Good morning readers!  Look where we got to go on Friday: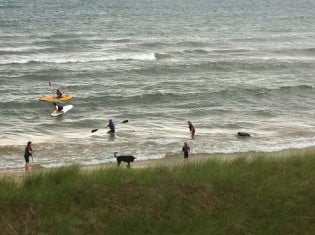 It's great living only about 45 minutes from Lake Michigan, and it's especially fun that our next door neighbor friends, Joe & Meg, get to use her parent's cottage a lot and love to share.  We sailed, kayaked, swam, ate, laughed, and had a blast with lots of moms & kids.  🙂
OK, that's all, I'll spare you from my endless rambling today and get right to all the juicy scoop on this summer Monday morning…
Today I'm not going to post a "Meal Plan Monday" like I did a couple weeks ago (what a joke that week was, trying to get the #1 spot there), instead today I thought I'd show you what we REALLY ate that week and how close we came to the menu I had planned…  Hint: not very.
Thanks to my friend, Amy, who sent me this post, Choosing Healthy Foods is Now Called a Mental Disorder:  "Wait a second. So attempting to avoid chemicals, dairy, soy and sugar now makes you a mental health patient? Yep. According to these experts. If you actually take special care to avoid pesticides, herbicides and genetically modified ingredients like soy and sugar, there's something wrong with you."  Many of those in my family would agree with them, they already think I'm a nut case!  (I only disagree with one point in that excerpt.  While I know that some cannot tolerate even raw dairy, I'd change the "dairy" comment above to "Pasteurized dairy".)
These pharmaceutical stats from the Psychic Lunch blog will tick you off.  Is there any other product with this kind of profit percentage?  How can this be OK?!  (More pharmaceutical bull crap coming tomorrow…)
I get a small commission when you buy anything through my Amazon link and right now they're having a 50% off sale on some of their Kitchen & Homeitems.  (Thank you!)
Jeremy doesn't post real often, but I crack up every time he does.  Here's his latest:  Our Kids Know Real Food.  He tells about his son being grossed out by some fake food he had the other day.  I love it when my kids notice the junk, too, and it's especially fun when they go ahead and eat it and then it gives them a stomachache.  Of course I have to say, "Ohhh, bummer.  I'll bet it's that (fill in the blank) you ate today…"  Kal rolls his eyes but the other 3 kids get that look that tells me they're thinking about it…  He he he.  🙂
Read this great guest post by Kathryne Pirtle over at Kimberly's blog, where she tells her neat story of how she was healed with a real food diet.  Side note:  since meeting Kathy at the Gluten Free Cooking Expo in April, I'll often click over to her site just to listen to her beautiful and peaceful music playing there…  The way music like hers makes me feel (so calm and relaxed) is why I'll click over to a classical station once in a while these days, something I never imagined I'd do 20 years ago.
Did you see Katie's post a couple weeks ago questioning the claim that there is milk powder in low-fat milks?  Last week I posted a follow up on that where I share an email from Sally Fallon Morell and also Ellen Ussery, who took an in-depth look at all this a few years ago.  Be sure to weigh in with your thoughts.
OK guys, I put this last blurb at the end since it's not related to Real Food and because probably by now only my faithful readers are still here anyway and hopefully you won't mind too much, even if this isn't really your thing…  So recently I've been going through a bit of a faith funk and I'm reading this book about prayer that is helping me so much (more about all this will be coming soon on my other blog).  Last week I was reading in this book about how when you ask God for wisdom, He'll give you all sorts of cool ideas.  Well right then this idea popped in my head that I was pretty sure was from Him – it was to put up this post called, "The Prayer Project" at my Christianity 101 blog.  I thought it would be a neat way for my readers here on this blog (or anyone actually) to get to know each other better and lift each other's needs up in prayer.  As I'm writing this there has only been one prayer request.  That either means God knew just that one person needed prayer (which is totally fine, and I've been praying for her), or maybe that wasn't from Him after all?   So here's my question:  can you spread the word on that post?  If you need prayer for any reason, please leave a comment over there, and then will you email, tweet or Facebook your friends about it, too?
Be sure to check back tomorrow for a guest post from Sarah, the Healthy Home Economist, where she clears up some of the confusion around Buttermilk.