Good morning reader friends.  How's your summer so far?  We've been on the go here and there all over Michigan.  This picture is at Ford Lake over by Ypsilanti, where my sister lives.  Gorgeous isn't it?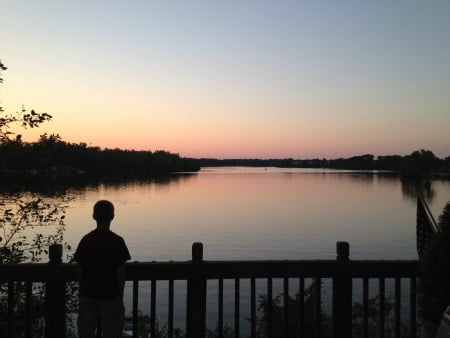 And this one is at our brother and sister-in-law's beautiful and relaxing cottage in Southern Michigan on Marble Lake: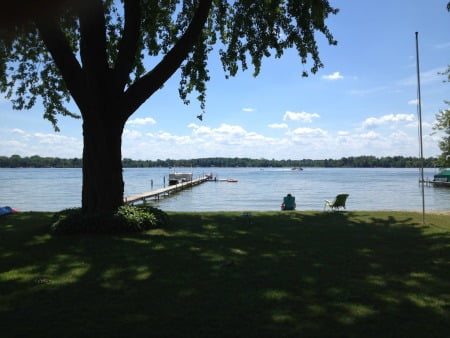 These short trips around Michigan are fun, but we're trying to think of a bigger, but inexpensive, family vacation to take this summer.  The kids want to go back to Mackinaw.  Last time we went we had a blast riding our bikes around the island.  Summer is prime time though, and most expensive, so we're thinking of going this fall when all the other kids go back to school.  Another great perk to homeschooling – vacationing in the off-season!  (By the way, I've added a couple homeschooling posts to the master list – don't forget to comment there to make sure you're notified when new posts go up, here's the latest:  Homeschooling does for parenting what Frank Sinatra does for dinners out.  I'm curious if you'll agree with the point I attempt to make in that post.)
At our local WAPF chapter meeting last week you'd have thought I was handing out one hundred dollar bills when I brought my extra water kefir grains to share.  🙂  Since I'm not local to most of you, instead you can get your water kefir grains here, and then find out how to make homemade kefir soda pop.  My kids and I have been really enjoying such a refreshing, and probiotic filled, drink this summer.
My only problem with drinking kefir soda is that once I rinse my bottles out (with super hot water) so I can reuse them, I don't have a good place for them to stand upside down to dry.  I tried this Drying Rack but it was too flimsy to hold the glass bottles up so I had to return it.  Anyone have a better idea for me?
There's a bit of a rant in me that I have to share with you today.  Do you know what drives me crazy?  Of all the advances made in recent years, especially in the field of technology, why oh why hasn't someone come up with a laptop that can be SEEN when you're in the sun?!  Now that I've got a hotspot off my iPhone so I can use the internet anywhere, I've been taking the laptop with me more, but can't SEE it half the time.  I finally broke down and got one of these Laptop Sun Shades.  They're not even expensive, so I don't know why I didn't get one sooner.
I just put up a new Kitchen Kop giveaway post, enter to win these glass drinking straws!  There's an interesting story there of how the glassblower began making them.
Don't you just love Facebook sometimes?  Last week a friend emailed about carpenter ants in their house, which you probably know can ruin your home's foundation.  Not good.  So I threw up a FB post asking for help with chemical-free ways to deal with them and got some great responses!
Speaking of Facebook, my local blogging friend, Adrienne, posted this last week on how to make sure the Facebook pages you like show up on your wall.  (Like for instance, the Kelly the Kitchen Kop FB page I hope?!)
Thank you, Marie, who sent me the link to this article, 15 Food Companies that Serve You Wood.  Yep, you read that right.  Thankfully it's been years since I've bought any of those nutrition-free frankenfoods anyway.  Remember it's all a transition process, but I hope you're working these processed foods more and more out of your diet as time goes on.
Have a great week!