Good morning!  Hopefully you're enjoying a fun and relaxing holiday weekend and feeling extra thankful for all those who serve our country.  (More on that below.)  It seems like forever ago that Kent's Marine Corps unit was deployed for nine months during the first Desert Storm.  This picture is from the day he came home.  Check out my mullet, with a poodle-ish looking perm to really jazz up the look.  Can you believe I'm showing you this on the world wide web?!  Kent just winced when I told him what I was doing, LOL!  🙂  (More on happy military homecomings at my other blog today.)
We're laying low this weekend and loving it.  Kent's working on the garden and biking – this is his new favorite way to exercise since running got too hard on his knees.  I'm working on my book pile and rollerblading on the trail for the first time this year.  (With the kids on their bikes in front of me to make sure there are no snakes ahead, good idea, huh?)
Now for the important stuff…  Here's what we're throwing on the grill this weekend:  bacon-cheddar brats, pastured chicken, grass-fed burgers, and grass-fed flank steaks for fajitas, don't these look good?!  We get all this tasty meat from our local farmer.  If you can't find a safe source by you, find out where to buy healthy meat online.  What are you cooking over the weekend?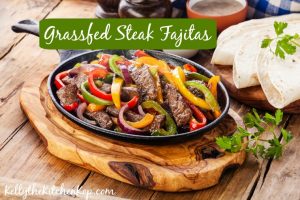 Soon I'll be answering more questions in my Kitchen Kop newsletter, so if there's anything at all that you're wondering about, email me:  

[email protected]

(Put "NEWSLETTER QUESTION" in the subject line.) As my current subscribers know, I don't send the newsletters out too often, because I'm pretty sure that your in-box is as nutty as mine.
I'm getting sick of the songs on my iPhone that I run with.  Anyone have some good ideas for new songs to download?  (I love all different types of music, from Toby Mac & David Crowder to AC/DC & Prince…)
Thanks to Cathy from the Farm to Consumer Legal Defense Fund who found this article:  MILK vs. milk.  "Controversy surrounding a Minnesota farmer's raw milk trade has brought the "real milk" debate close to home."  After you read that article, check out all my posts about fresh, raw milk.
I'll end today's mix-up with a non-food related quote that I found on Oprah's site.  I used to watch her years ago and wanted to catch her last show, but forgot.  (I never think to turn the TV on anymore.)  So this was one of her final pieces of advice that I found online:
"Everybody has a calling, and your real job in life is to figure out what that is, and get about the job of doing it," Oprah told viewers Wednesday.  "Don't waste any more time," she urged. "Start embracing the life that is calling you, and use your life to serve the world."
I feel thankful to have found the way I'm pretty sure God is calling me to serve Him, even though I don't always live it out very well:  First by being a good wife and Mom, next by loving and helping others in my life the best I can, and lastly by writing this blog.  It's been over seven years since my "food conversion", and almost four years since I began this Kitchen Kop site.  I still absolutely love interacting with all of you, my reader friends, and trying my best to help you take little steps closer to better health every day.  What is your calling in life?  What is it that you feel so passionate about that you'd do even if you didn't get paid (or paid much) for doing?  (Bloggers can relate!)  Are you living this out or at least headed in that direction?  Today we celebrate what many give their lives for: we have the freedom to follow our dreams.  As Oprah says, don't waste any more time.
Have a great week!