Good morning readers, I've got a question for you. We're thinking of getting rid of our land line phones since we rarely use the land line anymore anyway. Any pros and cons you could share with me on that? (Thanks for your help!)

Are you a sucker for new techie toys like I am? I was at the Apple store the other day and decided to buy a Bluetooth Headset
(and paid $37 more than I can get it for at that link!!! I'm thinking of returning that one…) Anyway, I can talk on my phone OR listen to music through that thing up to 25′ from my phone, it's so convenient and no more cords!
Sorry if I'm boring some of you, but guess what else I got this weekend?  I switched to a cell phone plan that includes tethering to my iPhone, so wherever I am I can get wifi on my computer!  It's only $20 if you use it all month, but you can turn it off and on if you know you won't be using it! Can you tell by the overuse of exclamation points in this paragraph that I'm a little excited about this?
By the way, we're getting Kent a new lawn mower this weekend, too, so I'm not the only one spending money. (He's been starting it with a rope for years. Yes, I do appreciate being married to a frugal guy, but when more pieces and parts started breaking, I finally convinced him that we should spend the $200 for a new one.)
OK, enough non-foodie chit chat. Here are a few of the interesting links that have crossed my desk this week, or my couch I should say: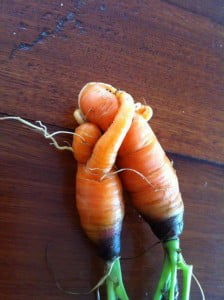 Don't you love this "carrot hugs" picture that I found somewhere on Facebook? So cute!!
One of the sponsors from this great company is involved in something called, The Real Fork Project — for those of you in the San Francisco area, go check it out!
Thank you Colleen who sent me a link to this article, 6 Farmer's Market Scams. There's one that I was unsure about, and maybe some of you can shed some light on it, it's regarding this myth: "Farmers aren't certified organic because it's "too expensive." Fact: If your grower says he or she grows organic produce but is avoiding organic certification because of the cost, take that excuse with a grain of salt. "I find that particular argument to be very frustrating," says Franczyk. "The smallest growers are exempt from certification under the National Organic Program." Beyond that, growers who gross between $5,001 and $20,000 a year generally only pay about $100 a year when it's all said and done because the federally subsidized program refunds up to three-quarters of the cost. "That is pretty cheap for putting a trained third-party inspector on farm every year," says Franczyk. Again, some farmers may be truly organic but opt out of the certification program. But you'll want to ask more questions to be sure that they're not talking the talk without walking the walk.
Raine wrote a post last week that I'll bet could help a lot of people, My Gaps Experience for Panic Disorder. Let me know if any of you have had a similar healing experience with GAPS. (If you'd like to share your story in a guest post, look over my guest posting info and email me!)
I hate to end today's Mix Up on such a downer, but you really need to be made aware of this sickening story about CPS taking a child with cancer from her parents.  (Thanks Sharon for sending this to me.)
Just before this post went up, Sharon sent an update to the story:   Judge Allows Girl with Brain Tumor to Return to Family.  But she still has to be in their research program…  Takes your breath away doesn't it?
Have a great week everyone!