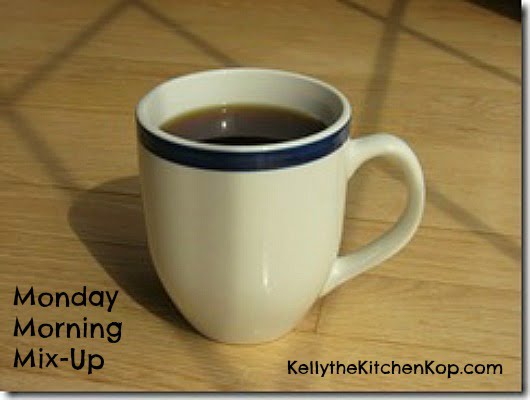 Good morning, Reader Friends, I hope you had a fun weekend!  Gads, I just realized I sound like that annoying sunshiny person waking you up with a sing-song voice on a Monday morning.  Sorry.  I'm writing this on Friday so I'm not feeling the Monday morning heaviness at the moment, just the promise of a good weekend with no major plans except getting caught up and maybe, just maybe picking up a book on Sunday.  🙂
Which reminds me, Kent & I both love to read, and last week he started Ayn Rand's "Atlas Shrugged".  At about 3/4 of the way through he pulled his bookmark and said he was done.  "I shouldn't have to be this ticked off from reading a book."  I'm curious if anyone else has ever done that with this or any book?  I once threw a Danielle Steele book across the room when I was around 18 or so and vowed never to read her again, and I haven't.  Real life can be sad enough without reading books that make my whole body shake with sobs.  I want a writer to pull me in without putting me through the ringer.  There are enough writers who can do that well without wasting time on those that can't.  That's my opinion.  What do you think?  Here are some of the books I love.  I list favorite nutrition books, along with Christian books, kids' books, and my favorite fiction books, too.
As usual, I've got random links and tid-bits for you from all over the place today…
LENT BEGINS WEDNESDAY!  Even if you don't fast from meat during certain days of Lent, you may want to serve meatless meals now and then for budgeting reasons, so here's my list of Meatless/Lenten/Vegetarian Meal Ideas.  Be sure to comment there if you have new ideas to add!
Last week Michelle Obama announced her new U.S. Campaign Against Childhood Obesity.  Read the articles in NYT and Newsweek.  Her comments were right down the middle for me.  While she mentioned things like tofu and skim milk as if they were good things, at least what she is doing is a step in the right direction.
A reader, Nell, emailed me recently. Do you suffer from any of the symptoms that she did?  "Soon I was living with vertigo and off-balance symptoms. My ears hurt and my nose ran constantly, just this annoying drip that wouldn't ease up. Then terrible upper stomach aches, extreme fatigue and muscle aches. Brain fog so bad I thought I'd literally forget who I was. I couldn't concentrate. My body temperature was low, I was freezing cold all of the time, and my hands and feet were like ice. I was emotionally up and down – which wasn't like me."  Find out how she cured herself when none of her doctors could figure out what was wrong.  (Also, read more about the GAPS Diet and find GAPS resources.)
While I don't agree with everything in this review of Michael Pollan's new book, I love the way this kind of talk about Real Food is becoming more mainstream.  It makes me giddy!  Read an excerpt:  "Cooking for yourself," he writes, "is the only sure way to take back control of your diet from the food scientists and food processors." Home cooking need not be arduous or very time-consuming, and you can make up time spent at the stove with time saved not visiting doctors or shopping for new clothes to accommodate an expanding girth." By the way, his new book is only $5: Food Rules: An Eater's Manual.
If you read my post on Valentine chocolates from Green & Black's the other day, you might want to read the comments there for updates on some ingredients you may be concerned about.  (Especially if your favorite is milk chocolate like mine is, darn it!)  Jenny also wrote a great post on Friday comparing various brands of dark chocolate:  For the Love of Organic Dark Chocolate.
Have a great week guys!