Good morning all!  Today I thought I'd give you a little chuckle, but I do have some health and nutrition links for you below, so just skip down if you aren't interested in any of this fluff stuff… (Some readers get on me for not sticking to the main topic of my blog, others tell me they like more personal stuff sometimes, you can't win!)
It all started when I began thinking about cutting my hair shorter again this spring.  Kent never wants me to cut my hair, though, so I thought I'd see what you all think!
First, I'll show you my most embarrassing photo from the early days, my "red glasses era" – ACK!  What in the world was I thinking with those?!  This is a picture with a few of my friends from high school: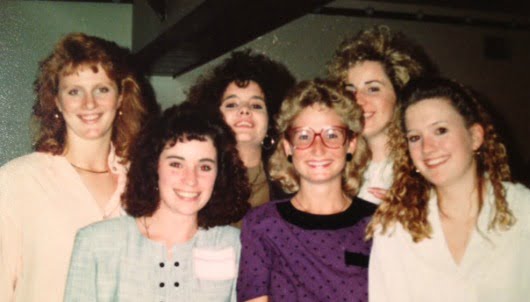 Now I'll show you one from my really short hair days, and I won't be going this short again.  The quality isn't great from this old picture: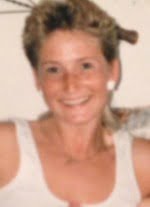 Next is another really embarrassing one.  It's from when Kent and I went to the Marine Corps Ball, shortly after he got back from serving in Desert Storm.  Check out the curls and the mullet, YOUZA, it's pretty scary, but remember, this was over 20 years ago: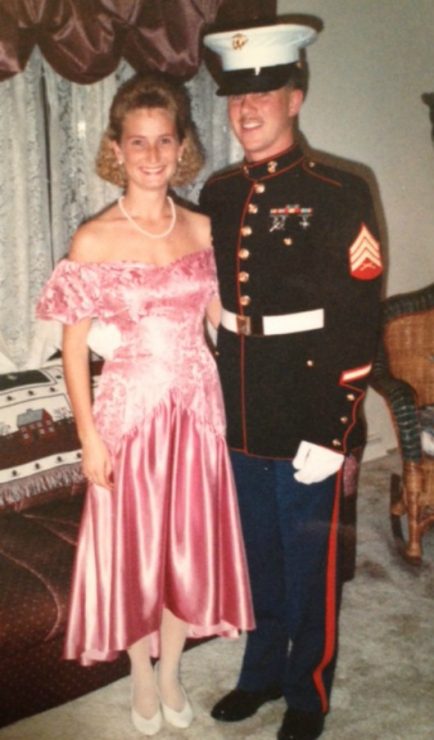 So now I want to know what you think between these next two pictures.  Do you agree with Kent, that I should keep it longer like in this recent photo?  (Umm, something weird is going on with my make-up here or the lighting, just look at the hair, okay?!)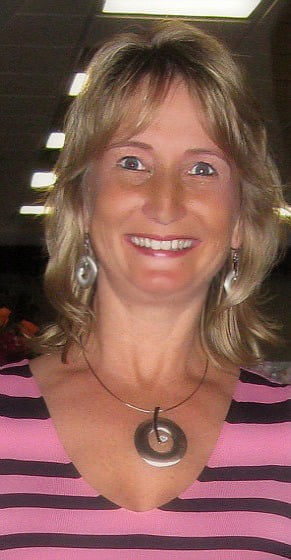 Or do you agree with me, and think I should cut it shorter like in this shot from a few years back?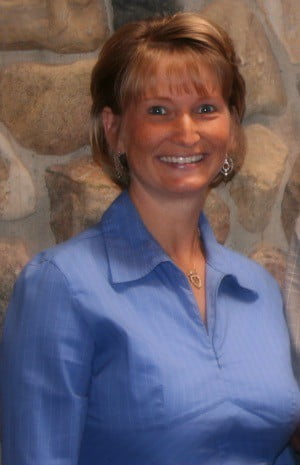 Thanks for your help and for sharing your opinions!  On to the health and nutrition goodies I have for you today…
From the archives:  Now that 2013 is here, does anyone need these tips and ideas on "dieting"?  (Even though I don't really like that word…)  These posts include my take on a variety of issues related to losing weight.
Have I ever told you that I'm a Vapo Rub freak?  I don't know if it's because I have slight allergy issues and wake up a little stuffy every morning or what, but a bit of that in my nose has become a morning habit.  Well recently a few people have mentioned to me that, yeah, it's made with an aluminum base, and using pastured ghee would be sooooo much better.  Not only not rotten, but actually beneficial.  (Where to find pastured ghee.)  But I want the menthol, or whatever that stuff is, that actually opens up the passageways in my nostrils.  I saw a homemade recipe for Vapo Rub somewhere recently, and I'm hoping one of you can help me remember where?!
It seems like I use the word, "shocking" around here too often, but oh. my. gosh.  Wait 'til you read this one (thanks Kathy for sending):  "Last year, the Pentagon spent more on pills, injections and vaccines than it did on Black Hawk helicopters, Abrams tanks, Hercules C-130 cargo planes and Patriot missiles — combined…  Since 2002, the Department of Defense has spent more than $5 billion on Lipitor, Plavix, Advair, Nexium and Singulair."  Pretty sad, huh?  Source.
If you ever come across interesting links, please email me and I'll share some of them in these Monday Mix-Up posts.  (Thank you!)  [email protected]
This was a good one from Kristen the other day, Are Antibiotics Making Us Fat?  "In an August study published in Nature, a team of New York University researchers subjected mice to regular low doses of antibiotics—just like cows, pigs, and chickens get on factory farms. The result: After seven weeks, the drugged mice had a different composition of microbiota in their guts than the control group—and they had gained 10 to 15 percent more fat mass."
Look what I ordered:  a 30 qt. Stainless Steel Extra Large Mixing Bowl.  I was tired of not having a big enough bowl for mixing and occasionally for serving.  I just hope this size isn't too big…  Oh boy, see the update here!
I'm curious what you all think of this article I came across on Facebook recently:  Ordering the vegetarian meal? There's more animal blood on your hands:  "The ethics of eating red meat have been grilled recently by critics who question its consequences for environmental health and animal welfare. But if you want to minimise animal suffering and promote more sustainable agriculture, adopting a vegetarian diet might be the worst possible thing you could do."
A local reader asked, "So I saw your blog mentioned on another site with the 10 reasons why we shouldn't eat out, one being because of all the bad ingredients that they use. Then, it mentioned your site has a good list of "good" restaurants, but you were in GR, MI. Well, I was just curious if this is still posted somewhere. I head to GR a lot (living in Zeeland), but besides Marie Catribs, I don't know of any. Any ideas? Thank you, and I have enjoyed your site." Here's what I sent her:  Kitchen Kop Restaurant Posts and Reviews – please share if you know of any more!
Previous week's posts you may have missed:  Redeeming My Morning Coffee, a new Double Cheese Potato Boat recipe, Shocking Stories from 2012, and a new homeschooling post about my latest finds…
Anyone have a favorite Kitchen Kop blog post of all time to share?  If I get enough, I'll post them.  (Either comment below or email me:  [email protected])
Don't forget to share your HAIRCUT vote in the comments!  🙂
Have a great week!