Good morning, readers, I hope you all had a great Christmas!  Remember I told you about the thankful journals I was giving everyone in our family, and asking them to start writing three things every day that they're thankful for?  (The idea came from reading One Thousand Gifts: A Dare to Live Fully Right Where You Are.)  Well Kal, our 19 year old, was about as impressed with the idea as I expected…  But everyone else has been doing great with it.  I told the kids that I won't look at what they write unless they want to share it, and when they do, it's so special to hear.  🙂  Soon I'll do a longer post on this over at my other blog, where I haven't had time to post much lately.  (I'll get back to it one of these days because I have loads of post ideas.)  Here's a picture of our thankful journals, they were only a few bucks at the store, and nothing fancy: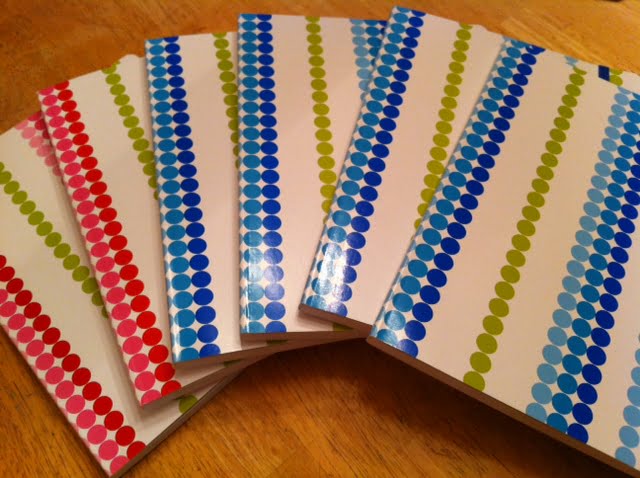 Does anyone have a "You won't believe what I got for Christmas" story to share?
Get this!  I'm so excited about something a local organic market by us is doing for the winter!  Read about the winter veggie plan here.
The first picture in this article about the new movement of young farmers (perfect after last week's posts with Chris Kerston, huh?), actually mentions how some farmers are extending their growing season, just as Sheri mentioned in the winter veggie plan link above.  What do you all know about that?  Is that "OK" to extend the growing season with greenhouses or in other ways, or is it not very 'natural'?  I sure hope there's a good way that it can be done, because having more veggies throughout the winter sounds enticing, just for the fact that it makes dinner more interesting.  If we can do this and still eat locally, in Michigan, what a coup!
I'm curious if you agree with the statement that parents aren't allowed in public schools these days?  Maybe that's true in some areas, but thankfully, it certainly isn't true where our kids go.  I'm there all the time and many of the teachers and staff are close friends of mine.  And it's not just me, other parents are in and out all the time, too, volunteering, dropping off something their child forgot, or whatever.  What's it like at your kids' school?
I love how Cara from the Health Home & Happiness blog is always coming up with ways to make grain-free easier and tastier.  Whether it's her 30 Days of recipes and tips on the GAPS intro diet, or her Grain Free Meal Plans, OR one of her awesome recipes, like these Homemade fried cheese sticks – wow, who would've thought you could have that while on the GAPS Diet?!
Do you know where your honey comes from?  Most of the stuff at the store is worthless.  Only buy local raw honey unless you're ordering it from a source you can trust.  "Raw honey is thought to have many medicinal properties," says Kathy Egan, dietitian at College of the Holy Cross in Worcester, Mass.  "Stomach ailments, anemia and allergies are just a few of the conditions that may be improved by consumption of unprocessed honey."
Have you heard about this?  Can Walking Barefoot Lower Cortisol and Balance Hormones?  In that link, Ann Marie talks about Earthing, something I'm just beginning to learn more about from one of our new sponsors, Radiant Life.  I'd love to know if it has helped you and with which health issues?