Wait 'til you hear about our fun weekend!  🙂  I thought I'd share some pictures instead of yapping on and on about it…
First, check out the gorgeous sunrise Friday morning – this shot was from our deck: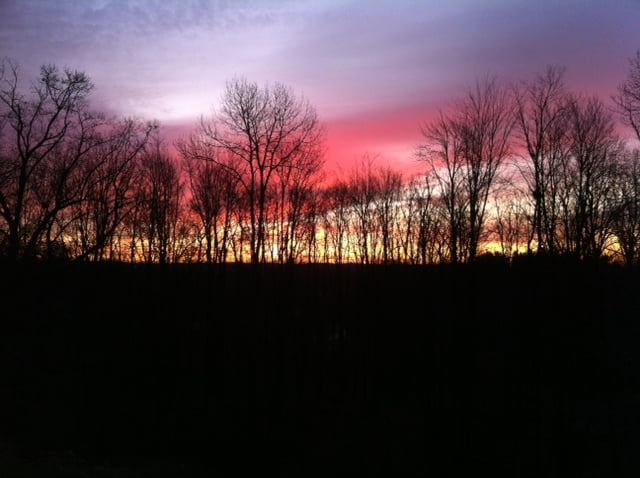 Next, Kent & I had an awesome date night!  Here's where we went to dinner in downtown Grand Rapids (I didn't notice until now, I think that's the moon in the picture, cool huh?):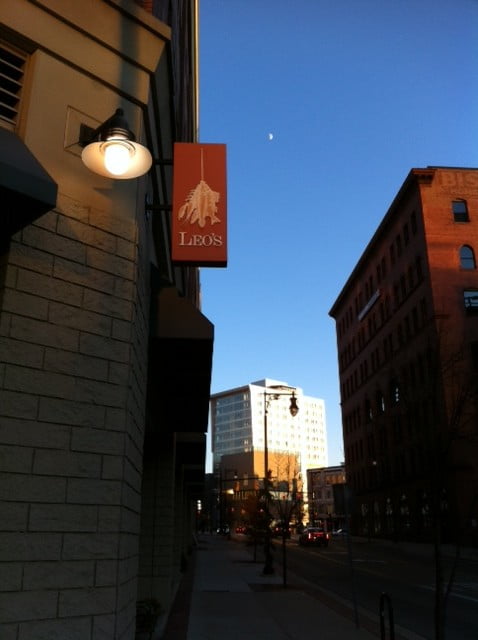 First Course:  the stresses of the week are melting away…….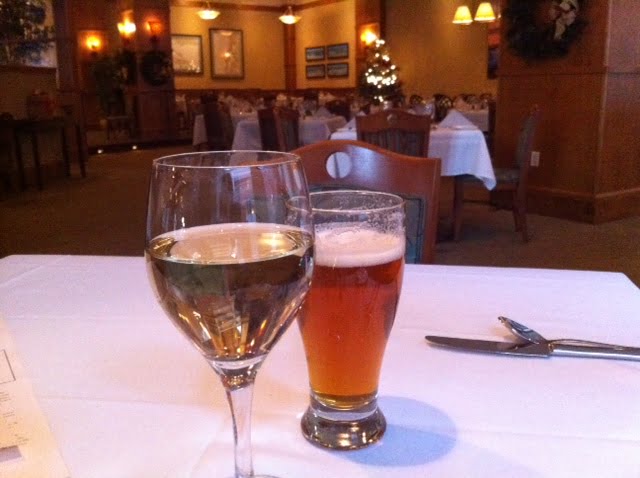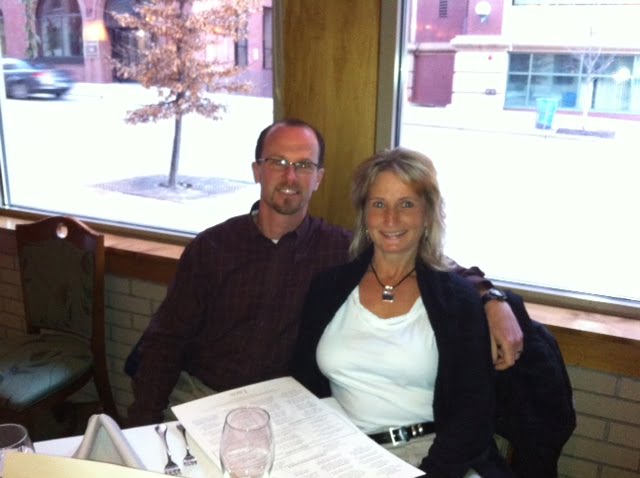 We started off with a Sashimi (raw tuna) appetizer that was delicious and I loved the fresh ginger that was served with it, along with a tasty slaw mix: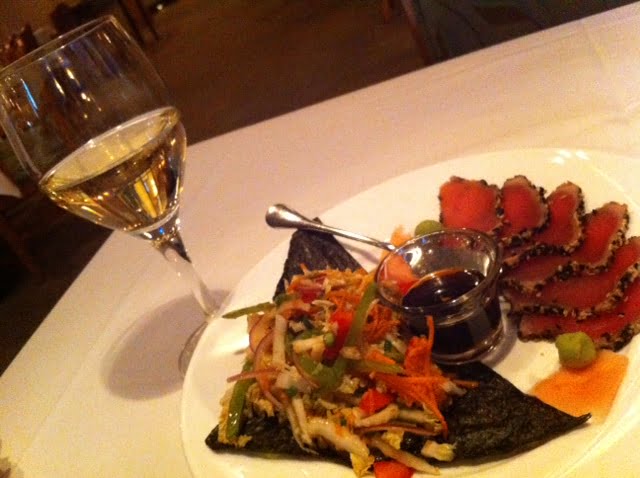 Then Kent got a really good tomato parmesan soup, and this salad that came with some divine warm goat cheese on top (too bad it had walnuts, though, or I'd have ordered my own.  I can't stand walnuts):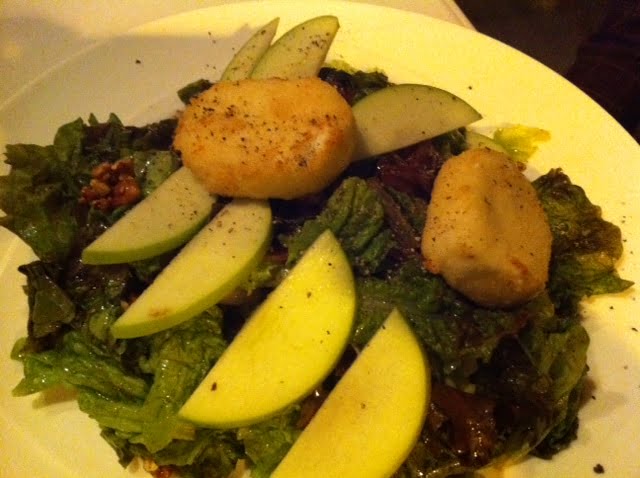 Kent ordered Escargot for his main course (weird huh?) – he said it was really good, and I took his word for it: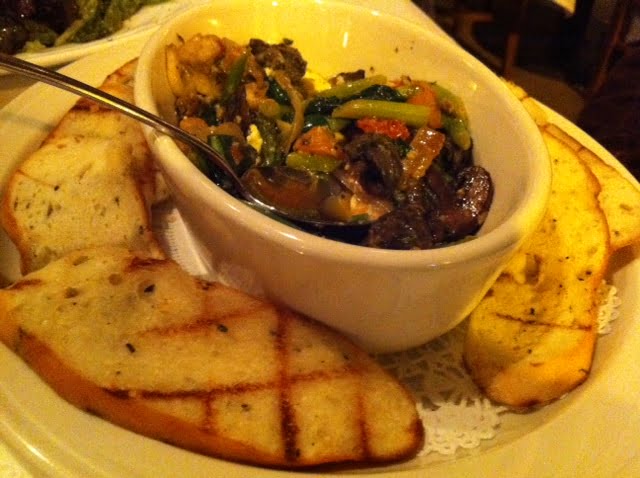 I got the 'Surf & Turf' – lobster tail with a filet, oh myyyyyyyyyy:
It was terrible, as you can see from my plate:
Next we still had time to kill, which made everything so relaxing, to not be in our normal RUSH through life, so we went to Madcap coffee.  (Bruce Willis was in some movie a while ago, it may not be out yet, I don't know, but they used Madcap for one of the scenes.  Here you can watch a video of the windows getting blown out at Madcap Coffee.)  They only serve pour-over coffee here and it was very smooth: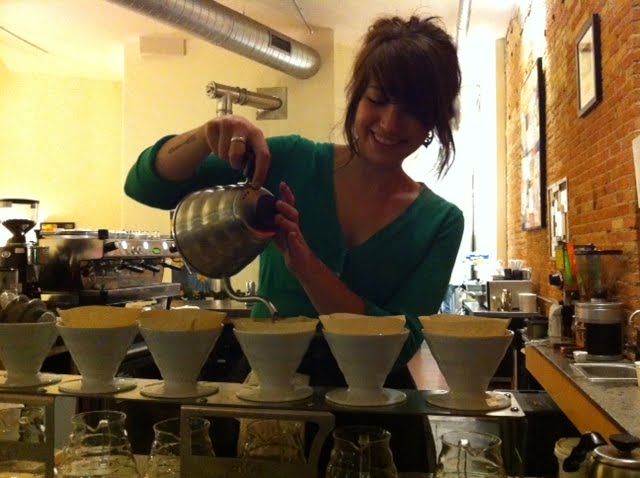 On the way to our next stop, we took in the gorgeous sights in downtown Grand Rapids – they'd just lit the Christmas tree and opened up for skaters at Rosa Park: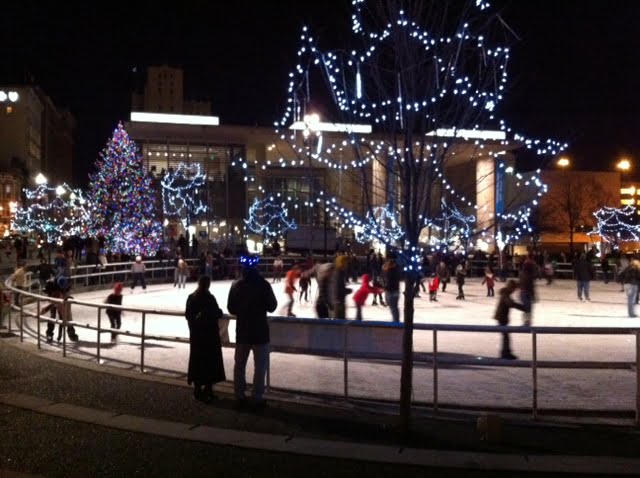 Next, we went to see Les Miserables!  Parts of it I really liked, especially the fact that it had a very Christian-based theme – I'd had no idea.  Other good stuff:  the ending was especially moving, the sets were so neat, and a couple of the songs were really beautiful.  Some not-so-good stuff:  I couldn't understand some of the dialogue as they were singing, and a very large women sat in front of me.  Kent had read the book, so he probably was able to follow the story more than I was.  Still I'm glad we went, there's something just so grand about Broadway shows.  Wicked is still my favorite, Kent & I saw this on our 20th anniversary trip to Chicago a few years ago.  I loved it not so much for the music, but for the story.  I love how it teaches you even more not to judge others, because you never know where life has taken them.  Has anyone else seen that one?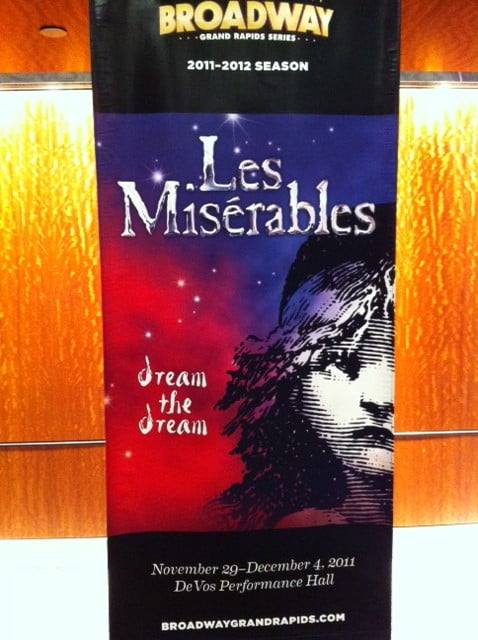 The next day we planned to go to the Santa parade and then get our tree with Joe & Meg and the kids like we do every year.  But the pouring rain caused us to re-think things.  So instead, the guys took the kids to get the trees and Meg & I enjoyed a quiet house for while.  🙂  Here's a picture of our tree next to my favorite chair where I enjoy quiet time in the mornings: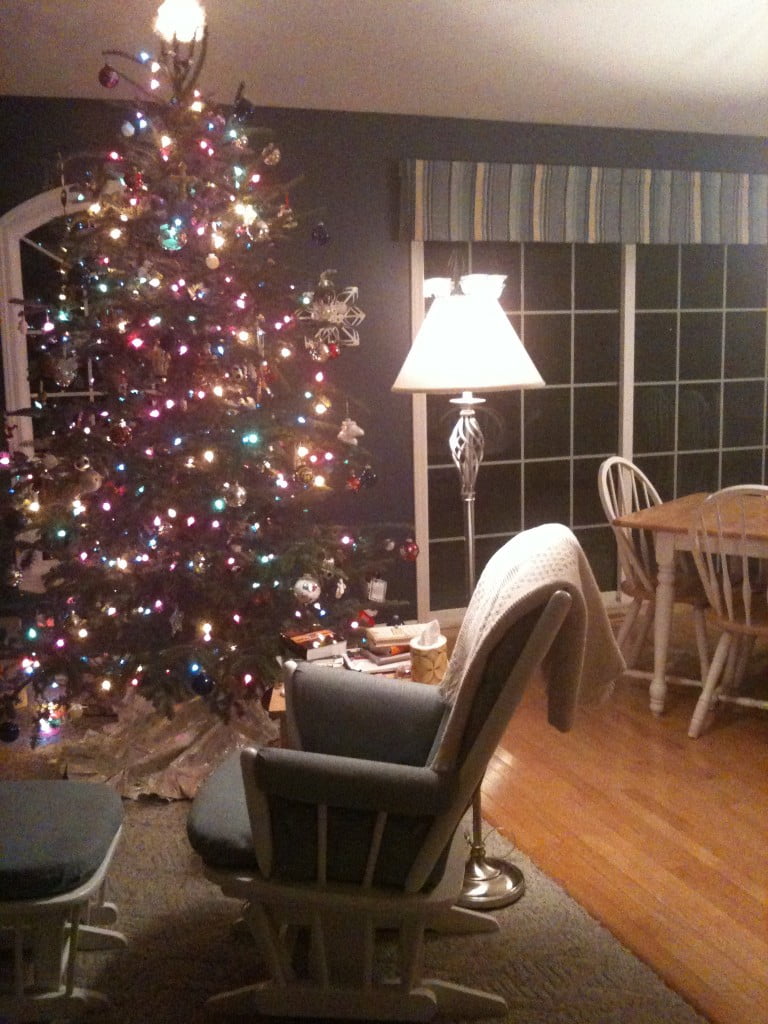 Then I took a nap that I reeeeally needed, but don't worry, I don't have any pictures of that.  Saturday night we went to the annual white elephant gift party at Doug & Susan's, our neighbor friends.  We ended up with the gift that Joe & Meg brought: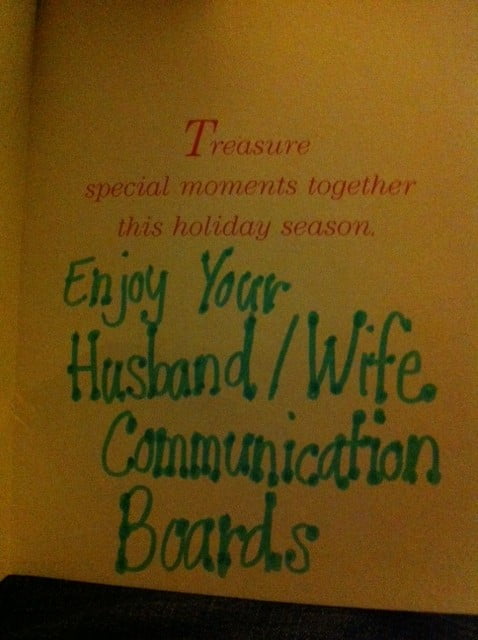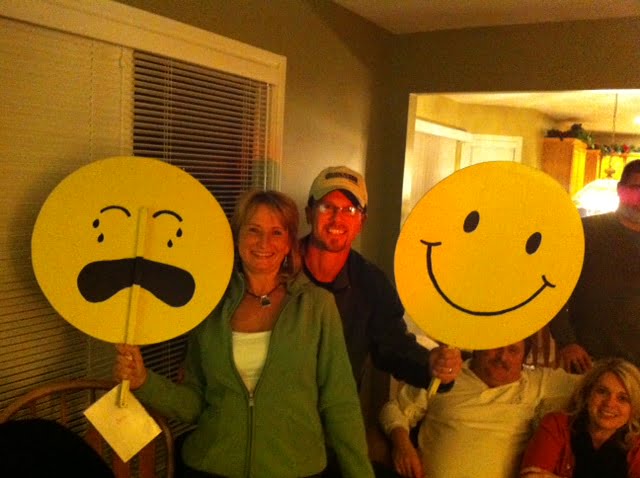 By far the most hilariously hideous white elephant gift, though, was the one that Robin & Jerry brought – they'd found it in his Dad's house, hanging on the wall.  Here is Tom, clearly thrilled with his gift: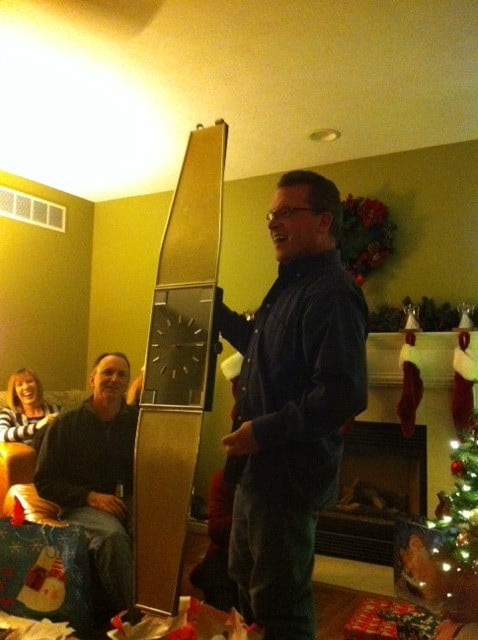 Sunday morning at Mass, Deacon Jim gave a moving homily about being that voice in the desert for those who are hurting in some way this Christmas season, and it made me think of all of YOU, who have come through with your letters and Facebook comments and support for the Jacob Stieler family!  More updates and new shocking details on the story are coming up this week…
Sunday afternoon my mom, two sisters, niece, two youngest kids and friend, Natalie, all came to see the show, Hark Up, with me.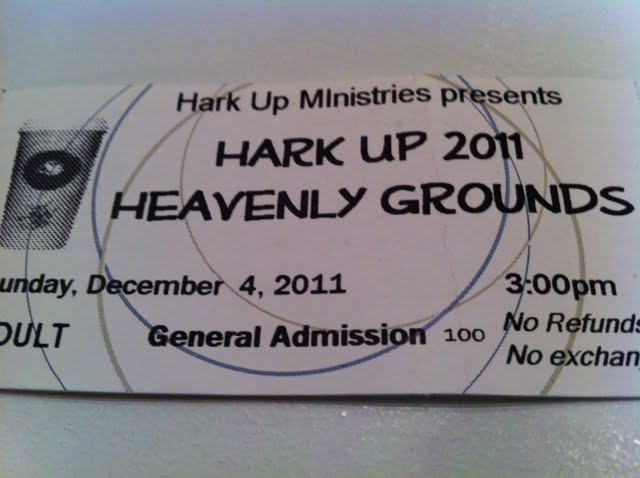 Our friend, David Brady, is one of the main singers in the show and it is amazing.  The music blew Les Mis away, and the tickets were $45 less each, I'm just sayin'.  I have a little clip for you, it would've been a bit longer, but someone called my iPhone right as I was taping.  David is the singer in the gray shirt, is his voice beautiful or what?!
Since you can't see David very well there, I scammed a picture of him off his Facebook page: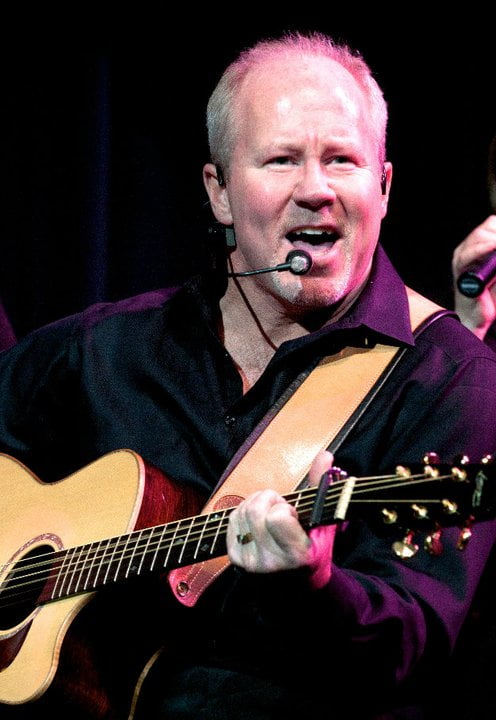 And now it's 10:56 p.m. Sunday night and I'm trying to wrap this up so I can go to bed.  What did YOU do this weekend?!  We'd love to hear about it!  (Do you have snow yet where you are?  We got a bit Friday morning but it's long gone, and the kids aren't happy about it…  Doesn't hurt my feelings, though.)
Here's the links I've got for you this week:
Every year about now I link to my oldie-but-goodie post with Christmas pictures around our home and a story about 7x underwear that gives you a glimpse of how Kent's twisted mind works.
Get this!  Remember last week I asked all of you local readers to contact our PBS station, WGVU, asking them to put the show Healing Quest in their line up, so we don't miss the upcoming shows about the Weston Price Foundation?  Well, if you contacted them, most likely you also received this:  "Thank you for the note. HEALING QUEST will air Wednesdays at 1:30 pm, beginning February 1, 2012 on WGVU. Thanks again for the note and for supporting WGVU. Ed Spier, Program Manager."  Yay!  Roy, the co-producer of Healing Quest, called the other day to say thanks to all of you who contacted them, and he also said that the WAPF episodes will likely begin to air in April.  I love you guys!  🙂  Wherever you live, do a bit of Googling to find your local PBS station and make sure Healing Quest is on there, too!  If not, you know what to do…
Have a great week!