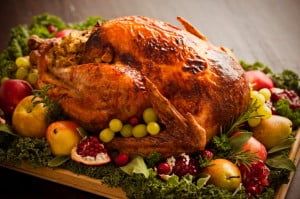 Good morning reader friends!  Are you excited for Thanksgiving?  Does your turkey ever look like the one pictured here?  I can't say that I've ever put fruit around mine.  🙂  I've only got a few Thanksgiving recipes here on my blog but thought you might want to take a peek at them:  Thanksgiving Traditions and Recipes.  I was on an LA radio show the other day talking about how simple my Traditional Turkey Stuffing is to make!  (I don't think it's aired yet.)
In many holiday recipes you'll need REAL bone broth.  Bone broth / homemade stock is really easy to make, but sometimes it just doesn't work out; maybe because you're not going to be home long enough for it to simmer, or whatever the reason.  For those instances, GET THIS, now you have an option of where to get Real Food bone broth!  This is especially great for those who are on the GAPS Diet or maybe you have joint issues – those are just a couple examples of some  who might need more real stock on hand beyond what you can keep up with making.  I tasted this at the conference last week and it was the real deal, very rich tasting and delicious!
Don't miss the big Black Friday sale coming up here at the blog on Friday!
Antibiotic resistance and how to avoid it was something I remember my Mom being aware of and careful about over thirty years ago, so if we knew this stuff even way back then, I'd love to know why the problem has become so widespread as this article on antibiotic resistance says it has?  I have a few ideas, but wonder what all of you think?
As Kent said when he sent me the following link, it's sad that so many lost their jobs, but is it really a bad thing that Hostess is going under?  (They made Twinkies and Wonder Bread.)
Have a great week!