Words cannot express the fun that was had this weekend!  You Real Foodies know how it is to feel like the lone weirdo when no one else in your world drinks raw milk or knows the truth about how good butter is for us.  Well not here.  The Wise Traditions conference is in the land of milk and honey.  (Both raw of course.)  It's a place where others put even more butter on their bread than you do and no one bats an eye.  It's a place where farmers and chefs who are growing, raising and cooking our REAL FOOD get well-deserved standing ovations from the grateful crowd.  It's a place where you feel like you're coming to a family reunion each year, and you can't wait to hug your old friends again.
It gets better…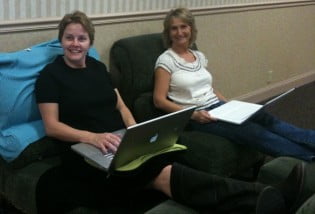 And in this strange, beautiful land, to top it all off, is the ultimate joy for a Real Foodie blogger:  to be surrounded by other Real Foodie bloggers who GET IT.  They get the thrill when a reader comes up to hug you and thank you for helping them heal and be done with chronic issues they've lived with for years; they get the frustration of technical issues and the sleep deprivation; they get the way your heart does flip-flops when Mark McAfee walks by and
smiles at us sitting at our Real Food Media table or when Jeffrey Smith does his happy dance because we shared our potato chips fried in lard with him; or when new sponsors are seeking us out because they're excited to work with us so we can get their amazing products out to people who want Real Food and products that won't make them sick; or when we get to meet our current sponsors who we've interacted with via email for months or years and are finally able to hug them!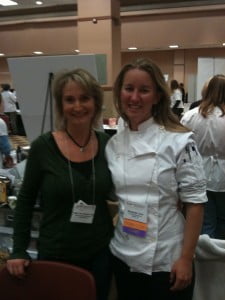 Wow, I could go on all day, and I haven't even started gushing yet about the FOOD, the mouth-watering unbelievably delicious FOOD!  (Speaking of the food, pictured at right are myself and the CHEF extraordinaire, Amanda Love!) I'll share more pictures soon on my Facebook page (including shots of the blogger panel discussion I got to be a part of – so fun!), but for now here are a few Monday Mix-up things for you…
There's a new GIVEAWAY to celebrate my upcoming 1000th Kitchen Kop post…  I'm really not sure if anyone will want to win this, we'll see…!
I hope you'll pop over to my Twitter page so you can read through all my tweets from the weekend, and there's more coming because today on my last day I'll still be tweeting from the chapter leaders meeting.  (I'm technically just on the local chapter board, but I think they'll let me in…)  You can read there about some of the neat people I met or reconnected with all weekend.  (I might do a Twitter re-cap post soon with more pictures from the weekend and the Twitter highlights – let me know if that's something you'd want to see here.)
Hey, look who else I got to finally meet in person, my until-now online friend, Jo-Lynne from the Musings of a Housewife and Eat Local Philly blogs!  She lives nearby and decided to come at the last minute.  It seemed like we've been friends for years. 🙂
Anyone who doesn't like the pictures you see here that were taken with my iPhone, please get yours up onto the Flickr/realfoodmedia page please!  (Anyone can look at those, too, by the way.)
I was going to go on the local farm tour on Monday, but the return time cut it too close to when I needed to be at the airport.  It's tricky when you want to do it all.  All weekend everyone had what Sally called a 'good problem':  not being able to choose which talk to hit.  So Chris from Chaffin Orchards and I would pop in and out of a few different talks and Tweet them up, he's was so much fun to hang with.  (Here we are ooh-ing and ah-ing looking at Viewfinder slide pictures of next year's conference hotel in DALLAS!)
MORE BIG NEWS that I am SO excited about – go check out this post to see who won this year's Weston Price Foundation activist awards!
There are more people that need to be appreciated for such a great weekend: the GAZILLION behind-the-scenes hard workers! I can't imagine how many people and how many HOURS it took to pull this off. THANK YOU ALL.
This next film clip, from "Farmageddon", will make you crazy.  It's just wrong and makes me ask, "What country am I living in?!  This can't be America can it?!"  This Friday I'll show you how we, you and I and many others, can help to MAKE IT STOP.  Stay tuned.  (p.s.  I also loved chatting with Kristin Canty, the filmmaker, this weekend – her movie will be out in early 2011!)
Were YOU here this weekend? Tell us how your experience was and how many times you've been to this conference?