Wow.  I can't even begin to express how thankful we are for your prayers!  Our nephew, Shane, gave me permission to share this picture of he and his daughter, Hailee, (taken earlier in the fall) who were hurt in the horrific Thanksgiving day crash.  They were both in ICU a full week, but thank the Lord, they are now doing well!  Shane has had surgeries and is still in a lot of pain, so please keep praying for his full recovery, but we're hoping he'll be off to rehab soon.  Hailee has blown everyone away.  Once all of her tubes started coming out, she has improved so rapidly that even in a four hour period there would be amazing differences.  She should be home soon!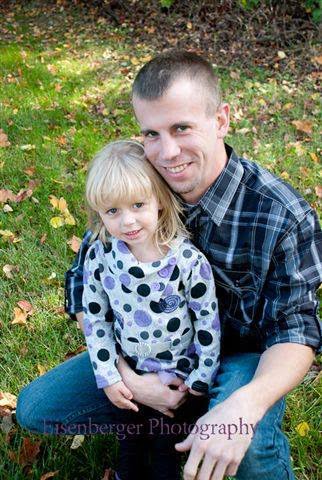 When my Dad was very ill in 1998, I remember bringing him pages and pages and pages of names of those on prayer chains everywhere who had prayed for him.  He was never an emotional kind of guy, to say the least, but after almost dying, he was so moved by that list he had tears coming down his face and asked, "Who are all these people?"  So I thought it might be neat if any of you who have prayed for Shane and Hailee would comment below and share your name and where you're from.  I'd love for Shane to get an idea of how many people all over the world were lifting them up in prayer as they were going through such a scary, painful, emotional time.  THANK YOU ALL for your love and friendship!  🙂
Let's see how many links I can get in here today before I have to wake the kids up…
A reader emailed the other day asking about college dorm food:  "I know you home school, but I don't remember the ages of your children.  I thought you might have a college age or almost college age child.  I was wondering what real food parents do about food for college students.   A friend of ours has a daughter starting school next year, and as a parent of children with multiple food allergies, I'm starting to wonder about what to do for food when they hit college age…"  My reply:  "Here's a post about college dorm food that might help.  Also, my best advice is to have them live at home and commute if at all possible, that's what our son has done, and it's saved a ton of money, too."
OK, I'm out of time, but found this debate that you may want to turn on and listen in the background while you do something else (I know I can't just sit and watch something this long without multi-tasking), but it's about something that you may, as a real foodie, come up against now and then:  those who think we're all wrong for eating meat.  As I've said many times, it matters WHAT meat you eat!  (Here's my post on this:  Are Meat Eaters Ruining the Earth?)  It is that that makes ALL the difference for your health AND for the environment AND for the fair treatment of animals.  Check out this debate, Don't Eat Anything with a Face between 2 vegans and 2 real foodies who you probably know and love like I do:  Joel Salatin and Chris Masterjohn:  Click here for the video.
Have a great week!