We've got a special weekend ahead with our youngest's First Communion and a big shindig here afterward, so miracle of miracles, I'm actually getting this Monday post done ahead of time!  (Update: I added a couple pictures below.)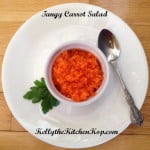 One thing I'll tell you, though, is that picking foods that can be made ahead makes everything so simple.  My mom and sister are also helping by bringing food, so the only stuff I'm making could easily all be done a couple of days prior:  everyone loves sloppy joes (grass-fed ground beef with heart, organic sauce ingredients, fermented buns), organic baked beans, and this carrot salad with lemon that the kids say is so good that it tastes like a lemon-lime soda!
***I know that a lot of us are throwing parties this spring and summer, please share what are your favorite meals that can be made ahead and that can be made in big quantities to feed large groups???
On to the randomness I have for you today…